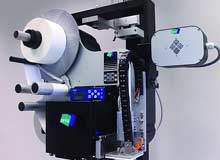 While quality, price and reliability continue to be important to buyers of print & apply machinery, the economic downturn and sustainability drive have given rise to additional buying criteria.
Etiquette Labels Marketing Manager Chris Davies said that "in our experience the usual buying motives apply, such as quality, price and reliability. However, due to the current economic climate resulting in financial uncertainties for many businesses, and subsequent tightening of budgets, we have found that customers are looking for machinery with lower operational costs and increased flexibility.
"Additionally, our market research tells us that many companies within the UK and Europe have increased their awareness of environmental issues with regard to their supply chain, and are continually searching for alternative, 'greener' methods of production and waste disposal," Davies said.
Demand for linerless print and apply
Linerless labelling technology is touted as responding to both economic and environmental demands, so it comes as no surprise to learn that the linerless print & apply systems are experiencing an upturn in demand.
"Etiquette, in contrast, has made flexibility the selling point of its new PRX PE series."
"Due to concerns with waste reduction and the environment, we have seen an increased demand for linerless labels… Norprint has responded by adding a linerless applicator solution to its portfolio," says Chris Powell, the company's technical sales and marketing manager.
He says the machine is a hybrid system that can also work with regular lined labels and is proving popular with the company's customers as they look to reduce costs and improve efficiencies.
Towards the end of last year, Etiquette also launched a linerless labelling system. The Etiquette TT-PA EVO 150 is said to increase the amount of labels per reel by up to 40%, reducing associated business costs such as waste disposal, storage, shipping / freight and paper consumption.
Atwell says it too is 'extremely focused on the environmental benefits of linerless labels' and is marketing a range of print & apply machine that is said to cut label costs by 30%, and increase the amount of labels on a reel by 60%.
"Atwell says it too is 'extremely focused on the environmental benefits of linerless labels'."
"The USP of our system is that the label head is extremely small, so it can be mounted not only on our system but other people's. This means companies can just replace a conventional printhead with our linerless head," explains Managing Director David Charlesworth.
One of the main players in linerless is Ravenwood, with linerless applicators representing by far the majority of its business. Its main thrust to date has been into the chilled food market, where it has over 800 installations, mainly with its Nobac 500 range of applicators. According to the company, this machine is purchased not only for its linerless benefits but also for its flexibility – it is capable of applying a top label, top and side, c-wrap or full wraparound without any changes to parts.
But linerless is not the only way of addressing the green agenda. At Interpack, Logopak International previewed a new 'green' labeller that it has developed for a customer who wanted a non-pneumatic solution for a new factory that will have no compressed air.
Difficult economic conditions have manifested themselves through label equipment developments in a number of ways. Some equipment designers have focused on reducing the capital cost or the overall cost of ownership of equipment, while others are developing very flexible machines which eliminate the need for companies to invest in several dedicated machines.
A flexible labelling system
Etiquette, in contrast, has made flexibility the selling point of its new PRX PE series.
"Historically, customers have needed to invest in a dedicated print & apply machine for each label position, for example, front of pack, top of pack, side of pack, etc," says Mr Davies. "Our new modular system delivers increased flexibility to those companies requiring the print and applying of self-adhesive labels to a variety of products where label position is subject to change. With the Etiquette PRX PE series, customers need only invest in one machine, which, with change parts, can be customised and configured to apply labels in most positions."
The machine is said to further assuage customer cost concerns through a 'ribbon saver' option, which can reduce thermal ribbon usage and printhead wear, resulting in lower operational costs. Mr Davies says this feature is particularly attractive to buyers at the moment, owing to price rises in PET, which is used in the manufacture of thermal ribbons.
Flexibility is also one of the main benefits of Markem-Imaje's 2000 series of printer/applicators.
Lucy Benbow, Marketing Specialist at Markem-Imaje, explains: "Based on a modular core design, there are three print width options, a choice of print resolution levels and interchangeable tamp, wipe and blow label application modules."
The 2000 series formed the basis of a case labelling solution Markem-Imaje supplied to Kraft Foods when the multi-national developed a new packaging concept involving resealable packs and shelf-ready display cases for its Milka bars.
Accurate label applicators
Many of the same criteria govern pressure-sensitive label applicator purchasing decisions, but it seems label placement accuracy takes on greater importance than in print & apply.
Advances in stepper motors have enabled Advanced Dynamics to develop a label applicator which is said to be capable of +/- zero mm accuracy.
"The repeatability and accuracy of placement is beyond what we've been able to do before, and that responds directly to what the vast majority of companies are looking for from their label applicators – accuracy and a label that looks good," says Managing Director Malcolm Little.
The system, which will be shown for the first time at this year's Total exhibition, comes in two versions – the Matrix 30 or 50 – with the model number being indicative of the speed it can achieve (m/min). It utilises the latest stepper motor drives and touchscreen technology that gives the user very close control over the steps, says Mr Little.
"The latest stepper motors incorporate a lot more steps per revolution, which allows the motor to be stopped more accurately and results in very accurate label placement," he explains.
Demand for greater accuracy was also the inspiration behind Premier Labellers' Label Centralisation Technology (LCT), a software development for the company's Siemens S7-based PLC control system.
"LCT is a revolutionary new feature we have developed to meet demand for a highly accurate and reliable labelling system that compensates for variations in label placement when labelling non-round glass and plastics containers," explains the company's Simon Goff. "LCT actively calculates the centre point of each container that passes the product sensor and then feeds each label at the appropriate moment to ensure each product is labelled absolutely centrally."
With the encoder/motor combination Premier Labellers currently uses, a +/- 0.4mm margin on label placement is achieved. However, Mr Goff says it is possible to use a higher resolution encoder/motor combination to achieve greater levels of placement accuracy.
A new generation of hotmelt adhesives
Beardow Adams has developed a new generation of hotmelt adhesives for bottle and jar labelling applications using reel-fed and 'cut and stack' labels.
The clear, low odour hotmelts will bond virtually all paper and plastics labels to plastics or glass containers, whether round, square, contoured or ribbed. They are supplied as film wrapped 'EcoBlocks' and can be loaded straight into a hot melt tank, the thin outer film melting with the adhesive.
The new hot melts are the first of the company's labelling products to carry its BAMFutura branding, and took 12 months to develop.
"The major applications are carbonated and still soft drinks, bottled water and yoghurt drinks," says Mike Stevenson, UK Sales Director. "Being clear adhesives, they are ideal for the 'no label' look. They can also be used to label household goods."