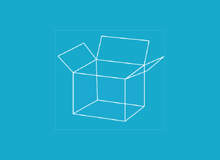 Since the dawn of the retail chain store more than 150 years ago, grocers have offered their own brand products. In recent years, packaging goods under their own name has earned retailers a big new market. Private-label products is a market now said to be worth €100bn annually.
The ready meal sector of that market alone consumes vast quantities of paper, card, metal and metal foil, plastic film and trays, along with a range of adhesives and closures, photographic supplies and printing services. As the market grows, demand will continue to rise.
Supermarket companies across the globe are following the trend initiated by Marks & Spencer in the UK. The UK is still the largest single market for private-label goods, much of which is now dominated by the premium ready-to-cook foods sector. Private-label products represent 41 per cent of sales in the UK, 38 per cent in Belgium, 35 per cent in Germany, 29 per cent in Spain and 21 per cent in the USA.
Brian Sharoff is president of the PLMA, which represents 3000 manufacturers in the USA, Europe and Asia involved in the business of providing retailers with private-label products. 'You can go back through Sainsbury's history and see photographs of their own brands from the turn of the last century, he says. 'In the nineteenth century, retailers who had grown beyond a single store had already put their own branded products on the shelves. In the early days this would mainly have been coffee, tea and flour and similar basic products.
'This was already common practice in the USA and the UK in the 1850s and 1860s and to a lesser extent in continental Europe. The development of mass branded products got under way around the same time, and as retailers developed multiples and chains so the modern distribution system was founded and retailers put their private label goods along with the outside brands.'
From those beginnings the market has grown hugely. The biggest trend in the market is the emergence of ready-to-serve and ready-to-cook food. Products for the microwave oven have been the biggest trend in food for some years.
'Over the last 20 years there has been a general trend towards premium foods, and the UK is especially advanced in value-added food products, a sector in which quality is very important,' says Sharoff.
'A percentage of the total turnover is still value or budget lines, but that is now a small part of the total market in the UK. In Germany and France the discounters are especially active and private-label goods are mostly at the lowest possible price, but over the last five to ten years there has been a transition to value-added products. The transition proceeds at a different pace in each country.
'The variety represented by these figures is not a reflection of more popular/less popular. They are more a reflection of how supermarkets are organised and of social patterns in each country. The larger a supermarket operation is the more likely it is that private label will be a significant part of its strategy, and that in turn reflects the scale of the procurement process and the marketing process.
'Supplier involvement in the development process varies too. In the UK, for example, manufacturers are invited to be highly innovative, while in other countries retailers wait for a product to be successful before bringing a version to market.'
The supermarkets have turned to specialist food producers to help develop their brands. The same manufacturers' products are frequently packaged under national brand names that everyone recognises as well as supermarket private labels. Jonathan Grant-Nicholas is the spokesperson for one of Europe's biggest manufacturers of private-label foods, Greencore Group plc. Its convenience food division is the largest manufacturer of sandwiches in the world and a major player in chilled foods, such as sauces, pizza, quiche, ready-made meals and desserts.
Greencore is also one of Europe's biggest suppliers of private-label cook-in sauces, pickles and condiments, and the largest producer of private-label mineral water in the UK. In 2001, Greencore acquired the well-known UK private-label foods business Hazelwood Foods, whose companies are shortly to be renamed as Greencore. Grant-Nicholas, the group communication director, says, 'Hazelwood was an early player in the own-brand business in the UK, but that market has now developed strongly and supermarket private labels have become brands in their own right.
'Private labels in the UK was a market that Marks & Spencer led in the early days, and where they led others followed. Premium brands such as Tesco Finest, Asda Extra Special and Sainsbury's Taste the Difference, for instance, are among the best products you can buy, and our group produces many of them. We are packing for a brand on which consumers place a high value.
'We see packaging as both functional and an interpretation of the values of the brand. A national branded manufacturer will spend hundreds of thousands of pounds on market research to find out what characteristics customers want from a product in terms of taste, portion size, presentation and price. Then they may spend heavily on dedicated manufacturing, distribution and advertising to bring it to market.'
What the supermarkets are doing very well is building increased categorisation and differentiation into their own brand product development. Private-label food products may have begun with budget ranges with simple blue print on a white label, but now there is a middle range of reasonably priced goods and the finest or premium lines, as well as other specific positionings such as 'healthy' or 'free from'. Greencore prides itself on knowing its customers and the different positions and needs that the supermarkets experience. That knowledge is reflected in the way the company organises itself.
Consumers shopping at Asda may be looking for one sort of product and those shopping at Sainsbury's for another. One group might say, 'we want free range eggs', and another might place a premium on the health information on the packaging.
'Our job is to ensure that the contents and packaging of all these lines represent good value,' says Grant-Nicholas. '£9 for a premium ready meal for two is good value if the content of the pack is a Beef Wellington of restaurant quality.
'Brand development has produced more choice for consumers. For us, each format will have specific features that support the values of that brand such as allergy warnings and health guidance. The retailer sets these guidelines. We are after all one major supplier amongst a number working to the retailer's brand guidelines. This doesn't mean, however, that we are not ourselves trying to help develop and innovate new products for that brand. In discussion with the retailer we may identify a particular cuisine that is becoming fashionable.
'The retailer will then run with the supplier who can develop it best, and if it is us, we will research and develop the line for them. We work with the retailers very closely. Often the products will come from the same facility, so we have to ensure that we have teams that operate to their specific requirements and maintain confidentiality.
'If we are making Asda products one day, we try to think and act like Asda. At another time we will be thinking, talking and operating in the manner of Sainsburys, Tesco, Morrisons, Co-Op or Waitrose. They are genuinely different and we try to develop solutions to differentiate their brand priorities.'
In terms of design, the retailer usually drives packaging decisions. As products are part of a range, commonality is important. For example, the retailer produces the photography and the images go out to the supplier. Sourcing decisions are made to a specification the retailer sets. Manufacturing and filling technology can introduce differences in particular packaging approaches. On the materials front, the food manufacturers are always on the lookout for new packaging developments.
'Currently we are especially involved in looking at biodegradable materials, and packaging strength is always important to us,' Grant-Nicholas points out. 'We constantly look at the supply chain and how we can improve all aspects, including pallet loading and movement efficiency. The introduction of pallet cages, for example, made deliveries into stores easier. In-store merchandising can be helped if the amount of packaging involved in delivery processes is reduced, without adversely affecting the protection that goods require.
'We are constantly exploring and looking for new ideas in order to offer retailers a new style of packaging for their ranges. We are pushing boundaries but under an agenda that the retailer sets. Whenever we find a new form of packaging we will draw it to the attention of an appropriate customer. In cost terms however, we need to remember that while packaging is important for safe distribution, and in-store interaction may assist consumers in the convenience of preparation, once the product is on the table it's the contents that really matter.'
Material differences
There is also a close link between packaging and the technology involved in the production and distribution of the food. Unlike many frozen sectors of the market, own brand chilled foods have been enormously successful, with the launch of many exciting and premium lines.
People in supermarkets like to see and examine the food that they buy. Chilled foods packaging and the way it is displayed helps consumers see what they are buying. The sector encourages consumers to get involved according to Jonathan Grant-Nicholas. 'People pick up chilled pizza and examine the wording and the contents of the package. You can't do that as easily with frozen food without getting frostbite. That is probably one reason among others, including quality and convenience, that explains why chilled meals are so popular. To put this in perspective, remember that 95 per cent of chilled sauces and an extremely high proportion of chilled ready meals sold by supermarkets are own-brand products. This is a very large market.'
Wherever outsourcing is a preferred mode of manufacturing, one of the reasons for adopting it is flexibility. That is a factor of immense importance in own brand food production. 'If something is not working, we change it – whether that is the product or the packaging,' says Grant-Nicholas. 'If we change a recipe it means a packaging change as well, but that is a routine matter for us. With a 40 per cent product churn rate each year, we have to be flexible.
'Packaging is an important element, although our main costs are in manufacturing and filling machinery. The ideal package would be just like a banana skin. It is simple to open and hold, easily disposable and biodegradable. Better visibility is important in packaging. On the continent, where we produce a number of convenience foods including pizza, the pizzas used to be sold in clear slips with no boxes because people like to see as clearly as possible what's on them. In the UK we traditionally packed pizzas in a closed box with a photograph on the cover.
'Both markets have largely moved to a mid-way position, a box with a window. The box protects the pizza and the window provides visibility. In many ways packaging is a major component in making a product consumer friendly. In premium foods, however, there is a fine balance between under and over-packaging in order to reflect the premium price tag.
'Our biggest role will always be in what goes into the packaging, and although packaging is important to us, we are part of a wider empire in that respect. In terms of materials the big issue is recycling. It has taken a long time to hit us in the UK, but it is growing in importance. Increasingly we must avoid taking a path that is unsustainable.'
Microwaveable and hot-cook packaging containing the best possible quality of contents for consumers who need to use all the available food preparation short-cuts is a trend that the industry believes will continue to grow in importance. The trend in an affluent and aware population, they say, is towards greater choice and more information. Packing ready-to-cook meals in high-visibility boxes makes the product attractive, but consumers will complain if they think there is too much packaging or if the cost of packaging makes a product too expensive.
Differentiation
Good standard product lines and premium product lines in the supermarket need to be clearly differentiated by their packaging, and that can be difficult. A great deal of thought has to be given to presentation issues. As Grant-Nicolas points out, 'Building a brand relies to a great extent on customer recognition of the line by its packaging. A number of retailers premium lines, the black and silver of the Tesco Finest range, for instance, have done that very successfully.'
Larger Tesco supermarkets stock up to 15,000 own brand products and the private-label goods alone represent a very large investment in packaging. The head of design at Tesco is Jeremy Lindley. 'In common with any brand it is important to us to control the way goods are presented to the customer,' he says. 'We hold ownership of what the brand looks like to our customers, but we encourage suppliers to have input within the limits and standards we set.
'Tesco brands vary in design terms and we rigidly control what we term the pillar brands. Our Finest range, for example, is made to tight rules and guidelines. The proportions of the pack, the specific silver ink for printing, all help to make the buying experience simple. Customers don't really read the packaging, especially the word Finest, but they are decoding a familiar message because they are used to the identity. We see the packaging as helping the customer to decode the message.'
For the supermarkets, the first functional parameter of packaging is fitness for purpose. It must protect the product and that is the top priority. Close behind is that it should present the product in an appealing way. At the point of use, it must be intact. The best quality contents, presented attractively, is the aim in all premium food products
Tesco was the first supermarket company to introduce a private-label premium foods range and the range continues to be the broadest on offer. Finest sits at the top of the private-label hierarchy of the Tesco own brands, good, then better, then best. Good products are packaged as Value. Better products come in Tesco packaging and best come in the black and silver livery of Finest.
For example, there are three own brand levels in cooking foil. The Value range comes in a plastic sleeve without a cutter to achieve its price point. The Tesco brand comes in a box with a cutter and the Finest foil comes in a stronger box with a better cutter and with roll holders built into the box.
'Packaging reflects differentiation,' believes Lindley. 'Tesco was the first supermarket to introduce the concept of a range of price points, but it is not a case of simply catering to customers with different levels of spending power. We don't have Value customers and Finest customers. Instead, people select from the ranges according to their own preferences and needs.
'80 per cent of our customers buy a Value product at least once in any month and 60 per cent buy at least one Finest product, which shows us that stratification is not fixed and there are no stereotypes at work here, just customer choice.'
The emergence of ready-to-cook premium foods has created its own packaging conventions. The heatproof plastic tray with a see-through lid enclosed in a cardboard sleeve has emerged as the preferred method, largely because of consumer preferences.
'The tray with the clear cover is efficient in the factory for filling and good for preserving the product as well as being cost-effective,' Lindley explains. 'We have trialled getting rid of the card sleeve, but customers don't like it. They prefer the sleeve and the clear lid so they can see the food when they slide it off. When we print onto the plastic lid instead it obscures the contents and customers don't like that. There are also issues over the quality of the print on thin plastic that affect quality perceptions.
'The card sleeve is likely to be with us for some time, along with the photograph of the contents. We ensure the cover photograph is accurate and really depicts what the food looks like when served, because we know customers prefer it that way.
'It is easy to underestimate the humble plastic tray. When you consider it protects the food from the factory to the store, into the customer's freezer at minus twenty and then into the oven at 200ºC or through the microwave, the science is very impressive.
'We keep an eye on packaging materials innovation. The question of whether we adopt a product is always 'will it benefit the customer?' – not just because it's new. Then, a close second, we consider its cost impact. The customer comes first and if a new packaging product is superior in performance but costs more it will have to make a positive impact on the customer to succeed.
'Anything that reduces the impact on waste disposal and the environment is an important part of our responsibility. Reducing the weight of materials and increasing recycling are key issues.'
In 2003 Tesco introduced new biodegradable packaging materials as part of the company's commitment to protecting the environment. The compostable packs were introduced to great fanfare but have failed to create a great deal of consumer interest.
Organic fresh produce that comes in biodegradable materials continues to feature on Tesco shelves, but maybe the UK population doesn't compost enough for customers to be more enthusiastic. As Lindley stresses, times will change, but innovation is not simple. In the final analysis, adoption decisions are made by the customer.