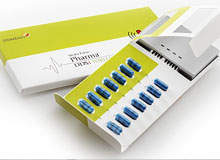 Chemical packaging is a sector that continues to innovate and, according to German specialist packaging company Windmöller & Hösher, there is a continued need to develop 'economical and functionally convincing solutions' to meet the needs of the chemical sector, which continues to produce innovative products.
As part of its continued programme of developments Windmöller & Hösher used the annual Interpack Process and Packaging show, held in Dusseldorf, Germany, in May 2011, to introduce its OPAL form-fill-seal packaging machine for dusty and fluidised products.
Many of the difficult-to-handle products can only be packaged using a valve-style bag, specifically designed for a particular application, which is an expensive solution. However problems could still arise related to dust, cleanliness of the bags, product protection, inconsistent flow through the valve, or contamination of the seal area of the bag. These are all potentially costly headaches for any company.
The central feature of OPAL is that the product is fed via an auger feed system with gross weighing and bottom-up filling. This means that a filling system raises the empty bag until the auger tip reaches the bottom of the bag. After the filling process begins, the bag is lowered at a rate that keeps the outlet of the feed pipe underneath the product level. This effectively prevents the creation of dust, which in turn eliminates dusty sacks and the possibility of explosion. The sealing area of the bag remains un-contaminated, ensuring a robust seal. The company says that filling by auger means that a product will fill its sack in a controlled manner, preventing air mixing with the product and the weight of the sack is continuously monitored.
Monitoring medication use
It's not just bulk packaging that can be monitored; advances in packaging for the pharmaceutical sector means that the use of medication can be too.
"OPAL's form-fill-seal process prevents the creation of dust, which in turn eliminates dusty sacks and the possibility of explosion."
During February 2011, Stora Enso, a Finland-based specialist player in the global packaging, paper and wood products industry, launched the Stora Enso Pharma DDSi wireless intelligent blister packaging, which allows real-time monitoring of prescribed medication.
The package is based on conductive ink on a carton board blister inlay, which is connected to a cellular module embedded in the package. This enables the tracking of one pill at the time of removal from the blister, whereupon data is sent to the cellular modules and then forwarded wirelessly, using GSM or GPRS networks, to electronic health record systems. This allows real-time tracking and intervention by a physician and also enables any required changes to be made to a patient's medication.
Cost savings
As well as dealing with difficult materials, producers are looking to save costs in relation to the weight of their packages and as such innovation is leading to the development of lighter and, where possible, reusable containers. During March 2011 US-based Myers Industries launched a reusable plastic container as 'a cost effective alternative for corrugated bulk containers'. Suitable for light-duty dry goods, the so-called Maximizer is engineered with an integrated pallet, lid and one-piece collapsible side wells. Myers says that the design maximises productivity, cost savings, safety and sustainability for the shipping and storing of goods.
Cost savings will become an ever-more important issue as, according to a study from market research company Freedonia Group, demand for bulk packaging is projected to reach $6.7bn in 2015 in the US. Material handling containers and rigid intermediate bulk containers (RIBCs) are expected to experience the fastest growth.
"Advances in packaging for the pharmaceutical sector means that the use of medication can be monitored too."
The report, 'Rigid Bulk Packaging', asserts that demand for RIBCs will be stimulated by an increase in chemical production as well as cost and performance advantages over smaller, single-use or shorter-life packaging.
"Although RIBCs have a higher initial cost than other rigid bulk containers, these products offer increased storage space efficiency and a longer service live, allowing large-scale customers to realise significant long-term cost savings," the report says.
Chemicals are expected to see a significant uplift as demand from sectors such as automotives and construction grows.
"This will result in demand for packaging used with bulk quantities of chemical products," the report adds. "Additionally opportunities for pharmaceutical rigid bulk applications will be aided by rising pharmaceutical production as a result of the aging US population."
Chemical industry tackles packaging
Despite the chemicals industry's need for solutions to its packaging problems, the sector is all too aware that it has to be part of a wider move to tackle packaging issues that are impacting on a global scale. As part of this, during May 2011, Dow Chemical said that it would continue to invest in its Packaging Centre of Excellence, located in Horgen, Switzerland.
The company said that the investment would help it to "better understand the needs of the packaging industry across Europe." As well as increasing the number of staff, the centre's capabilities for testing and prototyping adhesive, laminating and film structure for the food, beverage and other packaging needs, would be significantly expanded. "The need for better packaging is important," said Julien Damen, associate director for technical services and development for packaging and converting in Europe.
"Dow wants to provide opportunities for all those involved in the value chain to be able to share knowledge and identify trends … so accelerating the growth of the packaging industry. We believe collaboration is an important element to future success."