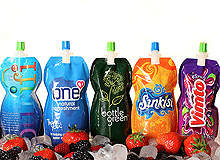 The drinks pouch has been with us for decades now and is expected to double its share of the US beverage packaging market in the next ten years.
According to packaging expert Andrew Streeter of Pack-Track, a Datamonitor packaging research service, the use of a lighter pouch is part of a trend within the drinks packaging industry, and one that is set to stay.
Pouchlink: no transport for water required
The Green Drinks Company's patented Pouchlink vending machine – the first of its kind – is designed to deliver soft drinks in a pouch that are mixed from within the machine.
"Most innovations in the soft drinks dispense and vending industries tend to be either related to equipment, packaging or the product itself," says managing director Ian Bidmead. "The reason our innovation has been so ground breaking is that it relates to all three of those areas."
Where the Pouchlink set-up differs from other drinks pouch products is that it has a significantly lower carbon footprint because it is mixed just before the consumer drinks it. Approximately 95% of ready-to-drink products are water; with Pouchlink the water is provided through the mains supply and mixed within the machine once the consumer has ordered.
"The drink is made using a bag in box that has a juice drink concentrated anything up to 29 times depending on the level of juice – if you're talking about a high juice drink it is concentrated seven times," says Bidmead. "What this means, in terms of shipping, is that you're not shipping mainly water, you're shipping something between seven and 29 times less product because you're only shipping the very concentrated juice – and that's a significant impact."
"A study from IOP Publishing estimated that producing and shipping bottled water can use 2,000 times more energy than tap water."
Inside the vending machine four spools of pouches – or one thousand individual pouches – are combined with 6x5l bag in box cartons that weigh approximately 37kg. By comparison, 1,000 ready-to-drink cans weigh around 380kg. Not only this, but the pouch itself weighs around 9g; a standard PET bottle can weigh up to 35g and a 330ml glass bottle around 220g. This, the company claims, means around 75% less material is used to produce a pouch than a standard PET bottle, plus the pouch is fully recyclable.
A study from IOP Publishing estimated that producing and shipping bottled water can use 2,000 times more energy than tap water – therefore, taking water out of the equation when transporting soft drinks means the carbon footprint is significantly reduced.
"They estimate that an annual consumption of 33 billion litres of bottled water in the US [in 2007] required an energy input equivalent to between 32 and 54 million barrels of oil, and that roughly three times this amount was required to satisfy global bottled water demand," says Bidmead.
"When you consider that bottled water only accounts for a fraction of total soft drinks consumption globally, and that many leading brands of soft drink contain over 90% water, exactly the same argument applies to these drinks.
"Factor in the environmental impact of manufacturing all water-based soft drinks and then shipping them, rather than packaging them at the point of consumption like our system does, and the problem our technology solves is massive."
Dolphin: friendly and intelligent pouches
Bottled water consumption, however, shows no signs of slowing down. Zenith's 2011 UK bottled water market report states that overall volume sales grew by 0.7% in 2010, with the most popular retail pack size 500ml.
The Dolphin SmartPack, which was highly commended at the Beverage Innovation Awards in 2009, is a 250ml pouch that promises "eco-friendly water consumption". Jointly developed by water supplier Dolphin and Dutch packager SmartPack International, it was the first product be allowed to bear the 'Nederland Schoon' (Clean Netherlands) label, part of a Dutch Government initiative in support of packaging solutions that reduce waste.
"Zenith's 2011 UK bottled water market report states that overall volume sales grew by 0.7% in 2010."
The pouch is 100% recyclable, with no label or spout, but a "tear and sip" closure that does not drip after opening. The product is aimed at busy, active adults as well as children, as the pack does not require a straw – the company claims you can even drink it in while lying down bed without spilling any. The lightweight packaging reduces energy consumption during transportation, and after use all that has to be sent to landfill is one small, flat piece of film.
"The pack is indicative, I think, of the way the market is pushing and taking advantage of lighter weight packaging material," says Streeter, who notes that this product is indicative of where the market could go.
However, although it seems that pouches are here to stay, Streeter believes that we are "just seeing the first serious signs of a switch away from a PET bottle towards a pouch using flexible packaging". Drinks are like a fashion item, and so the look and design of the product needs to retain authority. "The trick is to put value into the brand through the packaging," he says.
Rebootizer: shake and go
One company Streeter believes is doing this successfully with flexible pouch design is Rebootizer, which is marketed as "an instant detoxifying drink made from natural fruit and plant extracts".
This does not sound so different from other drinks on the market until you discover that the consumer mixes the nutrients and vitamins (in powder form) with the water themselves, while other anti-oxidant drinks on the market come pre-mixed, meaning their nutrients have been added to the water during the manufacturing process.
The pouch is 2oz (or 50g) and therefore fits into handbags or pockets easily. Consumers squeeze the bottom of the pouch to break an internal seal separating the two components, shakes and squeezes to mix the powder and water and then tears the left corner to drink.
"Innovative selling points can entice the consumer to choose pouches."
"Rebootizer looks ordinary, but it is really interesting that you encourage the consumer to interact with the pack and mix the vitamin compound with the water in your own hands," says Streeter.
"So not only are you delivering a fresh vitamin drink, but you're engaging the consumer with what actually might be a pleasurable experience and that's a good example of putting value back into the brand through packaging."
Innovative selling points, such as the Dolphin SmartPack's lightweight size and "tear and sip" functionality and the Rebootizer pouch's in-hand mix by the consumer, are ways that can entice the consumer to choose pouches over other packaging.
But for the Green Drinks Company the energy and waste resulting from shipping water – whether in pouches or PET bottles or in pre-mixed soft drinks – is the driver for its technology, which they believe will revolutionise the drinks industry in time.
"We believe the Pouchlink system will be the catalyst that triggers more post-mix systems being developed and a whole new sector being created which we have loosely termed 'post-packaged goods'," says Bidmead.
"Environmental pressure will only become stronger in the future and I suspect that we'll look back in years' time with incredulity that we used to truck water-based drinks around the planet when there was perfectly good drinking water available locally."