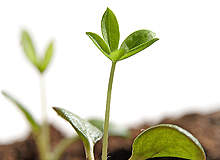 Hugo Saavedra has tasted success running a professional kitchen and then, with wife Debra, as supplier of own-grown herbs, edible flowers and micro greens to top American restaurants.
Now the green-fingered couple are cultivating a flourishing range of natural beauty products. For the founders of Hugo Naturals it is not enough to tell consumers the products are natural and good for the body.
Even the added promise of a deliciously sensual experience still falls short of their ambitious goal: to produce luxury products that care for the person and also consider the needs of the planet. Global scale ambitions make it all the more important to get the packaging mix exactly right. Debra says that to be acknowledged as the leader in natural products in its sector, brand packaging must distinguish itself by its design and also by its glowing green halo.
The Saavedras want their customers, wherever they are on the planet, to choose Hugo Naturals confidently because of the brand's natural provenance and environmental integrity. To this end, the total product, including all the packaging, is ecologically designed.
"The outside elements of a product need to reflect the purity and innovativeness of what's inside," says Debra. A self-confessed beauty products 'junkie', she is convinced that naturally cared for hair and skin makes the person inside feel healthier. The 'grand plan' of Hugo Naturals is to capture the efficacy of minerals and vitamins found in plants and flowers and deliver the benefits in products that offer everyday luxury.
Top-end and sustainable
"For the founders of Hugo Naturals it is not enough to tell consumers the products are natural and good for the body."
Soaps, scrubs, body moisturisers, bath bombs, shampoos and more use the highest-quality ingredients sourced from around the world. The duo creates 'recipes' that satisfy their craving to produce products that delight all the senses.
A growing number of independent niche retailers, most of which have the word 'market' in their name, carry the Hugo Naturals range. But none is bigger than Whole Foods Market.
Whole Foods now operates throughout North America and in the United Kingdom at several London locations. The natural and organics retail group, growing exponentially, is truly Hugo Naturals' global shop window.
Thanks to the resulting widespread exposure, Hugo Naturals has developed a presence in Canada, Mexico, the Caribbean, Korea and Kuwait, and will soon enter the European market.
From the start, the brand has created its own benchmarks for the quality of its product formulations. It also sets high standards for every packaging component and the total presentation.
"We are careful about our choice of packaging. The clamour for green packaging comes from consumers and retailers. We place ourselves at the cutting edge and intend always to be making green initiatives," says Debra. "It is challenging to find a sustainable material that helps to make the line look top-end."
Natural conversion
A big breakthrough came with its use of EarthBoard. In spring 2010, Hugo Naturals launched its All Over Lotion & Liquid Hand Soap gift set, which was among the first products to use this naturally based substrate developed by Smart Planet Technologies (SPT).
SPT has pioneered innovative composite packaging materials designed to offer eco-smart alternatives to a wide variety of rigid, flexible and corrugated packaging applications.
One example is EarthCoating Clear, a high-barrier performance coating which has been optimised to deliver up to 60% better MVTR (moisture vapor transmission rate) performance than 100% low-density polyethylene coatings, while containing at least 51% less plastic. In many cases, applications using EarthCoating Clear qualify as recyclable under ISRI standards.
"By being competitively priced, superior in performance and with an improved environmental footprint, EarthCoating Clear can become the solution of choice over 100% polyethylene coatings," says Todd Gasparik, business development manager for SPT.
EarthCoating White creates bright, white, premium print surfaces on unbleached fibreboards and aims to increase the use of recycled fibre substrates for high-end packaging applications.
The trademarked composite boxboard product EarthBoard, as used by Hugo Naturals, is produced using EarthCoating White and 100% recycled, 35% post-consumer fibreboards.
SPT has established a high-capacity, integrated supply chain to service North America. These technologies will begin commercialisation by licensed partners in the US in the first half of 2011. The company is in the process of establishing supply chain partners for Europe with the goal of commercialisation in the second half of 2011.
In practice, the same technological process and machinery can be used for EarthCoating as for polyethylene. The switch for supply chain vendors is effectively a seamless transition or, in manufacturing terms, a running change.
Global view of buying behaviour
Now that Hugo Naturals is distributing across three continents, it is well placed to observe and comment on the part that environmental issues play in the purchasing decisions of retail buyers and individual shoppers in different geographic regions. Is buying with a conscience truly a global trend? The answer in Debra Saavedra's view is, yes. She adds: 'We've noticed that cultural boundaries are tending to disappear."
With global packaging standards in the pipeline, Hugo Naturals is "stepping up its own standards a notch".
In the US, the regulation of personal care and cosmetics is, for all practical purposes, outside the governance of the Federal Food and Drugs Administration (FDA) but Hugo Naturals chooses to follow European and Asian guidelines, where stricter rules call for ingredients to be listed in a consistent fashion on the packaging.
As Debra explains: "We are proponents of stronger, stiffer regulation in cosmetics. We see ourselves as a global brand. We have been told the brand has global appeal. So the brand has to tap into the global consciousness. Our customers want to know that buying what is good for them won't harm the Earth."
"The 'grand plan' of Hugo Naturals is to capture the efficacy of minerals and vitamins found in plants and flowers."
Hugo Naturals falls in the subcategory of 'luxury natural products'. This distinction piles on the pressure to reach the highest expectations of consumers, wherever those consumers are in the world.
"We formulate products ourselves. Uniquely, we don't outsource," says Debra.
"We oversee the making, rather than do it all ourselves, which would be impossible to do.
And we employ chemists to standardise and oversee our procedures. We source ingredients from around the world and we do the same for packaging.
"We continue to look for greener bottling alternatives for luxury cosmetics. At present we are using recycled PET (rPET), and for all marketing materials we use FSC paper products printed with soy inks. It's also important to add that our concentrated products use less water, which results in less volume to ship."
With this in mind, Debra thinks that introducing a pump that dispenses a precise unit dose will help consumers to adapt their behaviour and avoid using excessive product and wastefulness. And, as active packaging technology develops, Hugo Naturals will be pleased when containers come on the market that protect the efficacy and extend the shelf life of its products, while protecting the planet.