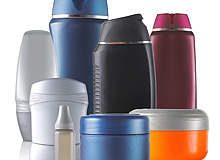 Interpack, Europe's biggest packaging industry exhibition, is the shop window for all that is new, innovative and available from packaging manufacturers and suppliers around the world.
The show is also the place to glimpse what lies around the corner, and is where brand marketers, buyers, designers and machine-builders learn who and what is driving their markets.
Special show features
Show-goers attending Interpack 2011, which takes place in Düsseldorf, Germany, from 12-18 May 2011, will find smart solutions for protection against product piracy as well as ideas for products and packaging that adapt perfectly to specific lifestyles and sustainable practices.
Save Food, a special feature produced with the Food and Agriculture Organisation (FAO) of the United Nations, will focus on the positive contribution the single elements of the value-added chain for packaging, transport and logistics can make in combating the pressing problem of worldwide food waste.
Innovationparc Packaging, meanwhile, is an established forum for creative exchange between exhibitors and visitors on aspects of 'quality of life'. Visitors have the opportunity to talk to entrepreneurs representing various levels of the value-added chain.
The Metal Packaging Plaza is a new meeting place for the international metal packaging industry and its suppliers. Information on the trade and all manner of innovative packaging solutions will be there.
Exhibition highlights
"The Metal Packaging Plaza is a new meeting place for the international metal packaging industry and its suppliers."
Visitors can learn about packaging control and reducing the total cost of delivering machinery, and discuss innovations in coding, labelling and pack inspection targeting safety in the food, cosmetics, chemical and pharmaceutical sectors.
They will also be able to see a new generation of traysealers; a 'revolutionary' air-based, all-plastic, non-pressurised, cross-sector dispensing technology for products susceptible to oxygen degradation; and a multihead weighing system to reduce giveaway to "almost zero".
Among the many other developments in cutting-edge packaging and processing systems is one that uses dynamic weighing to control the flow of seasoning powder into the drum for improved coverage and flavour dispersion. Also on show will be an overwrapper for chocolate production that has been designed to prevent heat damage to paper and product, and paper print registration facilities for consistent overwrapping presentation of print-around product.
'The biggest, full-colour packaging container with a metallised in-mould label (IML) in the world' will be at the show. It is possible for containers of up to 60l to use an IML process offering a full photographic result with top-to-bottom coverage.
Elsewhere, a specialist in packaging small-pieced confectionery will reveal how to achieve a 'record breaking' 1,000 cycles a minute for jellies in double twistwrap, and a first-timer at Interpack is exhibiting end-of-line packaging machines that have enjoyed success in the US.
A pharmaceutical packaging specialist is bringing a very compact machine that counts and fills solid-dose products at 150 bottles a minute, which is suitable for small to mediumsized batches and is a response to cost pressure and demand for smaller batches. It is designed to process all common solid-dose products and types of forming material in batches of 10,000-70,000 packs.
"Interpack 2011 will witness the unveiling of a high-speed laser system."
Interpack 2011 will witness the unveiling of a high-speed laser system designed for flexible packaging applications, which is said to give a consistent score depth throughout the run.
Visitors will also be introduced to new inkjet technology for printing on nonporous coated-corrugated and shrink wrap in the food, beverage / wine, medical / nutraceutical and cosmetics sectors.
They will encounter complete packaging assembly lines, too, including robotic pick-and-place systems that promise 'maximum output from a smaller footprint'.
At the retail end of the spectrum exhibitors will present the latest in packaging design for small-portion and family packs, and products that are easy to open yet still well sealed to meet demands for convenience and hygiene.