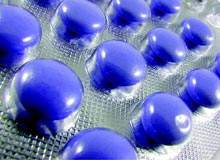 Rising rates of pharmaceuticals use, a constant flow of new products and the opening up of global markets suggest the already impressive growth in the market for pharmaceutical packaging will be maintained for many years to come. Some estimates value the market at around $23bn and rising.
Market research organisation the Freedonia Group expects demand for pharmaceutical packaging to grow by nearly 10% annually for the next three years, with rigid packaging, thermoformed trays and blister packages showing particularly high growth. Flexible packaging, for which the medical and pharmaceutical industries already make up around 7% of global demand, is also tipped to be a growing market.
Demand for pre-filled inhalers and syringes is also set to expand, on the back of research into drug delivery mechanisms and a growing number of biotech products coming to market. Blister packs, too, are likely to increase their market share, due to a regulatory emphasis on the need for unit dosing, and because new manufacturing equipment is making blisters cheaper to produce, particularly for drugs sold in smaller volumes.
Demand from the US, Europe and Japan is expected to increase, but emerging markets like China and India are also expected to show strong growth, as manufacturing capacity grows and governments regulate their markets to improve the quality of drugs in the supply chain.
CHALLENGING CONDITIONS
Pharmaceutical companies are facing many critical challenges. Globalisation is stretching supplies as well as creating opportunities, while falling margins put the emphasis on costs.
Cost control is vital at all stages in the pharmaceutical supply chain, and companies will increasingly look at how to derive greater efficiency from their packaging and labelling solutions. Similarly, they will look to improve their transport and cold chain management processes, which will include greater emphasis on validation and secure transportation.
Security is also a key issue in other contexts, given the rise in counterfeiting in the global drugs market. All of these issues demand that packaging processes be re-examined.
"The FDA is encouraging pharmaceutical companies to explore RFID technology."
There is a constant need for innovation to address these challenges and to reflect the rapid evolution of the market.
For instance, the increasing number of biological products, which have a tendency to be less stable than conventional drug treatments, requires new packaging technology to be implemented.
Products that require sensitive handling – avoiding, for instance, exposure to light or excess temperature – may need tracking systems as part of their packaging, possibly in the form of smart radio frequency identification (RFID) tags, to ensure their safe transit.
STRICT QUALITY CONTROL
The pharmaceutical industry is among the most highly regulated in the world and compliance requirements are growing ever more stringent and complex. Regulatory controls in the pharmaceutical sector extend to every part of the supply chain, not least packaging.
Furthermore, compliance is a moving target. Current trends in Europe, for instance, include revamped government standards that place greater importance on unit dose packaging, high-barrier capabilities and anti-counterfeiting measures.
In the US, packaging and labelling fall under the Good Manufacturing Practices (cGMPs) for drugs, medical devices and biological products, requiring manufacturers to implement appropriate controls for each step of the production process.
The Food and Drug Administration (FDA) last year changed the rules for drugs and biological products so that the documentation must contain highlights of prescribing information and a table of contents. It specifies a clear sequence for that information and new specifications for graphics.
"The counterfeiting of drugs is a growing problem, particularly as the global market expands."
The move is intended to cut the number of prescribing errors and, ultimately, improve patient safety. It echoes changes to the labelling requirements of over-the-counter medicines in recent years, which were intended to make them more user-friendly.
Similarly, there are regulations such as the voluntary 11067 standards that apply to the packaging of sterile medical devices. These include detailed requirements and testing methods that apply to materials, barrier systems and packaging processes, which aim to improve the safety of such devices.
From the regulatory perspective, however, the most pressing issue is perhaps the drive to ensure that the pharmaceutical industry is successfully tackling counterfeiters. The FDA is encouraging pharmaceutical companies to explore the use of technologies such as RFID. The counterfeiting of drugs is a growing problem, particularly as the global market expands, and it is by improving their packaging processes that major pharmaceutical companies can fight back.
SPOTLIGHT ON SECURITY
The influx of counterfeit drugs onto the global market has been recognised as a problem for many years, but there is a growing sense of urgency for those that must attempt to combat it. In March this year, the International Narcotics Control Board (INCB), based in Vienna, warned that both illegal manufacturing of drugs and the diversion of legally produced drugs into unregulated markets could put many consumers at risk.
INCB president Dr Philip O Emafo has a stark warning for anyone tempted by black-market pharmaceuticals. "Besides the fact that the sale of diverted and counterfeit drugs and the purchase of drugs containing controlled substances without prescription contravenes international treaties on drug control," he says, "it is important for consumers to realise that what they think is a cut-price medication bought on an unregulated market may have potentially lethal effects whenever the consumed drugs are not the genuine product or are taken without medical advice. Instead of healing, they can take lives."
The World Health Organization (WHO) estimates that 25%–50% of medicines consumed in developing countries are counterfeit, a problem it feels is exacerbated by the fact that counterfeit drugs are easy to manufacture, and their packaging and labelling can often resemble that of genuine drugs.
"Between 25% and 50% of medicines consumed in the world are thought to be counterfeit."
"The problem of counterfeit medication and abuse of pharmaceuticals containing controlled substances bought without prescriptions has been in existence for some time," says Emafo. "However, the rapid expansion of unregulated markets has dramatically worsened the situation."
As the global market expands it becomes harder to trace counterfeiters, though there have been some significant successes.
In 2005, agents employed by GSK posed as buyers of counterfeit medicines to crack an illegal operation in China, which had been producing fake antibiotics and pain relief products. The outfit had also been using a printing factor to produce imitation GSK packaging. The company invests heavily in anti-counterfeiting operations, but still puts losses to illegal drug manufacturers at around £30m a year.
DRUG COMPANIES RESPOND
At the packaging level, companies are pursuing different approaches to foiling the counterfeiters. Some have chose to use 2D barcodes, with AstraZeneca leading the way on mass serialisation at the unit level in an attempt to make its supply chain more secure. It has chosen to deploy a system from Authentix to safeguard supplies of its gastrointestinal drug, Nexium (esomeprazole).
The company is among the first to invest heavily in unit-level serialisation and the implementation will be a good test of the serialised authentication programme's technology. One advantage is that it does not preclude the later adoption of RFID, which is being actively pursued by other manufacturers.
SMARTER CHIPS
RFID tags are set to become commonplace in pharmaceutical packaging as their capability increases and tags become less expensive. Their effectiveness relies on co-operation between drug manufacturers, packaging firms and logistics companies, which are increasingly co-ordinating their efforts.
"RFID tags are set to become commonplace in pharmaceutical packaging."
For example, logistics company DHL, UK-based Microlise and US enterprise visibility solutions provider AeroScout have come up with a dynamic new system targeted at customers in the pharmaceutical industry. It uses RFID tags to enable real-time monitoring of product shipment temperatures throughout the extended supply chain.
The technology offers real-time data via a web browser linked to the Microlise Transport Management Centre (TMC) software, where vehicles are tracked and monitored.
The system has already been used by Mueller Transporte in Vienna, which specialises in temperature-controlled transportation, and frequently carries biotechnology products.
"The integration of the unique AeroScout RFID Wi-Fi tags allows cost-effective real-time shipment temperature monitoring that can be easily extended to encompass the end-to-end supply chain," notes Lee Nixon, RFID product manager for Microlise. Unit-level RFID tags will one day be incorporated into the packaging.
RFID PROMISES MUCH
There is certainly growing demand for RFID from pharmaceutical companies. The pharma sector is already the second biggest user of RFID systems in the US, with almost 20% of suppliers running pilot or full implementation programmes.
Frost & Sullivan expects the RFID market to grow dramatically, possible exceeding $450m by 2012. The FDA has backed development of the technology in pharmaceutical packaging, and now the EC has also put forward guidelines for its implementation.
"The rapid expansion of unregulated pharmaceutical markets has dramatically worsened the counterfeit medication situation."
Pfizer is a notable user of RFID, having incorporated tags into the packaging of Viagra (sildenafil), which has become a very popular target for counterfeiters, and GSK has also started to use tags on supplies of HIV treatment Trizivir.
This year, packaging firm Rexam has moved to incorporate RFID technology into bottles supplied to the pharmaceutical industry, working with Traxxec to develop a new tracking and anti-counterfeiting system that relies on the ability to both read and write data – batches, dates and product information – onto the tags.
Much will depend on how fast RFID technology matures. Recently, packaging firm Owens-Illinois and RFID provider Impinj have claimed 100% reliability for their technology in pharmaceutical applications, using embedded ultra high-frequency (UHF) tags, which suggests that the technology's performance is improving, but the cost profile must also improve if manufacturers are to adopt it on a large scale.
INNOVATION IS THE ANSWER
There are, of course, issues that affect the entire packaging arena and, therefore, come to bear on the pharmaceuticals sector. Among these is the focus on developing more sustainable packaging solutions, which will affect materials development and packaging design.
"We are committed to sustainability and thus to running our business in a way that is ethical, responsible and creates long-term value," commented Roche chairman and CEO Franz Humer in a recent statement. "And, since it takes up to twelve years to bring a new drug to market, our business model inevitably has a long-term focus. We must be responsive to developments in science and society, generate a level of resources that ensures our independence and be willing to take calculated risks."
Roche is not alone in bringing creativity to the pharmaceutical packaging space. Innovative packaging designs and manufacturing solutions abound. Alcoa, for instance, has launched a new range of childproof blister-lidding solutions for its pharmaceutical customers. The new system uses a polyester film that allows sealing at lower temperatures, which could be vital for drug treatments that must remain within strict temperature ranges.
"Viagra (sildenafil) has become a very popular target for counterfeiters."
India's Bilcare, having been a generic manufacturer, has invested in its own technology to improve the time-to-market for new pharmaceutical packaging solutions. It claims to be able to develop optimum packaging in as little as four weeks. Alcan is investing heavily in expanding its US operations to meet growing demand for flexible packaging.
This kind of continued investment and innovation will help to meet ever more stringent packaging requirements, improving capability in tamper evidence, sterile packaging and anti-counterfeiting, while helping the industry to improve its cost profile.