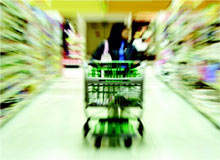 At Unilever, we see packaging as multi-sensory interfaces between consumers and its brands. They are the 'key touch points' for the brands. Take deodorants for example. One might think that it's just a bit of plastic, or metal with some smelly stuff inside, but actually, not only are they designed with specific characteristics, but those characteristics are different for men and women.
Men / boys buy Lynx because they like the look of the cans (the new package has that 'boy toy' look) – usually black, or silver. They like the way it feels (metallic, masculine) and the way it operates (quite a mechanical process). Women want something altogether different.
Colour, shape, texture, interactivity and functionality all work effectively together to deliver the 'total brand' experience to consumers. Our teams leverage all of the cross-functional skills and knowledge that exist at Unilever – most development teams consist of members from all areas of the company – packaging, R&D, supply chain, supply management, marketing, consumer insights, sales, design, finance, consumer insights and legal.
Great packaging also requires close, open and synergistic external relationships with the packaging material suppliers and the material converters. If a packaging innovation is going to be successful, and the success is going to be sustainable for a long period of time in the marketplace, then everyone in the value chain must derive some benefit from the innovation. If one link in the chain is penalised, then the entire system collapses.
Packaging innovation is a tool that can be used to both re-energise existing brands, and also to bring new brands to life. Packaging should be seen as an investment in a brand and not just a cost to business. In some cases, a packaging innovation can drive additional value for the brand by generating both lift in the market while actually costing less to produce.
BEATING THE COPYCATS
A great example of brand renovation via packaging innovation, combined with a fantastic example of synergistic, collaborative external relationships, is our development of the new Knorr® Aromat® package in Unilever South Africa.
The business team used innovative packaging to turn a marketing nightmare into a merchandising dream. Sales of the company's popular Knorr Aromat brand of spice blends had been eroding since 1999 as competitors brazenly copied the Aromat style, with significant numbers of competitive copycat brands entering the lucrative market.
"Redesigning its Knorr Aromat packaging gave Unilever an immediate 8.3% jump in volume."
We were not prepared to alter the product itself as we needed to maintain its existing identity. The basic objective of the development was to propel Knorr Aromat into a growth phase, and to accomplish this by improving the relevance and modernity of the brand through packaging.
We launched a new 75g canister in July 2006 and immediately experienced an 8.3% jump in volume against a planned and predicted increase of just over 3%. The new package surpassed its market penetration target of 48.6% to reach an impressive 58.8% penetration. The great performance in the market was credited to the bold new package, the design of which is described in the box above.
GOOD DESIGN ADDS NO COST
Several carefully considered elements contributed to the cost efficiency. The Aromat team chose a material grade with a better melt flow index to improve cycle times. We worked closely with an extremely inventive tooling vendor to overcome mould issues, and that allowed us to bring the concept to life. Though it was no small feat to create the moulds to handle such a complex design, switching from a three-piece canister to a two-piece eliminated a costly assembly step.
In the case of Aromat, in-mould labelling is an ideal technology because it's a sharp look that is difficult to copy, and the fact that the label is integral to the canister eliminates the challenge of applying a label in an environment where powdery product could impact placement and adhesion.
The new Aromat canister represented a significant investment for the company. Hitting the cost target – a net per-package cost increase of zero – kept the project viable. So did outstanding collaboration and teamwork from an array of suppliers working together to meet Unilever's 'project critical path' milestones throughout the effort. The new canister was an outstanding success in the market – it effectively reversed the declining fortunes of the long-time spice aisle leader in its competitive southern market.
INVEST IN PACKAGING DESIGN
Competition for our consumers' attention at shelf is heating up. The playing field is becoming much wider and deeper than ever before. Private label brands and 'store' brands are looking at the mainstream brands and raising the level of competition. These private label brands are investing significantly in packaging design, are quick to mimic the branded package designs, and are often willing to push the design envelope even further than the branded FMCG companies.
Great consumer insights, and our ability to quickly interpret and transform those insights into innovative package designs that we can ultimately protect and patent, allow us to stay ahead of the competition, and to maintain a competitive advantage in the marketplace.
"Good design can revitalise a brand without adding any cost."
Our packages must also be responsibly sourced and cost-effectively manufactured; be efficient to distribute and convenient for the retailer to stock; must differentiate our brands on shelf; must fulfil the brand promise by delivering every aspect of the consumer experience in use at home or on the go; must allow for the efficient re-use and/or disposal of the package; and must protect the quality of the product throughout its entire lifecycle – those are our goals at Unilever Packaging.
At Unilever, packaging vitality is packaging sustainability – it is developing and delivering packaging that does not diminish the overall abundance of natural resources for future generations, ensuring that they 'get more out of life'.