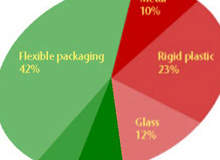 Double-digit growth in regional GDP between 2004 and 2006 and a stabilisation of many economies in Latin America has provided a fertile platform for growth in consumer packaging. Higher disposable incomes and developing retail infrastructures have spurred a shift from unpackaged to packaged goods while simultaneously improving accessibility to products. With the rise in consumption of packaged food and beverages, Euromonitor International expects packaging demand to increase by almost 5% in Latin America in 2007, slightly behind Asia at 6% but well ahead of the 2% growth rate expected for North America.
MEXICO AND BRAZIL
"Mexico and Brazil account for 62% of regional retail spending on F&B in Latin America."
Mexico and Brazil together account for some 62% of regional retail spending on food and beverages in Latin America, so have a clear influence on regional packaging demand.
The Mexican economy continued to perform well in 2006, with overall GDP growth of 4.7% having a positive impact on employment rates and increasing the number of Mexicans that qualify as being high or middle class.
Rising incomes resulted in increased consumption of packaged food, building demand for packaging, but also increasing the importance of communicating brand equity in the packaging design. Conversely in Brazil, the middle class has been shrinking, so manufacturers have polarised packaging and product offerings to fall into economy and super-premium categories to appeal to the minimum wage earners and high-end earners, respectively.
While participation in the economy segment boosts volume sales, premium products offer higher profit margins. Coca-Cola actively pursued a glass bottle revival in Brazil in an attempt to reduce the price of its carbonates brands for end consumers, while also launching a number of products in 2l and 3l 'super-saver' PET bottles, also positioned as economic products.
REGIONAL DRIVERS
Outperforming all other packaging formats will be flexible packaging in Latin America, with Euromonitor International predicting a 4% increase in demand in 2007 alone. Strong performances will continue to be felt by confectionery, bakery products, noodles and dried food. Manufacturers in mature sectors such as canned/preserved meat, rice and pasta are keen to avoid the continued flattening of sales, so have started investing in new packaging materials that would create buzz and bring consumer interest.
"Carbonates and bottled water will be the main drivers of rigid plastic packaging."
Stand-up pouches made an entrance into these new food categories, positioned as a premium item that commands a higher price than metal or glass, but were favoured by consumers for uniqueness and novelty.
Higher sales of pouches are expected to continue to underpin the overall performance of flexible packaging and gain additional ground in foods.
Carbonates and bottled water are expected to be the main drivers of rigid plastic packaging, notably PET bottles in the region between 2007 and 2011. Mexico and Brazil are expected to see solid growth in consumption of water and carbonates during this period, in line with the shift to smaller size packs and greater consumption occasions.
MODERN RETAIL DEVELOPMENT
The growth of cities in Latin America is leading to a fragmentation of traditional social structures, reducing household sizes, creating greater densities of consumers and providing new employment opportunities to women, all of which are serving to transform consumer behaviour and create suitable conditions for the development of modern retail formats. As a result, leading retailers have increasingly looked beyond core, developed markets to the strong growth potential of major emerging markets.
Large club stores such as CostCo, Sams Club and City Club (Soriana) have been among the retailers enacting strong campaigns to increase their presence in Mexico.
"Retailers adopted policies of opening outlets in every city with a population of 100,000 or more."
Along with Wal-Mart, these retailers adopted policies of opening outlets in every city with a population of 100,000 or more and the higher presence of these retailers has not only driven increased volume and value sales of packaged food overall, but is also helping to underpin the movement towards bulk volume and value sales. Carnation Clavel is now sold in a bigger presentation of 1,500ml or in multipacks of 10 units, while Del Monte, La Costeña and other ketchup brands are selling bigger presentations of their products, including multipacks of two or three containers.
IMPULSE CHANNELS SUPPORT
Packagers and brand owners are also successfully expanding sales through impulse channels, typically run by local independent operators, through the development of portion packs. In Brazil, single portion packs are witnessing impressive growth, because of their convenience and wider variety of products offered, and also because of better distribution capabilities developed by manufacturers to reach the north and north-eastern areas. Casa Suíça started distribution of its products in these regions in 2005 and continues to benefit from a wider reach.
ON-THE-GO CONSUMPTION
"In Brazil, even the less developed wine sector has seen the emergence of smaller size products."
Multi-portion cakes saw a strong performance, represented mainly by panettones, mostly consumed at Christmas. In Argentina, kiosks and forecourt retailing are predicted to continue to enjoy strong sales of impulse foods, as these are the most developed impulse channels and are often found in office areas. Ice cream, dairy products and snacks in small sizes are enjoying a good performance in impulse channels in Mexico.
Greater on-the-go consumption has led to a rise in purchases of single-serve products in the beverage market, both for soft drinks and alcoholic varieties. Often purchased through impulse or on-trade channels, manufacturers are developing products that target this new market.
In Brazil, even the less developed wine sector has seen the emergence of smaller size products, with Château Lacave and Georges Aubert both introducing still red, white and sparkling wine products in 187ml single-serve glass bottles in 2006, further developing the niche first created in 2002 when Chandon launched its Chandon Baby sparkling wine brand in smaller bottles.
TRADITIONAL COMPETITORS
Conversion is also influencing packaging demand in the region, with a growing number of manufacturers adopting plastic in place of glass or metal packaging.
Drivers of this trend were companies like Unilever Bestfoods Brasil Ltda, which switched from glass to plastic jars for Hellmann's mayonnaise. What started out as a manufacturer-driven trend was eagerly picked up by consumers who are now underpinning this shift in an increasing number of food sectors, such as oils and fats, dairy products and sauces, dressings and condiments. Traditional packaging is therefore expected to continue to suffer greater competition against alternative pack types in coming years.
POSITIVE PROSPECTS
"Greater on-the-go consumption has led to a rise in purchases of single-serve products in the beverage market."
As economic stability has returned to the major markets in the region, Euromonitor International anticipates the outlook for the packaging industry remains bright. Wider product offerings and the move to differentiate brands on the shelf is leading to innovations in the packaging industry, and to greater variety.
The continued development of more modern retail formats will also benefit packaging demand as distribution networks facilitate a shift to packaged products. Traditional channels are also likely to drive growth through impulse purchases.
Euromonitor International predicts that overall packaging demand for Latin America will increase by 18% between 2007 and 2011.