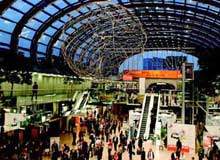 How big will drupa be this year?
Manuel Mataré: We are expecting 400,000 visitors and 3,500 journalists from around the world, and with over 1,800 exhibitors spread across an exhibition area of more than 170,000m2, drupa 2008 will be bigger than ever before. The exhibitor registrations mirror the international market situation and industry developments.
Consequently, the leading technology producing nations – Germany, US, Italy, Switzerland, UK and Spain – will be among those most strongly represented at the event. We've also found that exhibition space booked by emerging industrial countries such as China and India has expanded at astonishing rates: 300% for China and 60% for India.
Given the broad range of visitors drupa attracts, how will the event work to fit in with visitors' individual needs?
It's the ideal complement to the exhibitors' technology offerings – the specialist ancillary programme, which is unparalleled anywhere else in the world. Seminars, workshops, talks, individual tours of the trade fair as well as special presentations such as the 'drupa innovation parc presented by HP' and 'drupacube' add up to unparalleled knowledge transfer for international experts.
The programme's individual building blocks are modular, allowing them to be freely combined according to visitors' interests. Print buyers and those on the creative side, for example, will be in their element at the drupacube while printing and media service providers will be able to ask specific production-related questions on the Highlights Tours. Decision makers will be able to probe new lines of business at the Compass Sessions. drupa has an appropriate answer to every question.
What is new for drupa delegates in 2008?
With the drupacube, drupa 2008 will for the first time provide a special event aimed at the print buyer target group. Here, the spotlight will be on printed products, with one key difference: at the event inside the pavilion set up on the Rhine, the focus will be focused on marketing-driven applications for printed products. The technology that makes this possible will play a subsidiary role. This shift in perspective offers one unbeatable advantage: heads of marketing, publishing directors, production managers, account executives and creative directors will be able to take in print's potential in the marketing mix in a compact format.
What does the future hold for drupa?
"The biggest winner at drupa 2008 will be printed products."
The biggest winner at drupa 2008 will be printed products. That was already clear four months before drupa 2008 takes place. The global supplier industry will present an abundance of innovations, integrated solutions and market-ready refinements that could give printed products the edge in competition between the media.
The feel, emotional power and high-quality look of printed materials provide a significant advantage over electronic media at, for example, the point of sale, in brand communications as well as personalised mailing and large-format advertising campaigns.
What are the benefits and key areas of interest for packaging professionals?
The print media fair promises to offer everything packaging designers and printing service providers would desire. The combination of printing inks, the appropriate printing substrates, the right printing machinery and finishing technologies as well as the industry's innovative drive is unparalleled and stimulates vital impetus for the future development of packaging printing.
Halls 10 to 14 are the key areas for this area, however, printing halls 15 to 17 and the Heidelberg hall 1 will also be of interest. The Highlights Tours and the Compass Sessions both offer a special programme for the packaging professionals.
How interactive is the event for suppliers who may want to try the products on offer?
Guided tours spotlighting current developments will be staged so trade visitors can gain an overview of individual industry themes. The palette of topics runs from workflows and web to print through offset and digital printing to packaging production and finishing. The Highlights Tours take visitors to between six and eight selected exhibitors on each tour. Apart from German and English, the tours will for the first time be conducted in Chinese, Spanish and French.
The Compass Sessions are two-hour intensive workshops staged daily on topical issues regarding technology and new lines of business. The programme is as diverse as it is topical with themes ranging from digital/inkjet printing through offset printing, premedia and web-to-print solutions to digital workflows, printed electronics and packaging printing.
What are the hot topics for the packaging sector in 2008 and how do you see the sector responding?
"Guided tours spotlighting current developments will be staged."
Go to drupa and look for anything that will help make vast improvements in productivity. That would certainly involve a deep look into what market leading producers of sheet-fed offset presses have to offer. Using standardised printing in different forms will probably be a must for the packaging printer who needs to be able to guarantee total colour consistency.
The colour is the brand in packaging. Watch how digital printing technology significantly speeds up its capacity and printing quality – but don't forget to look closer into what offset and flexo press manufacturers have done recently to enable economical short run printing. You might be surprised.