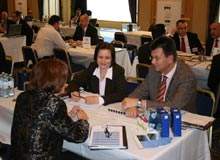 "You have to ask yourself what value your package is bringing."
'It is important to stay ahead of the competition,' said Doug Dichting, and as group director, global packaging for Coca-Cola, he should know. 'Packaging suppliers need to understand the consumers and approach brand manufacturers with innovative ideas. They must also stimulate big brand manufacturers.'
Dichting was speaking at a round-table debate at the 3rd annual Packaging and Converting Executive (PACE) Forum in February. More than 200 senior packaging industry professionals from Europe, Asia and the US gathered at the InterContinental Hotel in Vienna for this event. Hartmut Tieckenheinrich, director of corporate packaging development, Beiersdorf, opened the two-day seminar programme with his insights into developing brands through effective packaging.
During the Food Sector Focus round-table discussion, David Kuethe, senior manager, food service packaging, Heinz North America, argued that consumers wanted to understand what benefits own-name brands gave them over top brands, irrespective of saving money.
'You have to ask yourself what value your package is bringing,' he says. 'Consumers need to understand what you are bringing to the table. People look at what the product can do for them.'
A CHANCE TO TALK
The PACE Forum differs from conventional trade shows or conferences because it gives buyer and supplier delegates unrivalled opportunities to build business relationships through an organised schedule of face-to-face meetings. Outside these meetings there was the chance for delegates to relax and chat with new contacts and old friends in the PACE Coffee Lounge, sponsored by GMG.
The Forum's keynote presentations and extensive workshop schedule covered a variety of packaging issues including new print technologies, cost-effective techniques for maximising shelf impact, employing packaging professionals and practical trends and future developments. Luxury brands were put under the spotlight in a Cosmetic Sector Focus session, which concluded that in many cases packaging becomes more important than the product.
SMART PACKAGING
"Innovation is consumer focused."
Smart packaging was a hot topic, with delegates calling on the developers of new technologies to prove what they can do in the field of active and intelligent packaging.
Attendees were keen to debate the benefits of organic semiconductors and nanotechnology. Day two opened with a presentation by Mehmood Khan, global leader of innovation, Unilever, who revealed Unilever's key to innovation success through its development of innovation process management objectives. 'Innovation is consumer focused,' he says. 'Unilever reaches 150 countries so we have to have respect for individual tastes, preferences and ways of living. Over 16,000 people are brought together through a global online community where senior people manage, allocate and guide resources. Senior management have a commitment to make things happen.'
LOOKING AHEAD
The fourth annual PACE Forum is to be held in the US in February 2009.
There is increasing pressure to meet the requirements of a sophisticated consumer and to balance them with sustainability, aesthetics and price. These are sure to be some of the issues under discussion at the fourth annual PACE Forum, to be held in the US in February 2009, which for the first time will address brand protection, as the issue of counterfeiting continues to grow in importance.