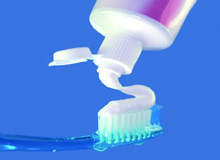 There is no doubt that the design quality of packaging affects sales, but exactly how much is hard to quantify. The only certainty is that for many products the purchasing decision is made at the shelf, which is why so many products use their packaging to scream for consumers' attention. The question is how to use packaging to differentiate a product so that it not only draws attention, but also sends out the right messages to position the product within its target market.
'It's very hard to measure how packaging design affects customers' purchasing behaviour,' says Mike Maggio, vice president of global strategic design operations for Johnson & Johnson. 'There are so many other factors that it is hard to pick out its impact. What is obvious is that design does have some impact when the customer is at the shelf.'
A LONG SHELF LIFE
"It's very hard to measure how packaging design affects customers' purchasing behaviour."
Many of Johnson & Johnson's long-established brands are familiar sights. Through its 250 operating companies in 57 countries around the world, it is a major presence throughout the global healthcare, consumer, pharmaceutical, medical devices and diagnostics markets. In 2006, its worldwide sales totalled $53.3 billion. The company is accustomed to success on the supermarket shelves, where packaging designs and advertising slogans compete fiercely for the attention of customers. It has succeeded in developing world-famous brands such as Band-Aid, Neospirin, Neutrogena, Tylenol, Imodium, Benadryl, Sudafed, Listerine and Splenda, some of which have endured over decades.
'On the shelves today you see a consistent mess of messages,' says Maggio. 'Everything is multi-coloured and covered in slogans offering "33% more" or "10% free". There are so many messages that it's very difficult to differentiate yourself from the rest.'
BUILDING ON A STRONG BRAND
This has not stopped Johnson & Johnson from coming up with packaging ideas that communicate a strong message from among the crowded displays. Design, colour and choice of packaging material have always been key factors, but increasingly important has been the extension of those elements into a much broader packaging and marketing strategy for each product.
"On the shelves today you see a consistent mess of messages."
'We try to use packaging design to stand out and capture the customer's attention,' says Maggio. 'You can see that with our packaging for Rembrandt tooth-whitening products.'
The Rembrandt redesign is among many redesign efforts by Johnson & Johnson that have proven highly successful. The new look of the product is an important part of the company's bid to increase its share of a market for teeth-whitening products, valued at some $500 million a year in the US, and is part of Johnson & Johnson's integrated approach to packaging.
EFFECTIVE REDESIGN
Another example of a successful redesign came with the recent repackaging of products in the Band-Aid brand for Costco stores. Since the brand's launch in 1921, usability has been as much a factor in the success of a packaging design for Band-Aid as its appearance.
For the Costco campaign, Johnson & Johnson was redesigning packaging with a high brand capital, so made use of it. It produced hard, reusable cases for the bandages, using a clean, white, simple design, that were reminiscent of past incarnations of the product familiar to many consumers.
'The three solid containers – one each for the bathroom, the car, the kitchen – are very like the metal tins of 20 years ago,' comments Maggio. 'We used the brand equity – our customers' emotional connection with our brands and products – to take them to a different place. It's all about that emotional connection.'
FAMILIARITY AND TRUST
"Johnson & Johnson can play to many strengths when it comes to brand equity."
Of course, Johnson & Johnson can play to many strengths when it comes to brand equity. A look at the company's history shows how long some of its well-known brands have been around. Band-Aid was created nearly 90 years, but Johnson's Baby Powder has been sold for well over a century. The more recent but well established painkiller, Tylenol, was launched as a consumer product in 1960.
The company itself was founded in 1886 and consumers are familiar with it. This helps a brand build the trust, which the company must justify, that provides a solid platform for marketing and sales.
Nevertheless, for all the value it can generate from its long tradition in many key markets, the company must keep pace with more competitive, ever-changing markets. Hence, its innovative approach to redefining the image of certain products through marketing drives that are closely integrated with packaging and product design.
AN ANNOVATIVE APPROACH
One example of this strategy in action is the redesign of KY Intrigue, a premium personal lubricant. Here, the approach does not involve simple, plain, white packaging; instead, the product comes in an impressive metallic-sheen purple box, which bears an elegant crest. The overall impression is of a luxury fragrance rather than a lubricant.
"We try to use packaging design to stand out and capture the customer's attention."
The goal is to lift the product to a different market segment by treating it as a luxury item that is available to the mass market. 'We took it out of its simple packaging and moved it into something more prestigious,' says Maggio. 'It changes the customers' perception of the product and makes them feel more comfortable buying it.'
As well as a return to simplicity in design, Maggio believes that the trend towards raising the prestige of readily available, affordable products through packaging and marketing campaigns will be a key ingredient for success in the future. That is why it is already a major goal for Johnson & Johnson.
'It will be important in the future to make people feel that they are buying high-end products, so we want to raise the value of our products in their eyes,' says Maggio. 'We are giving a high-end feel to mass-market products. Quality is important, of course, but the design of the packaging must have a stronger impact.'
BEYOND CREATIVE DESIGN
The success of many of Johnson & Johnson's packaging redesign projects is based partly on the creative imagination of the designers. Perhaps more important, however, is the way the company has organised and integrated its packaging process with the other phases of product development, sales and marketing.
Two years ago, the company changed its processes for packaging development. The arrival of a new chief design officer ushered in a new approach that took design and packaging out of the hands of the research & development (R&D) group and placed them firmly in a specialist packaging division. The move linked the packaging process much more closely to operations.
"The key focus is on relationship management."
Within this new structure today, the key focus is on relationship management, to ensure that all divisions, from R&D to sales, communicate effectively and collaborate around shared goals. Within a collaborative environment that functions well, the product is linked to the process of packaging design at a much earlier stage than ever before.
MARKETING
This bond between product design and packaging design is crucially informative to the advertising and marketing campaign, so that all internal stakeholders have an input on the final product and the strategy to place it in the market.
'A design will be in advertisements, displays, packaging and products, linking them all together,' comments Maggio. 'Success is about prioritisation, so we work closely with the marketing team and the sales force. The collaborative process is very important here. The R&D team also work with designers and packaging people. It's part of the work we need to do on usability. The product and the packaging have to match.'
"A design will be in advertisements, displays, packaging and products, linking them all together."
Few companies will be able to draw on the same extent of brand capital, geographical presence and financial strength as Johnson & Johnson, nor will many companies share such a long-standing presence in huge, global markets. However, this does not mean that other companies do not have a lot to learn from its approach.
After all, a large part of the company's success in redesigning packaging and relaunching products comes from the ability of internal resources working at different parts of the value chain to communicate on issues that will affect product and packaging design.
A similar environment could be replicated in a company of any size, and would no doubt improve efficiency along the whole product development cycle, as well as improving the success of marketing.
In the future, it seems that packaging will need to take its rightful place exerting greater influence on individual product strategy if it is to have the decisive effect on consumers at the shelf.