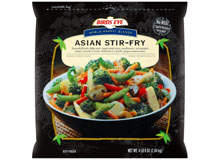 Craig E Densmore is in charge of investigation and innovation to create new ways of packaging at Birds Eye, with a particular focus on the popular concept of steam-cooked products. Aiming to revitalise the declining frozen vegetable market and promote healthy eating, the company is also concentrating on sustainability, cutting energy and water use through steaming rather than boiling.
What does your new role as senior director of packaging involve?
"In the US, we were a farmers' cooperative-owned business until 2002."
Part of my remit is to make a global investigation of cooking methods, packaging products and forms that can support the growth of the Birds Eye brand. But that's not all there is to the job; there is also the internal innovation that we're driving ourselves. We work with a number of consultants in our marketing group and we've held ideation sessions to try to drive new experiences and get vegetables into other meal times for eating and convenience.
For the last 12 years, I have been teaching part time at the Rochester Institute of Technology's School of Packaging Science in their Masters programme. This gives me excellent opportunities for networking with students and peers, and helps me to keep up to date with what's new in the industry. The company has been very supportive of that.
How has the changed ownership structure at Birds Eye played a role in transforming the packaging side of the business over the last few years?
In the US, we were a farmers' cooperative-owned business until 2002, when we decided to reorganise the company and the farmers became minority shareholders. Our new CEO, who came to us after over 20 years at Heinz, has strong ideas about how he wants things to be done. He wants to concentrate on the quality of our products and the presentation of our packaging. As a consumer packaged-goods company, nothing but the best should be in our packages and we should use nothing but the best packages. We first embraced sustainability for commercial reasons, and saw the current wave of sustainability ahead of time and have been working towards it in anticipation.
Are you talking about the use of bioplastics?
No – not yet. We haven't found the commercial combination so far that has been accepted by the retailers and the consumers in the US. We've done a fair amount of work around it. In the US, where we sell most of our vegetables in flexible film, it hasn't taken off like it has in Europe.
There are certain NGOs in the US that are starting to circulate the belief that PLA is bad for the environment because it uses more resources going in than it does in solutions coming out.
So your focus at first was on the frozen meals packaging?
Yes, and we went from number two in the category to taking the lead for the category in frozen meals in North America. A big proportion of that was due to our early adoption of the steam-cooking platform, which turned out to be a popular move.
What does this method involve?
Early on, we looked at what we call downgauging and lightweighting, and at how to address the problem in this business of excessive use of corrugation. Some people asking us for sustainable packages are now asking for higher use of corrugated packaging for case-ready display. So there's some disconnect there. We do what the consumer − household buyer − and the chains ask us to do. The whole idea about our steamed vegetable line – and what intrigued us when we first saw it from the patent-holder in Japan before commercialising it with Excelsior Packaging – was that we didn't need an extra pot, didn't have a serving dish, didn't use the water and didn't use the energy.
So this was aimed at customer convenience as much as reducing waste?
Yes – studies claim that with this method you use 40% less energy to steam 12oz of vegetables than you do if you boil a hot pan of water. It was a convenience proposition for our customers and they wholly embraced it, to a point where we are receiving a significant number of requests pushing us to bring about greater product selection. We started out with nine SKUs and we're at 26 now.
Do you think attitudes to sustainability are changing in your local and regional market, as much as they are internationally?
I just read an article about the wastefulness of putting fossil fuels, in the form of flexible film, into landfills. Why not incinerate it for energy? The Swiss and the Japanese are looking at the BTU output of flexible packaging and they are hailing it as one of the best uses of the petroleum if it's handled through the supply chain properly. The UK is also leaning in that direction. If you don't want to fill up a valley somewhere, then incineration seems the way to go.
What about the US?
This had a big run in the north-east, close to where Birds Eye is headquartered. Our local community spent several hundred million dollars trying to develop a new process with the local utility. Unfortunately, it ended in failure because the general population didn't do the sorting they were hoping they would. That experiment took place almost 20 years ago, and since then people have been struggling with what to do with the things that aren't recycle symbols 1 or 2 – that
is, PT or high-density polyethylene.
Your changes were also motivated, at least in part, by a temporary slowdown in the market a few years back.
"We do what the consumer – household buyer – and the chains ask us to do."
When we were looking for an innovative package to revitalise the frozen vegetable business, which had been in a 3% year-on-year decline for the previous ten years, we looked at rigid solutions and flexible solutions. It was clear that the flexible solution provided the lowest weight in transport, some of the best cooking, and at the end of life, the least mass. During its life it had no negative impact against the existing cooking methods that most were using in the US and Canada. So it appeared to us to be a desirable win-win situation, and it addressed consumer convenience.
Have people's working lifestyles also had an effect on the way they consume?
Since we introduced the original 12oz packages along with the stand-up pouch, we've developed a strong focus on single serving. Just think of what the typical family's working life is like these days. I have two daughters: one teenage and one older who is working, but still lives at home. The number of times that I, my wife and my two daughters all sit down to eat together on a weekday is becoming scarce. But, when we do get together we all still want to share a healthy meal. We were early adopters of healthy eating before it was commercialised – we loved the idea of single-serve portions of vegetables.
What are your plans for packaging in the near and mid-term future?
The most important strength we bring to the marketplace is our ambition and ability to make it convenient to maintain a healthy eating culture. We have a large R&D facility and a large team who concentrate on developing recipes, in addition to a chef who works on the commercialisation of recipes and eating experiences to keep them current, ethically and nutritionally.
We're placing a greater emphasis on R&D, our packaging development, and the quality that we're putting in the bag, folding carton, or tray. With the final product we're really concentrating on working with the grower community to source and purchase the finest-quality vegetables and proteins.
A FROZEN FOODS EMPIRE
Birds Eye is an international brand of frozen foods, including meat, seafood and vegetables. The brand and its underlying business is owned by different companies in various territories. For example, in Europe the rights were owned by Anglo-Dutch household goods giant Unilever until 2006, when they were acquired by the British private equity group Permira. In the US, they are owned by Birds Eye Foods of Rochester, New York, US.
Birds Eye Foods has sales of approximately $900 million annually and processes fruits and vegetables in 13 facilities across the country. The company is regarded as one of the pioneers of the modern frozen food industry and is credited with inventing a fast-freezing process that preserves the quality of food. It was founded by General Foods, which in 1929 purchased the rights to use a fast-freezing process patented by US inventor Clarence Birdseye.
STEAMED FOR FRESHNESS
In 2006, Birds Eye Foods announced the nationwide launch of Steamfresh™, frozen vegetables that steam in the bag. The idea behind Steamfresh was to enable vegetables to go from freezer, to microwave, to table in five minutes. The introduction of the Steamfresh product was a landmark in steam-in-the-bag cooking, which was a new phenomenon to consumers in North America.
"We started out with nine SKUs and we're at 26 now."
Birds Eye packages its flash-frozen vegetables in a special custom-designed bag. While microwaving, this special bag becomes a steaming vessel as it puffs up under the pressure of the steam created within the bag. A patented vent releases the built-up steam within the puffed bag, allowing the steam to circulate evenly throughout the cooking process.
The 'steam-and-serve' package is a polypropylene tray sealed with a proprietary lidding film that vents the steam created during microwave cooking. The consumer is not required to peel or pierce the film before placing the tray in the microwave oven; the steam automatically escapes through a venting membrane incorporated in the transparent lid stock. The vegetables cook in six minutes.