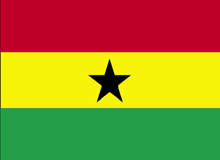 On 3 November 2003, Ghana's minister of Food and Agriculture, Major Courage Quashigah (rtd) formally inaugurated the Institute of Packaging, Ghana (IOPG). The new body will spearhead the development of the packaging industry in Ghana through research and dissemination of packaging information, collaboration with interested parties, and by providing professional training and advisory services.
Delivering his keynote address, Major Quashigah (rtd) pointed out that packaging has been identified as the weakest link in Ghana's agribusiness chain. Poor packaging, he noted, is the reason why excellent Ghanaian products are unable to compete on the international market. He therefore urged IOPG to work closely with the relevant government institutions and regulatory bodies to formulate policies and develop standards and specifications for the packaging industry.
Carl Olsmats, secretary-general of the WPO, and Keith Pearson, WPO education officer and chairman of the Institute of Packaging, South Africa (IPSA), both pledged the support of their organisations to IOPG.
Several dignitaries present
Elizabeth Joyce Villars, president of the Association of Ghana Industries, chaired the event. The special guest was Hon Alan Kyeremanten, Ghana's minister of Trade, Industry and President's Special Initiatives.
Several dignitaries, including chief executives of government and private institutions, witnessed the inaugural ceremony. Also present were representatives of Nampak, South Africa; Positive Packaging, India; and Paper Products Ltd, India.
Moreover, the executive council of IOPG accompanied Olsmats to pay separate courtesy calls on the Minister of Food and Agriculture, and the Minister of Trade, Industry and President's Special Initiatives. The ministers expressed the hope that IOPG would assist local enterprises to improve the quality of packaging. They called on WPO to support IOPG in this direction.
Workshop and visits
The inauguration of IOPG also marked the opening of a five-day international workshop on packaging technology organised in collaboration with IPSA and sponsored by WPO. 65 participants, including ten from Nigeria and the Ivory Coast, attended the workshop. The participants carried out projects on the design of packaging for textiles, peanuts, plantain, oil and fruits.
Also, factory visits were organised to some of the top packaging converters in Ghana and to Unilever Ghana in Tema. There, participants could acquaint themselves with conversion processes as well as the use of packaging in the manufacture of consumer goods. Hopefully, this event marked the beginning of an era of progress in Ghana's packaging sector.