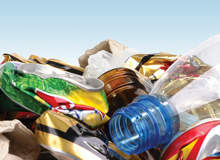 A key part of Unilever's current agenda is to reduce superfluous packaging and end the use of certain materials, such as PVC, condemned by the environmental lobby as "the poison plastic". Packaging, says Mehmood Khan, is the visible face of Unilever's 1,400 brands and consumers are increasingly alert to what they regard as unnecessary packaging.
The challenge, he explains, as set out in Unilever's latest Sustainable Development Report (2007), is that if consumer products are to succeed in the competitive retail markets, they need attractive, well-presented packaging that communicates brand identity while being acceptable to consumers on environmental grounds.
Unilever has explained that sustainable packaging is very difficult to achieve, because each type of material has a different environmental footprint. The challenge can lie with the sourcing of the material, its disposal, the resources used, or with the energy or water required for production.
The best solutions, says Khan, are not always the most obvious. To this end, Unilever established its Responsible Packaging Steering Group last year, which has taken up the work of the Unilever Packaging Group. Khan asserts that the group is doing pioneering work. It is a virtual organisation, meeting monthly, which draws in and reviews packaging proposals from Unilever teams.
Cost implications
Packaging suppliers, according to Khan, need not suffer from Unilever's aims to reduce packaging waste.
"The repackaging agenda is being tackled by focusing on Unilever's 40 power brands, of which 13 have earnings of over €1bn."
"I do not believe that, as we cut packaging, there are revenue implications for packaging suppliers. People think this is a zero-sum game. In fact it is not – that is a myopic assertion. You have to grow the pie, so there is value added for the suppliers and value added for us."
The repackaging agenda is being tackled by focusing on Unilever's 40 power brands, of which 13 have earnings of over €1bn. Khan cites Unilever's biggest brand Knorr (€4bn) as a leader in abandoning outside packaging and moving to concentrated liquid detergents with markedly reduced packaging and plastic requirements. 
"We are running 9,000 innovation projects and packaging is an important part of these," says Khan. "They involve standardisation and the elimination of waste in product manufacturing and packaging. Harmonising the processes reduces waste and therefore costs."
Global partnership
Unilever eschews any political dimension but works with platforms such as the World Economic Forum to tackle the realities of packaging and its disposal and recycling.
Unilever is involved in two initiatives designed to tackle recycling issues in Brazil and Thailand. CEMPRE was started in Brazil 15 years ago and aimed to involve disadvantaged communities in waste management and recycling issues. Unilever says that 15,000 of Brazil's poorest people have benefited from CEMPRE's work. But better still, the environmental record has improved. Brazil has doubled its recycling rate. A key contribution to this achievement has come from five local companies
with whom Unilever worked on the thermo-compression of laminated materials.
Packaging from products such as sachets, soup packets and toothpaste tubes have been recycled into items such as washing up bowls and roof tiles. A similar organisation, TIMPSE, has just been established in Thailand and work is under way to roll out the same scheme in other countries.
"Waste management and recycling can be done more easily in locations like Europe where Brussels can bring citizens of the 27 EU member countries together," says Khan, who does not believe that the CEMPRE and TIMPSE models can necessarily be applied universally.
"I do not think that there is any single solution. We have to find out with our partners how we can do it from country to country but CEMPRE has proved the core value of this sort of initiative."
New targets
In 2007, Unilever failed to reach its waste reduction target. Since 1995, the total waste levels have been cut by almost 69% per ton of production and now 11% of Unilever sites send absolutely no waste for landfill or incineration. 
"Now 11% of Unilever sites send absolutely no waste for landfill or incineration."
"Maybe we were a bit over-ambitious with our targets," admits Khan. "When you are creating a holistic solution there are so many variables. Remember that we have 10,000 suppliers including packaging companies. We are not in the blame game. We are explicit in the fact that we have said certain things which are not coming. So we are putting in a more prospective kind of approach.
"You will see in the next nine months when we produce our next Sustainable Development Report, how much better we are doing. It is a journey, I have to be honest. We have to learn the solutions working together with our suppliers. I don't think we have all the answers yet, but we are definitely going in the right direction."
Looking ahead, Khan is positive about the way the consumer industry in general and Unilever in particular will be handling the packaging challenges. "Packaging is heading towards the sustainability that it needs to have. This has to lead to the vision we want of a better world and packaging is an integral part of that."