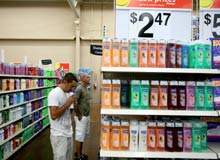 Products now have to meet higher standards of sustainability and so do their packaging materials. This includes their labels, which now carry more information on the sustainability of the product, but are themselves part of a supply chain in which the principles of sustainability and cost efficiency are of great importance.
One company that has made the most headlines for embracing the sustainable agenda is Wal-Mart, which has tackled the issue head on by implementing well-defined targets for its own business and that of its suppliers. Improving sustainability in its labelling function has been an important part of its overall agenda, and its printing, mailing and distribution centre (PMDC) has become an example of best practice.
"The problem of needing to improve sustainability is not going away. The pressure is growing all the time," says Marty Vavra, label products manager at Wal-Mart's PMDC.
A forum of sustainable business
The PMDC offers a good illustration of how Wal-Mart's broader strategy filters down into the everyday activities of specific business lines to make a significant contribution to the enterprise's overall performance. Recycling, for instance, is a key strand of Wal-Mart's broader strategy, and at the forthcoming LabelExpo Americas 2008 conference in Chicago, Vavra will be presenting a case study on what it took to get the highly successful recycling programme going at PMDC. Now, less than 2% of PMDC's waste goes to landfill.
Among the key points in Vavra's presentation will be that sustainability is not just an issue of responsibility, it is actually good for business.
"Improving sustainability is a cost in the beginning. Now, we are generating money from it. We want to help the industry get moving fast in this area. We want to help converters get on board so that they too can start to generate money from recycling, too," he explains.
Share useful information
Improving its recycling function was not PMDC's only goal. It has also managed to achieve noticeable savings through reducing scrap.
Through such projects Wal-Mart gains valuable insight into how to achieve efficiency gains and reach targets for sustainability, and for Vavra it is crucial that organisations share such experience to benefit the wider industry. Whether in reducing scrap, improving recycling or the efficiency with which materials for the label process are procured, there are valuable lessons to be learnt.
"We want to help converters get on board so that they can start to generate money from recycling."
Vavra wants to see converters and their customers find a forum to share their experiences and understanding of best practice. The right mechanism for a collaborative approach to the challenges of sustainability – and a change in attitude towards the sharing of information – could be to the great benefit of all.
"Sustainability is not an easy chore to tackle, but it becomes a mindset when you change methods and procedures by educating people," says Vavra. "We want to try to help suppliers of labels to Wal-Mart, so we think we should share what we learn. We need to find an avenue to share information. If we know someone who can recycle plastic or pressure-sensitive waste, for example, we should share that with people looking for their services. We always try to pass on the benefit of what we learn to our converters," he adds.
PMDC has already used its own experience to help some of its suppliers change their recycling processes.
Exceed targets and expectations
Much has been said about Wal-Mart's efforts to set standards for its suppliers through its sustainability scorecards, but PMDC has shown that this is as much about Wal-Mart helping its suppliers as about imposing standards. For Vavra, the company's moves to focus suppliers on assessing and improving their own businesses are part of a targeted strategy for Wal-Mart, not an attempt to set a benchmark for every company.
"Our immediate suppliers are held to our scorecards, but I want to make it clear that we are not using them so that they can become industry standards. The scorecards have certainly focused the industry on the issue, but it is up to each company to set its own standards," Vavra explains.
He recognises that Wal-Mart's experiences will inform how other companies approach sustainability, but feels that it will be through the sharing of best practice, not industry-wide benchmarks that this will be achieved.
"Our stance is that we are becoming more sustainable because it is the right thing to do, not because we want to profit from it," he says. "We are a very large organisation and when we ask our suppliers for something they jump fast to help us. Smaller companies need our help to get to where we are."
"We understand the manufacturing process and the cost of labels, so we have saved the company a lot of money."
He also stresses that internal efforts are every bit as important as the demands made on suppliers. Large organisations like Wal-Mart, he feels, should lead by example, and to achieve the necessary change it is important for a company to communicate its corporate messages on sustainability to every stake holder, beginning at the factory floor.
"I used to run a printing press, so I know the industry from the ground up," Vavra remarks. "I know that scrap, for instance, is generated at the factory floor. The people working on the floor are the ones who need to be educated and trained, not just the executives who manage them.
"Our recycling programme needed buy-in from the floor workers, so we got their ideas on how to reduce scrap."
The right price on the label
Sustainability has a large bearing on the strategy of Wal-Mart's PMDC, but for Vavra it is important to ensure that the key priority is the commercial performance and operational efficiency of the organisation. Efficiency and sustainability are closely linked, and Vavra's main goal is to ensure that PMDC's buyers are getting what they need at the right price.
"The biggest challenges for me," says Vavra, "are that because of our size it is difficult to get everyone on the same page company-wide, and also to ensure the products we buy fit the application, whether it is in the grocery sector or the automotive business. Many different buyers purchase labelling, and we are at the mercy of the converters in that we don't know if we are getting the best product at the best price."
The sheer scale of the organisation makes it a difficult task to get visibility of the activity of all its buyers. Vavra understands the labelling business, but believes there is a need to implement a structure through which best practice can be more accurately assessed and implemented throughout the organisation. This starts with an internal effort to improve the level of relevant detail in each purchase.
"We understand the manufacturing process and the cost of labels, so we have saved the company a lot of money. But we need accurate specifications to give to our buyers. If we order a label that doesn't stick on a freezer box, then find out that we didn't specify at the purchase stage that this was a requirement, then we have no comeback," notes Vavra.
"Our stance is that we are becoming more sustainable because it is the right thing to do, not because we want to profit from it."
In the last four years there are been far fewer recalls or quality issues with labelling supplies. Giving better information has brought immediate benefit, and Vavra expects more long-term value as the level of consistency of detailed specifications improves throughout the company. This value, he believes, will accrue to both Wal-Mart and its suppliers.
"The converter usually gets hit with the costs, but this is not always fair. There have benefits for converters, suppliers and our buyers. Data management is certainly something we need to look at more," he remarks.
Wal-Mart PMDC has to tackle the issue of getting all the buyers – not only in the US but also in its global outposts like China and India – together around specifications. Vavra hopes that converters, too, will help out by showing greater willingness to share information and collaborate.
Sustainability, data management and cost control are enterprise-wide concerns, but as Wal-Mart's PMDC has clearly shown, the difference is made when individual business units focus on their own processes and bring detail to the broader messages. Converters and their customers can learn a lot from the organisations that are determined to lead the way.