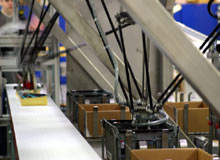 Manufacturing was one of the first areas the Confederation of British Industry looked at when it drew up its predictions for a technical recession. Fresh data from the Office of National Statistics in October 2008 recorded the sixth consecutive fall in UK manufacturing output, a drop of 0.4%. This is the longest period of decline for 28 years.
"Retail sales are generally soft, the manufacturing sector is struggling markedly and survey evidence points to service-sector activity contracting in June-September. Meanwhile, exports are showing clear signs of faltering," leading economic forecaster Global Insight has reported. In its October forecast on economic growth it projected that Eurozone GDP growth would slow markedly from 2.6% in 2007 to 1.1% in 2008 and just 0.4% in 2009.
In assessing how the packaging industry in the UK has been affected by the economic downturn it is useful to look at R&D and technical spend. The key question is whether enough was invested before the downturn arrived to sustain the industry and those within it.
"Companies can always do more research and development to improve themselves for the future." says Andy Thompson, UK technical manager at Mondi, a leading producer of corrugated packaging solutions in Europe with a wide portfolio of products ranging from shelf-ready packaging to jumbo boxes for heavy loads and bespoke tray solutions for fruit and vegetables. "It is always a struggle to justify the costs of that kind of research. There has been a significant amount of spend on R&D technologies, but never enough."
"Companies can always do more research and development to improve themselves for the future."
Thompson feels that the economic climate has put packaging companies under greater pressure to perform in different ways. "We have always had pressure to keep down costs but now that pressure is greater. In my experience at Mondi, we have been pushing hard for a good five years to reduce packaging weights, use better performing components and control our process to be able to reduce packaging weight for our customers. But many of our customers have resisted it. Now what we are trying to do is sell performance rather than trying to sell a commodity. It's only now that our customers are meeting us and asking what cost savings we can make."
Higher fundamentals
Another global company, Alcan packaging, addressed the issue of R&D spend early on by creating a growth and innovation unit. Alcan is the world's second-largest supplier of specialty packaging in the flexible food, pharmaceutical, beauty and tobacco packaging sectors.
Six months ago it appointed Michael Rubenstein as chief growth and innovation officer. Rubenstein believes the economic conditions are "just part of the landscape we are dealing with, and it forces us to mobilise our resources to add greater value." Under the umbrella of the growth and innovation unit, Rubenstein focuses on Alcan's sustainability processes and global account management.
The other economic challenge facing the packaging industry is rising production costs due to the increase in commodity prices. There are early signs that this will impact on margins as materials costs are passed down the supply chain.
Alcan Packaging uses plastics, engineered film, aluminium, paper, paperboard and glass. At Mondi, Thompson's main concern is the rising price of paper. "Paper is an estimated 50 to 55% of the total cost of our business," he says. "So paper has a big effect on our cost base. It is something that we have lived with for some years through its highs and lows. Material prices fluctuate quite a bit. They are cyclical; roughly every three years they go through a high and low pricing cycle. We have seen a similar scenario in the past, but the fuel price rise has hit us hard and has been the most harmful."
Sonoco-Alcore – a wholly owned subsidiary of Sonoco, one of the largest diversified global packaging companies – will raise prices on all paperboard sold in the UK, Scandinavia and Russia by £25 per ton effective with all shipments after 27 October 2008. "Continued inflationary pressure, predominantly in energy and chemicals, has resulted in paperboard capacity being taken out of the market, most recently in Finland, Italy, France and the UK," says Eddie Smith, vice-president, Europe. "Our business has maintained its commitment to reduce operating costs to offset inflation; however we are unable to continue to absorb all of these increases."
Aluminum producer Alcoa has said that it senses longer term trends will drive a rebound in global aluminum demand based on the forward prices. In addition, more expensive polymer materials are now being used in the production of thinner film products.
Sealed Air, for example, which manufactures Bubble Wrap, has felt the rising cost of polyethalene resins coupled with sharply increased shipping costs.
Slowing demand
Besides rising production costs, the slowing of demand is also starting to affect many sectors of the UK packaging industry. "It is strange how our sites have been affected in different ways," says Thompson. "Our main body of plants in North Wales, down in Cambridgeshire and in Scunthorpe has been affected directly by our customers being quiet. That's the fast-moving consumer goods market. Whereas other sites that specialise in wardrobe boxes for house removals have been affected by the housing market. Another section makes paper for cement bags but builders aren't building so we are affected in that way. We are being affected everywhere, but in different ways."
However there are still examples of investment in manufacturing in the UK packaging industry. St Regis, which processes waste paper to produce recycled paper, plans to commission a lightweight Corrugated Case Material (CCM) machine at its prime site Kemsley Mill in January 2009.
"We are being affected everywhere, but in different ways."
"We will buy a lot of paper from this there," says Thompson. "The site will allow St Regis to produce a technically competent paper of 90g down to 70g weight." St Regis Packaging is owned by DS Smith Plc, which holds strong positions in recycled papermaking and corrugated packaging in the UK and Europe.
Corrugated packaging does not travel well so sites like Kemsley Mill will remain in the UK. This project is confirmed and remains on schedule.
The investment is driven by Europe-wide demand for lightweight CCM. DS Smith address the issue of demand in its interim management statement: "European demand for corrugated packaging [boxes] is slowing. Industry statistics indicate that in the first six months of 2008 the market was down by more than 1% on the same period in 2007, with the second quarter being weaker than the first. This lower demand has resulted in a significant fall in CCM prices in continental Europe, although CCM prices in the UK have remained firmer due to the strength of the euro. The high level of energy and waste paper input costs is exerting pressure on CCM margins throughout the industry. A number of continental producers have recently announced CCM price increases to recover these costs."
The message is clear that UK manufacturing and the packaging sector are facing renewed pressures with the present economic climate. Companies have to keep operating costs down, maximise existing resources and maintain good performance through these testing conditions.