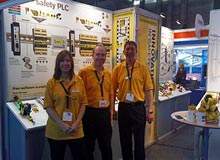 Processing and packaging machinery has evolved to an unrecognisable level since the beginning of mass production. But with ever higher energy costs and the growing rhetoric that packaging should be kept to a minimum, the industry is facing technological challenges like never before.
In September, the industry's leading manufacturers came together to exhibit their wares at this year's Processing and Packaging Machinery (PPMA) show in Birmingham and to discuss how the economic downturn if affecting each others' businesses.
"Of course it has been affected and although the projects haven't been cancelled, the really serious investment has been put on hold," says Peter Humpreys, product promotions manager at SMC Pneumatics, a producer of actuators, instrumentation and vacuum products.
In an economic climate of spiralling costs, energy saving has become a main focus for firms.
"There is more measuring and monitoring going on and a greater desire for data feedback."
"Companies are now seeing energy as a factor when they are buying new products, for sure. We had two delegates come up to us from a steel company who needed to reduce their energy costs by 20 to 30% this year," says Humpreys.
Alongside the costs, reducing carbon emissions is also a priority for commercial industrial companies especially in the UK's capital where this sector is the worst emitter in London.
But as packaging firms feel the squeeze and need to make processes more efficient, there is an opportunity for those which provide add-on services to profit from these fresh priorities.
"There is more measuring and monitoring going on and a greater desire for data feedback," says Peter Humpreys, product promotions manager, at SMC Pneumatic, a producer of actuators, instrumentation and vacuum products. "I think that has become key. If you have a problem then you can save energy. But if you don't have data then you can't initially identify that there is a problem."
Although SMC Pneumatic's UK subsidiary sells to a range of industries such as the electronics, automotive and life science sectors, for the packaging industry it has three main areas of business. For processing and packaging, its tools focus on static elimination, energy saving and monitoring products.
For Conrad Slater, business unit manager at Jokab Safety, a Swedish firm which provides safety solutions in the packaging and processing sectors, the most visible effect for his company in the economic downturn has been heightened competition.
"I think because safety is so important – it's a must have thing – we haven't seen business dry up. But, what I will say is that it has become more competitive. Our competitors are becoming sharper on prices and we are doing exactly the same."
Opportunity breeds competition
The increased attention which has been cast towards the packaging world has in many cases aided associated businesses. Now that the manufacturing firms need to increase efficiency and reduce the volume of packaging, they in turn step-up their spending on the machinery or processes needed to make this viable. By being at the forefront of the latest technology, materials and energy saving applications, they can answer the call for a reduction in unnecessary wrapping.
This has led to a new wealth of opportunity but also an increased number of service providers. At PPMA a broad spectrum of machines – from conveyors, to palletising systems, from printing machines to metal detectors – were on display. "I think there are more diverse companies looking for opportunity in the packaging sector," says Slater.
Humpreys agrees, saying: "I guess you could say that the people who make plastic bags have seen a downturn in business but from our point of view they still have machines that they want to run more efficiently or they need new ones that are smaller and faster."
But, more than ever before, robots were a focus of attention. "I think robots are becoming more and more common in the packaging industry," says Slater. "Whereas before you would see them welding cars together, now they are being used to shift boxes from conveyor to conveyor for palletising applications. Some of the companies I visit are in the food and beverage industry and they are looking at robots as they are seen as a good solution which is efficient and cost effective."
Along these lines, Jokab Safety demonstrated its own robot and promoted its alliance with Swedish counterpart Motoman which supplies robot based automation systems. In October, Motoman released new tracks for heavy weight robots in its TSL-series which can now carry robots lifting up to 500kg.
"The companies I visit are] looking at robots as they are seen as a good solution which is efficient and cost effective."
Other companies in robotics exhibiting were TM Robotics and Endoline. The latter was showcasing its new engineering solution developed jointly with robot manufacturer Quin Systems. The 221.223 Mk3 Case Erector is a revamped version of an existing model which features an extension to its hopper section by 50mm but still maintains a compact footprint.
For Jokab Safety, though, it has been the new European Safety Directives which have really been a driving force for their business. Enforced in the UK by the Health and Safety Executive, Slater says that they have really sparked interest in the company. "We did the PPMA show for the first time this year as we had new products, ideas and ways to meet the safety standards which have all changed now," says Slater.
He adds: "Some delegates wanted to know more about the new safety standards and some came specifically to see us because they wanted to see the products we have. Others wanted us to go to their offices and do a complete site survey of their machines."
So whether it is robotics, safety or energy efficiency, where the processing and packaging industry is concerned, there is still business to be found. Over the next 12 months competition will only increase but as manufacturers seek solutions to making their processes more streamlined, service providers which can deliver the goods, are in the running for a stellar year.