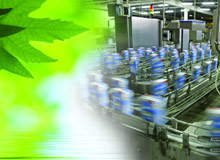 Lucy Schwerdtfeger: What does sustainability mean to you?
Trevor Cusworth: It means helping and protecting the environment, minimising the impact that we have in terms of energy and raw materials usage, and the waste that we put back into the environment.
Your key focus is making sure that packaging companies in particular are enforcing new processes from the boardroom to the break room – ensuring that the words being used by senior management make sense to the people on the factory floor.
The way it works is that the corporate people, the managers of corporate America, have a vision to be more sustainable, and they talk about it a lot to their shareholders and investors. Their products are becoming less invasive to the environment, but the problem we see is the disconnection between what they think they want to do and how they actually make it happen on the factory floor. The visible things they are doing include reducing the amount of packaging, but they haven't considered the impact of this on the manufacturing floor. When you start running lighter weight bottles, lighter boxes and eliminating packaging, the process may be impacted on a practical level. The challenge is making the connection between what the boardroom wants and what the factory floor needs to do to make them achieve their objectives.
What can C-Level operatives do to get involved with the people in their factories?
The problem we see is the disconnection between what the boardroom thinks it wants to do and how it actually happens on the factory floor.
The key thing is that performance measures need to be put in place to measure how well you are doing against your targets of environmental sustainability, such as the amount of waste you're producing, the amount of energy you use, the emissions that you put out to the atmosphere or into the wastewater stream. I think that the things that are lacking in most manufacturing are metrics around sustainability, there are measures or everything else. Until you measure how you do you can't improve and see how you're improving.
What metrics should we concentrate on?
There is a four-step process that you can follow to audit a facility. Step one is an assessment and walkthrough of a plant, step two is putting the metrics in place, step three is devising an improvement method and step four is making those improvements.
You talk about companies only making 'low-hanging fruit' developments, reducing packaging by thinning bottles etc. Do you think the technology is running out, and will that force people to make changes in their manufacturing?
You can only make a bottle so thin. We are already seeing manufacturing plants having trouble with new packaging materials. They will have to spend some capital to upgrade their equipment as what they have is not sufficient to handle the new packaging. It's going to be a vicious cycle because of the environmental crisis that we're in. Companies are going to have to invest in some new machinery. The ultimate solution is reconfiguration and the addition of new equipment that's going to be able to handle the new materials, things like pressureless conveyors and using robots to handle more fragile containers.
It is going to take an enormous amount of capital – machinery is expensive, which changes the supply chain, changing the processes. Do you think the economic crisis is going to have a major impact?
One of the reasons for being more sustainable is that energy costs have gone through the roof. But it's not as critical to be sustainable now because energy is cheaper. This could hurt sustainablilty in the short term, but as things turn around and energy prices go back up, it will become more important again. I think you will see a big upswing in investment in manufacturing plants to capture the benefits of other things that we're doing.
Are there any particular organisations that are taking on board what you are saying?
There are some, one big one, SAB Miller, the brewing company, particularly in the US. I've spent some time with them and they're on track to produce zero waste. Many of the food and beverage companies have invested a lot of effort. The ones that are really pushing it are the retailers – Wal-Mart, Sainsbury's and Tesco are really encouraging our manufacturers to be more sustainable. The manufacturers are being put under pressure by the retailers, some are responding
but I think everything is on hold right now until they can start to invest some more money again.
Is it easier for brand owners to be sustainable than, say, food, beverages and home care products?
I don't think it's any easier, the manufacturing is very similar for all the companies. They make something, bubblewrap it, package it and ship it, so I think they all have similar problems and issues. The ones that can do it more easily are the ones that have more money to spend on it. Its going to be harder for private and independent companies, they're trying to make and get the cheapest product they can out of the door, but they don't have the infrastructure of the larger companies. I don't think it's localised to just food and beverage or consumer, anyone that makes consumer products will ultimately end looking at the environment one way or another.
Chemical companies, and those producing personal or home care products that come mainly from chemicals are they going to find it harder to control their waste – they have a set amount of waste that they can't reduce, does that make it harder for them?
Packaging is needed for more than material; it's for safety and labelling. Food companies have different reasons for and types of packaging to consumer companies, because of the effect they may have on people's health so there are constraints on what they can do given what they make. There are limits on what they can change, but I think there are always opportunities to be more innovative. Being from Europe originally, I look at the amount of waste in the US and it's unbelievable the amount of packaging that we throw away, we don't have refillable things. Take laundry detergent in the UK, you buy the original bottle and then you buy a refill pack, in the US you buy the same bottle and throw it away over and over again, there's a lot to be done to be more innovative. Consumers have to be re-educated on what to expect because some countries are more conditioned and aware of the environment and what they are wasting and the US is such a wasteful society.
Do you think it's the responsibility of the brand owner to put more money into research and development?
Only if consumers will buy more from them – they're all going to be driven by how much money they make. I think they'll do as little as they can get away with, maybe there are some socially responsible companies out there, but realistically they'll do what they have to do to keep their customer base. There are benefits other than cost, such as brand awareness and reaching customers that want to buy green. Companies do it for selfish reasons, not because they feel good about helping the environment. Take Nestlé or Ben & Jerry's, everything they do is green, even their cows produce less methane.