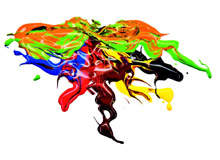 Purchasing ink for packaging applications has become more expensive, a trend unlikely to ease given the growing pressure that printing ink suppliers are facing in the wake of the global economic downturn. Raw material costs for ink producers have been rising sharply, as have the costs associated with transport and energy, and these rising prices are being passed along the supply chain.
The European Printing Ink Association (EuPIA), part of European Council of producers and importers of paints, printing inks and artists' colours (CEPE), noted that the cost of raw materials for use in inks and varnishes rose by over 30% last year, while oil and natural gas prices also reached new record highs, and remain volatile. The ink industry and its customers have no choice but to respond.
The industry's battle to control costs at a time when margins are under increasing pressure must be balanced with the vital issue of consumer safety.
At the same time, the industry's battle to control costs at a time when margins are under increasing pressure must be balanced with the vital issue of consumer safety, which has reared its head many times in the last five years. Right now, the European Commission is looking at possible restrictions on packaging in light of advice published by the European Food Safety Authority (EFSA), which details potential hazards from the use of 4- methylbenzophenone (4MBP) in inks used to print on packaging.
4MBP acts as a photo-initiator for UV-cured printing inks, often used on the outer surface of cardboard packaging, and it can either replace or be used with benzophenone.
Studies of 4MBP and benzophenone lead EFSA to suggest that there is a carcinogenic effect, although only the highest exposure scenario was considered, using the example of regular consumption of products contaminated at the highest levels reported so far. EFSA noted that: "Given their volatility, both substances may migrate into the package and contaminate even solid foodstuffs."
EFSA makes it clear that more research is needed, with understanding of the dangers of 4MBP limited, but the current focus on 4MBP is driven by a potential risk to children from the ink used in packaging for breakfast cereal. Despite a shortage of data, particularly in regard to the link to long-term harm, the issue of migration of 4MBP from the packaging into the cereal was brought to the European Commission by authorities in Germany and Belgium. In the latter case, a chocolate crunch muesli product was found to have 798 parts per billion (ppb) of 4MBP.
Following these alerts, EFSA quickly undertook a risk assessment and in some EU states there were moves to take cereal products off the shelves if they used packaging that contained 4MBP. The European Commission's standing committee is now looking at potential restrictions on packaging that does not have a plastic or aluminium layer to prevent migration of 4MBP.
We've been here before
The industry has been through a similar process before: while 4MBP is now the focus, four years ago it was ITX.
In 2005, the printing ink scare stories centred on the recall of Nestlé's Nidina and Mio brands in Italy, France, Spain and Portugal. The recall was initiated after the discovery of isopropylthioxanthone (ITX) in these products, forcing regulators and packaging companies to focus on the potential for harm from this chemical used in the curing process during UV printing, and its capacity for migration from packaging to product.
ITX is subject to stringent handling guidelines and at the time Nestlé and the EU noted that there was no reason to suspect an immediate health risk to children with the relatively small amounts of ITX found in the recalled products. But, as with the current concern over 4MBP, the
need for further testing and more detailed results came into the spotlight, particularly in regard to the possible effects on infants consuming these products over an extended period.
At the time Nestlé quoted comment from an EU spokesman that ITX 'is not regulated by EU law, but it is not authorised to be present' in food, highlighting the lack of specific regulation regarding printing inks in food packaging. Printing inks are still not subject to specific legislation at a European level within the regulatory regime on materials that come into contact with food. Nevertheless, there is general guidance within the Good Manufacturing Practice (GMP) and other EU directives, and the stipulation is that components such as inks should not transfer to food products in a quantity that might pose a risk to health.
EFSA said at the time that the presence of ITX in food could be considered undesirable, but noted that it was not likely to present a health risk at the levels reported.
ITX had long been in use by Tetra Pak, which manufactured the cartons for Nestlé, but it was later discovered to migrate from the carton to fatty products, including milk products that were subject to recall. Tetra Pak quickly changed its processes for printing cartons in October 2005 when concerns began to emerge, switching to inks that did not require UV curing.
EU legislation has come into effect that sets migration limits for substances in multi-layer food packaging applications.
Since that time, EU legislation has come into effect that sets migration limits for substances in multi-layer food packaging applications. The directive states that the migration limit is 10ppb for substances that have not been fully evaluated, and 50ppb for substances that had been cleared as safe through testing.
Tetra Pak is appealing against a ruling ordering compensation in Italy as a result of ITX in Nestlé's baby milk products. The ruling held Tetra Pak and Nestlé Italia responsible for 'psychological prejudice' suffered by the parents of two young daughters who had consumed milk containing ITX.
Tetra Pak has highlighted that similar cases have already been dismissed and that ITX was removed from the company's packaging processes years ago, despite EFSA stating at the time that no immediate danger to health was posed by the levels of ITX found in Nestlé's products.
The implications of ink migration
The cases of ink migration in recent years have motivated the legislative process. The European Commission's Standing Committee on the Food Chain and Animal Health has now set a maximum migration level for food packaging that uses inks containing 4MBP or benzophenone (BP) in light of the review by the EFSA.
The Commission stated that "food contact materials printed with inks containing 4MBP or BP should not be brought into contact with foods unless it is demonstrated that the transfer into food of the sum of 4MBP and BP is below 0.6mg per kg of food," and highlighted that this can be achieved if an effective barrier of aluminium, PET/SiOX or an equivalent is used.
Recommendations from industry bodies like EuPIA urge members to consider inks containing 4MBP and BP as unsuitable for food packaging unless a barrier is in place. EFSA, meanwhile, notes that there is a lack of data to enable the application of established group Tolerable Daily Intake (TDI) for BP and hydroxybenzophenone (HBP), which have a similar structure to 4MBP, and it is likely to review TDI for these substances in the next few months.
Similarly, the development of new technology has been informed by issues of ink migration. A key part of any response to concerns over components of ink such as ITX and 4MBP has come from technology developers. After the issue of ITX migration was raised in 2005, developers set to work developing systems to reduce migration of such substances from packaging to foodstuffs.
A new UV labelling technology put out by Italy's Gidue in 2007 was designed to combat odours and ink migration in food packaging, using nitrogen to create an inert layer on the substrate, removing oxygen from the equation. The results it claimed suggested that ink migration could be limited to a range of 30ppb and 50ppb.
With 4MBP, technology is emerging that could help detect the presence of the packaging chemical in food. Intertek claims that its system can detect 4MBP within 24 hours, whereas official tests for migration can be expected to take weeks. Both of these strands of technology development have cost-efficiency as a key target. They make it simpler, quicker and cheaper to limit the possibility of migration, or to detect any migration that may have taken place.
The industry's desire to cut costs is clear. Unilever has hit the headlines with its Rainbow colour system, developed with packaging consultancy LFH, through which it has reduced the palette of colours for its FMCG brands to just six. The goal is to achieve economies of scale, unlock millions of dollars in savings and greatly reduce waste. It is expected that other companies will pursue a similar line, potentially unearthing billions of dollars of savings across the industry. It should also be remembered that a focus on safety brings cost benefits. Nestlé's product recall cost millions to implement, and that is not accounting for the effect on its brand.