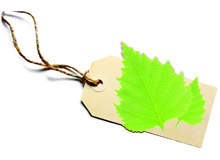 Among the large retailers taking the lead on sustainability, there is greater interest than ever
before in putting environmental data on a product label. Known as ecolabelling, it is based on the
premise that consumers increasingly let this data determine their purchasing decisions. This will
prompt many questions, so retailers are keen to understand what information customers want, and
what form of presentation best suits them.
The data is often generated by retailers' efforts to understand their business'
impact on the environment.
"Our group sells half of its products under our own brand, so that brand has a big impact on the
market. So, we decided to work on measuring the carbon footprint of our own products and that has
helped us to make some big changes, especially on the reduction of packaging materials," says
Corinne Picard, packaging environmental manager for Groupe Casino.
Groupe Casino is one of the largest food retail groups in France, where its brands Géant,
Casino Supermarché, Casino Cafétéria, Monoprix and Franprix are well known.
With over 100,000 stores around the world it has a strong enough presence to lead the market on
environmental issues such as sustainability. It is certainly France's best known retailer of
own-brand products, which accounts for around half of its total sales.
Given the high profile of its own brand products, Groupe Casino's efforts to monitor,
measure and publish data on their environmental impact is a big step forward in making
sustainability a more prominent issue in the minds of consumers.
The Casino Carbon Index
A growing number of its products now feature the Casino Carbon Index (CCI), which is the first
complete environmental labeling system in France. Products with these eco-labels feature a green
leaf symbol on the front of the packaging, along with a figure indicating the quantity of
greenhouse gases emitted per 100g of product. Further details appear on the rear of the packaging,
where the CCI is shown as a green band with the relative position of the product indicated on a
graduated scale.
A growing number of its products now feature the Casino Carbon Index (CCI), which is the first complete environmental labeling system in France.
There is also information on recyclability. On the back of the packaging appears a two-part
diagram encouraging consumers to sort packaging correctly and maximise recycling rates.
Groupe Casino aims to better inform its customers to encourage the company to act in a more
sustainable manner. Eco-labelling, therefore, is not only about the efforts retailers and product
manufacturers are making to create more sustainable products, but also a tool to increase awareness
and change consumer behaviour.
This change is not being forced on consumers, but comes in the form of clear, relevant
information they can base their own patterns of consumption on if they choose. The loop is
completed when the retailer can assess the effect of an eco-label's impact on purchasing
decisions, as it can then work with its suppliers to improve the environmental qualities of their
products.
Cost versus carbon index
So far, it is believed that eco-labelling has relatively little direct impact on
consumers' choices at the shelf, not least because global economic conditions have
deteriorated and price has become even more dominant as the prime determinant of purchasing
behaviour. In the long term, however, consumers' decisions are expected to become more
sensitive to environmental issues.
"Today, it is too early for the mass population to change its purchasing decisions because of
environmental issues, but there are some customers who want to know. We are in the process of
collecting sales data to see if people do change their consumption patterns because of the
information we are putting on our products," comments Picard.
One method of analysis will look at products sold in packages of different sizes. The smaller
the pack the higher the environmental impact, so larger packs may well become more popular if
consumers are responding to the information on an eco-label. Groupe Casino already has some
evidence that this is happening. 'We will see. For now, we only have one hundred products in
the shops that have the CCI on them. This is not about greenwashing, but about real work with
suppliers. We want to motivate them to find new ways to produce their products using less energy
and transport, and that will be easier when the index is on more of our products,' Picard
adds.
The accuracy of the CCI
The value of the index is closely correlated to the accuracy in its calculation. Measuring the
carbon footprint of a product is not straightforward, given that there are often factors that must
be averaged or estimated. Some data sources are relatively opaque, so the precise location of
manufacture in China, for instance, may not be known, which means transport distances will contain
some averages.
Picard believes, however, that the CCI makes use of the best data available, and stresses that
it encompasses all stages of the product life cycle from production to packaging.
"We don't just look at packaging, which has a big impact on the environment, we look at a
product's manufacturing process and the transportation of all the parts and the product, as
well as the agriculture that goes into growing food products and providing raw materials," she
says.
She has good reason to be confident in the index and the effect it could have on Groupe
Casino's approach to sustainability. It has already led to tangible benefits In the few
months following the launch of the index in June last year, the company had saved the equivalent of
22 tons of CO2 on products bearing the eco-label. It has also made software available to
its suppliers which enables them to calculate the Carbon Index for their production choices and the
purchase of raw materials.
Pre-empting the regulatory imperative
Initiatives like the Carbon Index will certainly help industry move towards a greater clarity and common standards
It is vital that customers and suppliers have faith in measures of sustainability like the CCI
if they are to change the way they make and consume products. There is certainly plenty of
enthusiasm in both camps. Product manufacturers and retailers are eager to find the right metrics
to establish where they are on the scale of sustainability, partly for competitive reasons, but
also because they know that the future is likely to bring regulations that impose stricter
standards on environmental performance.
In France, there has been great interest in the Grenelle Environment Forum, which has set out a
series of ambitious targets for the country's drive for sustainability In the next two years
Grenelle will define the parameters that business must meet, and Groupe Casino has seen an
opportunity to help its suppliers prepare for and, ultimately, meet these standards by providing
software that gives its partners in the supply chain information on transport, packaging and other
factors affecting sustainability.
"Grenelle may ask for information on more than carbon, perhaps looking at water as well, but
carbon is the first step. In the future we will certainly be putting the Carbon Index on more
products. By the end of this year we hope it will be on two or three times as many as now, which
will show consumers what we are doing for the environment, but more importantly will help reduce
the carbon footprint of those products," explains Picard.
Initiatives like the Carbon Index will certainly help industry move towards a greater clarity
and common standards that will be attainable if there is sufficient co-operation between retailers
and their suppliers, and enough interest among consumers in reacting to the sustainable criteria of
a product when making purchasing decisions.
There will be many challenges on the road to greater sustainability, but eco-labelling has the
potential to stimulate change. Retailers cannot act alone, but they can use their influence to
motivate suppliers and consumers. They need their partners in the supply chain to be fully
committed to the sharing of information and the practical steps needed to reduce the environmental
impact of their business.
"It is not easy, but it is possible to find a lot of carbon dioxide that we can economise on. It
is good for us to have the participation of all suppliers, and we all want to develop better
products. Many suppliers consider sustainability to be a way of showing that they are better than
their competitors, so we use our software to see if their results are better or worse than those
competitors," says Picard.
As more big retailers take the lead it is likely that the concept of eco-labels will become more
familiar to all of us as consumers. Whether we are ready to respond to the information they
provide, only time will tell.
Calculating the CCI
The CCI is calculated according to the emission of greenhouse gases generated by a product
throughout the main stages of its life cycle. These include:
stages in production/raw materials for agricultural products and foodstuffs
manufacturing of the final product transporting the products from the field to the Casino
warehouses
packaging processes from the extraction of raw materials through to recycling
distribution from Casino warehouses to its stores and then to the consumer's home.
Casino salmon cubes
By changing packaging and transport methods the carbon index of Casino salmon cubes has been
reduced from 940g to 880g of CO2, having taken into account the different impact
according to the location of the supplier.
Location of supplier/mode of transport CO2 per can
France – truck only – 225g
India – ship and truck – 235g
Europe (Ukraine) – truck only – 305g
The six working groups of the Grenelle
Environment forum
Fight climate change and control energy demand
Preserve biodiversity and natural resources
Create an environment conducive to health
Adopt sustainable modes of production and consumption
Construct a green democracy
Promote green development favouring employment and competitiveness
Intergroup workshops:
Genetically modified organisms (GMO) Waste