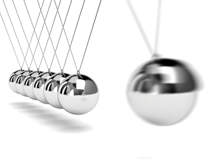 For a few lucky industries, the recession hasn't been all doom and gloom.
Supermarket chains such as Tesco, and their in-house brands, have discovered that the credit crunch and the changing spending patterns of consumers have meant that cost-effective and easy-to-purchase products are now a priority.
"At a time when customers everywhere are feeling the economic strain, we are responding to their changing needs in all our markets by lowering prices, introducing more affordable products and offering even sharper promotions," says Terry Leahy, chief executive, Tesco plc. "I am confident that Tesco will continue to make good progress even in the current global economic environment."
It hasn't all be plain sailing, though. Tesco's pattern of trading throughout the year was affected by a number of factors.
"At a time when customers everywhere are feeling the economic strain, we are responding to their changing needs."
Within the UK, inflation reduced its growth rate, which resulted in customers changing their buying concept. Not so long ago, sustainable packaging was at the top of their priorities; now price is their main concern and they are trading down their choice of products in order to spend less on their weekly shopping.
Tesco responded to this with the introduction of its latest line of own-brand packaging, the Discounter range, which has a simpler and more effective design. This has proved financially successful with group sales reaching £59.4bn for the 2008/09 financial year.
Continued growth
In an economic recession, it seems that only large global enterprises such as Tesco are able to survive. Without the capital expenditure and credit power of the large FMCG or retail organisation, it is not surprising that without specific strategies and the confidence and power to stick to them, smaller companies are likely to falter with the larger businesses waiting to pick up the pieces.
Even during a recession, Tesco's growth seems to know no bounds. At the end of February 2009, its operations in Asia and Europe were trading from 1,911 stores, including 608 hypermarkets, with a total of 55 million sq ft of selling space.
The company is building on this success with plans to open 8 million sq ft of new group space with 75% of that growth being located outside of the UK using £1bn lower capital expenditure. The expansion includes 320 new stores, which have a total of 5.4 million sq ft of sales area, while a further 0.6 million sq ft is earmarked for the US.
Customer knows best
During the recession of 2006, Tesco proved itself more than capable of trading during an economic downturn and, if the last year's trading figures are anything to go by, it has obviously used its experience well.
"I am confident that Tesco will continue to make good progress even in the current global economic environment."
Tesco credits that success to it communicating directly with customers and adapting strategies according to their changing needs. It replicated this strategy in the UK by introducing the Dunnhumby and Clubcard schemes across its international operations.
These are now running in China, Ireland, Korea and Malaysia, and has 7 million members. Pilot schemes are underway in Poland, Slovakia, Thailand and Turkey.
Before the recession, environmental issues were at the top of the list of priorities for Tesco customers. Although sustainability continues to be a strong factor in Tesco operations, particularly when it comes to packaging, the company has to respond to its customer needs.
Once, customer buying decisions were made according to their lifestyles, with convenience and choice equalling sustainability on the checklist. Now, the focus is on cost.
Strategy for growth
Tesco has a well-established and consistent strategy for growth, which has allowed it to drive expansion into new markets. The strategy to diversify the business was laid down in 1997 and has been the foundation of Tesco's success.
The Group has continued to make good progress with this strategy, which has five elements, reflecting four established areas of focus. The objectives of the strategy are:
To be a successful international retailer
To grow the core UK business
To be as strong in non-food as in food.
To develop retailing services, such as Tesco Personal Finance, Telecoms and Tesco.com
To put community at the heart of what it does.
The power of Clubcard
In 1993, Tesco started to investigate the benefit of a customer loyalty card. This meant analysing the shopping patterns of millions of customer transactions, across tens of thousands of product ranges.
Dunnhumby helped launch the Clubcard scheme in 1995, which has in turn built a profile of every customer. This has been used to create target groups to ensure offers and promotions are being directed at the most relevant demographic by designing them specifically to appeal to their lifestyle and preferences.
Tesco spent £150m re-launching its Clubcard scheme in May this year, and this is expected to attract at least 1 million more customers to the UK's biggest and most rewarding loyalty scheme.