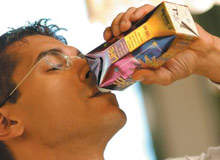 The food and beverage industry has faced the emergence of a new 'golden triangle' in consumer demands based around health, pleasure and convenience. In recent years, these consumer preferences have been shaping product development.
According to research in 30 countries, health and fitness is a top consumer value in almost all countries. Product development, specifically in Tetra Pak's core dairy and juice, nectars and still drinks sectors, will increasingly leverage this opportunity. New health-positioned concepts will accelerate demands on packaging attributes such as appearance, protection of fragile ingredients and the need for new features such as portion control.
Convenience has become a crucial issue as more and more consumers have begun eating and drinking 'on the go'. Today, 41% of people in the US and 38% in Australia sip a drink while driving or walking. Mobile eating and drinking puts demands on availability, visibility and appeal, since buying on impulse is increasingly frequent.
Even in today's economic climate, pleasure is still a requirement – consumers might tighten their belts but they are still trying to enjoy the small pleasures of life. We are seeing a segment willing to experiment and discover new product benefits, which is also driving innovation in the industry. Packaging will need to be in tune with these new benefits, be an integrated part of the concept and stimulate the consumer's five senses.
This 'golden triangle' shapes consumers' expectations from products and packaging. However, with the economic situation, these expectations need to be delivered within a high budget awareness from the consumer side and balanced with their demand for increasingly cost-effective, flexible solutions with higher performance. This means we will see further changes in aseptic packaging technology and the products we develop.
High hygienic performance
More specifically, the industry is looking for the highest performance from hygienic and aseptic technologies to ensure the most demanding standards of food safety and quality are achieved. This is even more challenging in flexible or high-speed applications and here low acid dairy applications are at the leading edge of technology performance.
Pressure to improve performance levels comes from all sides of the value chain – from consumers, competition in the dairy industry, retailers and legislators.
"Tetra Pak has already achieved 100% traceability of wood fibres in its paperboard from suppliers in Europe and South America."
In addition, environmental concerns are playing a significant role in packaging strategy. With both customers and the end consumer becoming more aware of green issues, producers need to carefully consider the environmental profile of their products. According to market research firm Globescan, the environment / energy is the most important factor influencing the beverage packaging sector – almost doubling in importance over the past two years.
Cartons have a competitive environmental footprint across their entire life cycle. They are the only packaging for liquid food made from a natural and renewable resource – some 75% of Tetra Pak packages are made from paperboard.
Tetra Pak has achieved 100% traceability of wood fibres in its paperboard from suppliers in Europe and South America, and more than 97% globally, putting the company on track to achieve 100% certified traceability within a few years.
Not only are cartons lighter in weight than glass bottles carrying the same volume but they also take up less space, making them easier to transport and allowing for more products per square metre. This helps producers reduce transport costs and their carbon footprint, improving their environmental profile while reducing their operating costs.
Some relevant trends have also been registered in Secondary Packaging Solutions (SPS) in recent years. In the past, products were sold directly by the storekeeper to the consumer and manufacturers were mainly focused on the delivery of the package goods to the store. Today, the packaging itself almost acts as the salesman and does the job of attracting the consumer's interest. The new challenge for manufacturers is, therefore, to consider how the product will look in-store and what impact it will have on the shoppers.
Ready to retail
In today's extremely competitive landscape, Retail Ready Packaging (RRP) is driving the future of SPS, responding to the increasing need for retailers to maximise in-store operational efficiency. The practical benefits of RRP include direct case-to-shelf replenishment, reduced cost of packaging, processing, storage, transport and in-store infrastructure, improved store labour efficiency, reduced packaging and waste, and enhanced identification of the product on the shelves leading to increased sales.
Tetra Pak recently conducted research among retailers from 19 countries to establish the key attributes and levels of satisfaction about different types of secondary packages. Key findings show that:
For carton packaged goods, board-wrap is the preferred SPS
Robustness and protection, moisture resistance, easy handling and visibility are the key requisites
Attributes related to environmental impact are rapidly growing in importance
Three-packs, four-packs, six-packs or even larger packs are popular among consumers. They represent a standard way of selling packages in some markets, such as France and Japan. According to a recent Tetra Pak study in Europe, secondary packages' design 'must-haves' include a lower cost compared to the wrap-around-box, compression load protection, cap protection, easy access to the product, improved product visibility and practical carrying handles.
This article first appeared in our sister publication Packaging Today