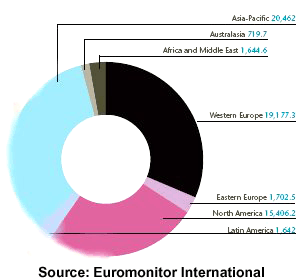 Though the popularity of premium cosmetics stands tall, with Euromonitor International valuing the market at $57bn in 2004, not everyone can afford the genuine article. This has created a large market for status personal care products at cost price, generating sustained consumer demand for counterfeit cosmetics and toiletries.
A COUNTERFEITING HOTSPOT
China is one of the world's largest markets for premium personal care in terms of per capita spend, but is also a hot spot for counterfeit cosmetics. Leading personal care giant Procter & Gamble estimates that counterfeit goods in China cost it more than 10% in lost revenue.
The China Consumers' Association (CCA) claims that smuggled and fake cosmetics constitute the majority of complaints by consumers, highlighting the fact that grey market cosmetics are also unsafe, having side-stepped the rigorous testing procedures required of legitimate personal care items.
As well as being potentially harmful to the people that use counterfeit cosmetics, parallel market personal care also damages brand reputation. The story of the Burberry fashion brand is a case in point of the damage that can be wreaked on brand value – and profits – by fake goods.
Burberry's dip in UK sales has been largely attributed to the use of the signature Burberry plaid on counterfeit merchandise, and the brand has become stigmatised by its association with what is known locally as the downmarket 'chav' culture.
With its brand identity having taken a distinctly un-chic turn in its native UK, the label has now been forced to turn its attention to less tarnished overseas markets.
For some time, manufacturers have legitimately cashed in on the strength of other brands by partnering up with them. Examples of successful brand partnerships include Braun with Oral-B and Sally Hansen with Teflon. However, a less mutually beneficial method is gaining momentum.
Instead of partnering with a brand, a new wave of legitimate copycat products are cashing in on established brand identities, offering nothing new except a reduced price.
BRAND PARASITES
These legitimate brand parasites tap into the consumer's desire to buy into an established brand identity at a reduced cost.
"Current trend analysis suggests that today's consumer is even keener to pick up a bargain."
The early success of this cut-price marketing strategy was evident in the 1980s.
Primo, from Parfums de Coeur, grew to be one of the best-selling mass-market fragrances of the era by 'piggybacking' on the success of the premium Giorgio scent, which was only available in department and premium perfume stores.
Primo packaging touted the slogan: 'If you like Giorgio, you'll love Primo.'
Current trend analysis suggests that today's consumer is even keener to pick up a bargain. Recent mainstream media reports have identified the emergence of 'proud realisers of added value' (PRAVs) – a burgeoning group who no longer believe that expensive is better. Snubbing designer labels in favour of cheaper items, they not only seek value-for-money items but also enjoy gloating about their savings, which can only be good news for the cut-price copycats.
CLEVER CLONING
In addition, legislation from May 1996 states that it is now mandatory for manufacturers to list ingredients on the exterior packaging of all cosmetic products, giving savvy consumers a means of comparing content. Copycat products are exploiting these regulations by ensuring their active ingredients are comparable to those listed on their premium label counterparts.
In the US, brand parasites are growing increasingly sophisticated, cloning not just formulations, but entire brand identities.
"Consumers not only seek value-for-money items but also enjoy gloating about their savings."
Generix Laboratories specialise in providing 'affordable generic versions of the world's most popular formulations' and its Nulexin brand claims to have the same under-eye dark circle prevention ingredients as the original Klein-Becker Hylexin brand. The ingredients, product names, packaging, and even websites are strikingly similar; the key difference being that Nulexin has a drugstore RRP of $39.99 versus the Hylexin's $95 price tag.
While tightened regulations will continue to challenge grey market counterfeits, the producers of cut-price copycats are cleverly using these very safeguards as a marketing tool to legitimise their own offerings and place them ever closer to their high-end counterparts. Euromonitor International predicts that overtly piggybacking on the success of expensive brands will continue apace.