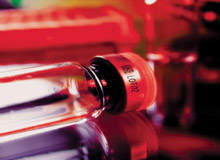 The escalation of counterfeiting globally not only represents lost revenue for the companies being copied and duped but can also put lives at risk as some high-profile cases have shown.
Fake drugs have caused death purely because the patient did not receive the dosage they required, and intra-aortic pumps have been intercepted, which had they been used in operations, their fake components could have endangered lives.
The World Health Organisation (WHO) believes that 5%–7% of pharmaceuticals worldwide could be counterfeit.
"While technology can deter the counterfeiter, it is essential to have accurate coding and verification against company databases."
This can mean drugs with too few active ingredients, drugs containing contaminants, and those branded with fake labels or recycled packaging, which can mask old expiry dates.
These situations have led to demands from the US Food and Drug Administration (FDA) for major pharmaceutical and medical device companies to introduce anti-counterfeiting technology and supply chain verification procedures, and provide a fully traceable electronic pedigree for products.
So what form can anti-counterfeiting technology take? In the past, companies have introduced holograms and watermarks, as well as special inks and papers – such as those used in bank notes – to combat this type of fraud, but even these have been copied successfully.
The consensus in the security industry is that the technology to defeat counterfeiters must be complex, small, adaptable, dynamic, ever-changing and fully traceable to company databases.
Many companies would claim that they want any anti-counterfeiting initiative to fit in with their current processes and be easy to adopt. But if it is easy to adopt then it may also be easy to imitate.
In the words of Sherlock Holmes: "What one man can invent, another can discover." Possibly one of the best weapons against counterfeiters is a supply chain verification system whereby any drug or component is checked against a production log or database before use or prescription.
HIGH-SECURITY RFID
Radio frequency identification (RFID) technology is reaching the stage where it can be printed using electro-conductive inks and well-established printing tools, such as inkjet. Alternatively, there are a number of security ink systems and complex anti-counterfeiting label systems.
"Fake drugs have caused death purely because the patient did not receive the dosage they required."
Probably the simplest and easiest-to-adopt technology would be speciality high-security inks, printing microdots or codes onto products and/or their packaging.
Microtrace, in partnership with XSYS Print Solutions, offers security inks containing micro-taggants.
These are microscopic particles, ranging from 20 to 1,000 microns in size, which contain a unique coded sequence.
Typically, between 25 and 50 particles would be printed in a small spot or line using a clear ink 'carrier' material to encapsulate the particles to the surface of a label, package or article. The inks can be used in UV-curable formulations for flexographic or screen printing. The 'coded' article can then be 'read' using a particle identification reader to determine and verify its authenticity.
The microtaggants can also be used in biocompatible and high temperature-resistant forms for different applications. Microtrace has even introduced microdot technology, which consists of microscopic alphanumeric microdots that incorporate even smaller 2D microbarcodes within their alphanumerics, which can be read by machines or hand-held readers and compared to internet-based databases for authentication.
INBUILT CODING
Domino Printing Sciences is one company with expertise in inkjet and laser technologies for coding and printing solutions to combat counterfeiting, particularly in the pharmaceutical industry, where online coding and printing is becoming widely adopted.
The technology allows unique coding and labelling of individual products as part of existing manufacturing and packaging processes. Products off the production line are automatically labelled and referenced with unique identification data, including bar and data matrix codes. These systems have the ability to produce serialised codes or systems to 'code mark' each product, allowing full supply chain traceability and authentication.
Late-stage customisation is a process whereby very small, invisible or serialised data matrix codes can be printed on outer packaging cartons or the main product inside it to provide additional security. A number of techniques exist for product customisation and coding, including laser-printing technology, thermal transfer overprinting, or TTO (usually on reel or web-fed labelling) and inkjet printing.
CHEMICAL FORENSIC CODING
Other companies such as SmartWater, a subsidiary of 3i, have developed chemical forensic coding systems. The SmartWater system uses forensic additives and solutions, which contain information at molecular levels relating to the name of the manufacturer, the location of the production facility, the production line and even the date of production.
These compounds can either be applied as a surface coating or, as in the case of polymer-based products, rubber, inks, paints and textiles can be incorporated as an additive during the manufacturing phase. This means that the product itself will contain a code or a unique 'molecular finger print' distributed throughout its structure, without which it can be easily flagged as counterfeit.
"There is no substitute for having a secure, RFID-based supply chain in place, checked at every stage."
NanoInk Inc, a Chicago-based company, has commercialised a new technique that could be used to defeat counterfeiters, called Dip Pen Nanolithography (DPN). This is a method of constructing nanometre-scale structures and patterns by literally drawing materials directly onto a surface. Codes or patterns can be produced on the surface of products or labels at scales ranging from micrometres down to nanometres on virtually any type of material.
The system could be the next big breakthrough in anti-counterfeiting technology. It could be used to construct microbarcodes on authentic products, which could then be scanned and authenticated at the point of sale.
LASER-RESPONSIVE MATERIALS
Sherwood Technology is an expert in brand protection applications. It has developed a system called Digivu, which allows manufacturers to digitally create ultra-high definition micro-images on or within a product, which are virtually impossible to reproduce by existing methods. The Digivu system uses laser-responsive materials and can be applied to any substrate, including plastic, glass, edible products and cardboard.
This technology combines a specialised chemical system with a variable, tunable laser source, so that manufacturers can mark their products with images that are recognisable to the human eye, only visible through a microscope or totally invisible until activated by a low-power laser source.
Digivu can be incorporated during production and the image becomes embedded in the product material, making it impossible for counterfeiters to reproduce the product.
GOOD TRACKING IS ESSENTIAL
While many companies are putting forward different systems to defeat counterfeiting, there is simply no single best-used system.
"If it is easy to adopt then it is also easy to imitate."
While the technologies above may deter counterfeiters, it is essential, particularly in the pharmaceutical industry, to have accurate coding using RFID, barcodes or other coding methods, and then to verify these against a company database at the pharmacy.
Pfizer is currently adopting this type of system for Viagra, one of the most copied drugs ever produced. As many drugs are a matter of life or death for patients, authentication should be a matter of course.