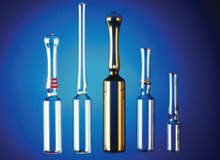 The parenteral drug industry has grown in recent years with the development of new treatments and formulations to treat a wide range of acute and chronic conditions. In tandem with this growth has been increased sophistication of the packaging for parenteral drugs, including pre-filled syringes and disposable injection devices.
"The BD Pharmaceutical Systems Uniject device eliminates the need for any syringe, and is tamper-evident and user friendly."
The market has moved in this direction for a number of reasons, including ease of drug administration, additional security, lower contamination risk and ease of injection by non-health professionals using pen or injectable devices.
A more ambiguous factor is cost. It has been estimated that the cost of pre-filled injection systems is 25% more than if the same drugs were packaged in conventional vials and ampoules. However, this seems not to be so much of a problem for premium medications such as biopharmaceuticals and anti-cancer drugs, where the price of the packaging is a small fraction of the overall cost.
PRE-FILLED DEVICES FOR DRUG ADMINISTRATION
Pre-filled injection devices in cyclic olefin copolymer (COC) and cyclic olefin polymer (COP) are used in applications ranging from the very simple to the highly complex.
For example, the BD Pharmaceutical Systems Uniject device is a plastic tab with a small flexible bulb containing the injectable product, connected to a small sharp needle. Designed for use in developing-world immunisation and medication campaigns, the system eliminates the need for any syringe, is sterile, completely disposable, compact, tamper-evident and user friendly.
More complex is the Liquid Dry Injector, also from BD Pharmaceutical Systems. It is a two-part plastic pen injection device, where the active drug compound is contained as a lyophilised powder (typically because the drug would not be stable in solution).
When the patient is ready to administer their medication they push the two halves of the device together, mixing the lyophilised component with a diluent. They then attach a needle, adjust the dose using a graduated knob or dial, and inject, before disposing of the whole apparatus.
The advantage of this system is that the exact dose can be filled to the device, unlike conventional vials where 25% overfills are common due to the wastage in filling a syringe. Therefore, manufacturers can save valuable material (especially relevant for expensive biotech drugs) and the patient does not need to worry about dosing errors.
More complex still, the Plexis bone void-filling system, manufactured by Advanced Biomaterial Systems, is used in orthopaedic procedures to inject medication into skeletal tissue under high pressure.
SUITABLE DRUGS FOR PRE-FILLED DEVICES
Pre-filled devices are now used for more and more drugs, but the largest three sectors are antithrombotics, biopharmaceuticals and vaccines. Pre-filled systems are revolutionising self-administered medication for home use.
"The crucial reasons for pre-fillables' use are convenience and safety."
For some treatment regimes, such as the day-to-day administration of insulin to diabetic patients, pre-filled devices are ideal for convenience and safety.
There are some drugs which have to be kept as a lyophilised powder and only reconstituted a short time before administration; the pre-filled systems for this have the disadvantage of being more expensive, but score highly for simplicity and patient convenience.
For example, the leuprolide acetate treatment Lupron (which inhibits growth in some hormone-dependent tumours) is self-administered as a depot suspension using a pre-filled dual-chambered syringe, as described above.
Lyophilised drugs can sometimes be a more difficult proposition and do not always lend themselves so easily to a dual-chamber cartridge because of the volumes involved. For these, manufacturers are now starting to provide pre-filled diluent syringes for reconstitution.
SAFE FOR HOME USE
Pharmaceutical companies can make the use of pre-filled devices much easier by the development of liquid formulations. Copaxone from Teva is a multiple sclerosis (MS) treatment originally marketed as a lyophilised powder in vials for reconstitution by the patient, but now the drug is supplied in liquid form in a BD Hypak pre-filled syringe.
This is one of the most popular pre-filled devices on the market and is usually fitted with the Preventis safety device, which makes disposal in the home easier, with less risk of needlestick injury.
"For some treatment regimes, such as the administration of insulin to diabetic patients, pre-filled devices are ideal for convenience and safety."
This device is now also widely used for the packaging and administration of vaccines, since it means that companies can move away from the multi-dose vial that required the use of thimersol preservative to a single-dose, more secure pre-filled system, which does not.
Pre-filled devices of various designs and complexities are now an integral part of a large sector of the parenteral drugs market. Although they are more expensive and slower to manufacture, they provide much greater convenience for the home medication market and protect against incorrect formulation and overdosing.
With more biopharmaceuticals due to come on the market over the
next few years, it is likely that pre-filled devices will become more prevalent. Their use solves many problems for the consumer / patient but can create difficulties for packaging designers. While pharmaceutical companies produce drugs, they also need to put them into an appropriate form and package them in such a way that they can be easily administered to or by the patient.
With the parenteral drug delivery system market projected to be worth over $30bn by 2007, one thing seems certain: parenteral drugs are here to stay, as are pre-filled devices and syringes – whatever form they take.
GLASS VS PLASTIC
As pre-fillable syringes have grown in popularity, the choice of glass or plastic for their manufacture has become an important issue. Previously the majority of pre-filled syringes on the European and US markets were made of glass, which had superior barrier properties to plastics and did not leach out plasticisers and other undesirable compounds into the drug substance. However, the advent of cyclic olefin copolymer (COC) and cyclic olefin polymer (COP) has changed all this.
Some of the newer kinds of drugs, particularly biopharmaceuticals based on peptides and antibodies, have problems with glass. Glass can contain free alkali oxides and traces of metals, and it is possible that these can have a detrimental effect on product stability. Some of the new polymers have far fewer adsorption effects with proteins, and some actually make products more stable.
"It is estimated that pre-filled injection systems cost 25% more than conventional vials and ampoules."
A further problem with glass syringe devices is silicone and elastomer contamination of the product. Often a silicone lubricant is used to coat glass syringe plungers, which are typically made of elastomers. In pre-fillables, plastic plungers which use a fluoropolymer-coated stopper at their ends mean that a silicone- and elastomer-free alternative is available.
Nevertheless, while COC- and COP-type materials are taking over from glass in the pre-fillables market, the polymers are not without their problems. Plastics are not yet well established in the parenterals market, and they will have to undergo extensive stability tests against each product and medium they are to be used with.
Plastic components cannot withstand the heat of the depyrogenation tunnels used for the traditional sterilisation of glass.
Furthermore, if manufacturers pre-sterilise the plastic parts they are more difficult to transfer to the filling line while keeping out contaminants. Other methods of sterilisation, such as gamma radiation, are being introduced for plastic components.