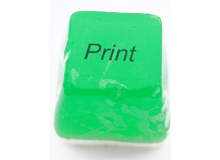 Most volume packaging print applications require drying and curing coatings at speed on the press, which is why an increasing number of packaging manufacturers are turning towards UV curing systems.
Due to the less penetrative interaction between ink and substrate, UV curing systems possess inherent fast-drying attributes. While water or solvent-based inks dry by a process of absorption, which can take several hours prior to sending the print through for finishing, UV inks and varnishes cure virtually instantaneously.
The method works by using UV lights – power-hungry arc lamps inter-decked at strategic points along the press – to trigger a chemical reaction with photo-initiators contained within the liquid.
The processing technology is therefore currently sold on a predominantly original equipment manufacturer (OEM) basis but the market for upgrades and retro-fitting is growing as manroland UK sheetfed systems sales manager Adam Robotham explains.
"I would estimate that over 90% of all our packaging customers opt for a curing facility as part of the specification," Robotham says.
"Some of the larger groups may buy a press that's prepared for a UV system, then go out and do their own assessment and fit it themselves – but the advantage in buying a one-stop solution is in the unlikely event of there being an issue with any of the component parts, then there's just the one supplier to deal with."
"I would estimate that over 90% of all our packaging customers opt for a curing facility as part of the specification."
According to Robotham, the integration of a curing system can often amount to over 10% of the overall installation price. A fully equipped Roland 700, for instance, can cost around £1.5m, which means the ability to dry inks on the run doesn't come cheap. On a six or seven-colour + coating configuration, that would entail two or three inter-deck dryers, plus a unit or two at the end of the press to cure the more viscous varnish top-coat.
Yet, according to Robotham, there are other ways of easing the production budget. A converter, for example, can restrict the application of UV just to the varnish by printing with conventional inks and adding a water-based coating to act as primer before running the UV top coat.
Lamp efficiency: a bright idea
Another practical way of controlling ongoing operational costs is to carefully maintain and prolong the arc lamp life expectancy through software programmes. Manroland provides its customers with a programme, which automatically revert the lamps to a standby mode of 30% viability during wash-up periods, thereby reducing unnecessary power consumption.
Similarly, GEW's Green Timer software allows an operator to program a system to automatically start after a desired amount of time, and to power down after a pre-determined time on stand-by. In addition, the total number of hours in which the system has been 'intelligently' switched off is logged so that managers are able to quantify savings.
Mercury vapour lamps are also another means of achieving low energy consumption within a UV curing system. According to Simon Mitchell, the managing director of IST UK, which is a supplier of UV curing systems to OEMs, the lamps offer a higher life expectancy.
"The life expectancy of a lamp can vary considerably subject to rate of use, and standards of maintenance. We warranty 1,000 hours as a matter of course, but in reality a lamp can run for several more times that long without having to be changed," Mitchell says.
A solid state of affairs – LEDs
Rivalling mercury vapour lamps, especially in the digital inkjet sector, are solid-state LEDs. Capable of instantaneously switching on and off, LEDs are often marketed as being more environmentally sustainable and energy efficient than rival lamps on the processing market.
As one of the market leaders in the solid-state LED field, Integration Technology Ltd (ITL) is largely an OEM-orientated business in support of the likes of HP, Agfa and FujiFilm. According to the company's managing director Adrian Lockwood, the future of UV curing systems lies with solid-state driven lamps.
"We also anticipated that arc lamps would become outdated, and started working on solid-state LED driven light sources six years ago."
"We first saw the potential of digital inkjet almost ten years ago, and to develop the market we had to design UV systems that were quite different from the ones that had been made before. Along the way, we predicted that it would extend into the broader-based packaging market. We also anticipated that arc lamps would become outdated, and started working on solid-state LED driven light sources six years ago," Lockwood says.
"There's a huge environmental case for LED as it uses considerably less power than an ordinary UV system. It depends on the application, but you're looking at a minimum of 40% reduction, and arguably as much as 60%. Also, because LEDs switch on and off instantly, there are more opportunities for energy saving in operation. Basically, you shut the whole system down when you're not printing."
"With an arc light system, normal practice is to go into stand-by, so even at reduced power they're still running all the time. We can also reduce it for width: if you're printing only half the width of the machine, for example, then you're only using half the LEDs," Lockwood adds.
A pricing issue, however, currently remains with the initial cost of the technology. A 330mm narrow-web flexo press with a curing speed of 120-150m/min, for instance, can cost around £15,000/unit. Lockwood, however, says he believes prices will fall significantly as semiconductors move into volume production and that the on-going benefits of the system significantly reduce operational costs.
Parts of this article originally appeared on our sister website Converting Today (http://www.convertingtoday.co.uk/)