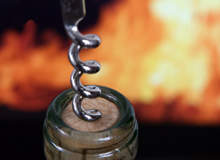 In May 2009, Alcan Packaging unveiled what it claimed to be the "first metal champagne bottle closure". Taking three years and costing €1m to develop, the Maestro closure is marketed as the sparkling wine industry's answer to the screw cap now commonplace on still wine.
The closure consists of a dome, a lever and an over-cap closure that sits on a crown cork and is designed to eliminate the risk of cork taint. The innovation is expected to be adopted by the Champagne Duval-Leroy's Clos des Bouveries 2004 vintage soon.
Alcan Packaging Capsules marketing and communication manager Karine Herrewyn says she believes the closure has two major benefits over its cork rivals. "Two factors prompted us to develop Maestro: the success of our Stelvin screw cap for wine and demand for an alternative closure to cork for sparkling wine," she says.
"Some producers want to replace cork to eliminate the risk of cork taint, a problem that causes a significant number of bottles to be unfit for consumption. The other problem with cork is that oxygen permeability differs from one product to the next, whereas with Maestro permeability is consistent."
"In May 2009, Alcan Packaging unveiled what it claimed to be the 'first metal champagne bottle closure'."
In a similar move in July 2009, Italian firm Guala Closures brought out an aluminium screw cap for slightly sparkling wine. The Branded Moss closure is designed with a special liner that maintains carbonation levels for up to two bars without any loss of flavour.
Several Argentinean producers are already using the closure for wines available on the domestic market, and Brazil's largest sparkling wine producer, Salton Winery, has adopted the closure for its new Lunae Frisante range, which will be exported worldwide.
Champagne supernova
Both innovations have placed pressure on the previously dominant cork market, but cork producers aren't worried just yet. The Portuguese cork producer Amorim, for instance, says that while cork's share of the wine closure market has receded from 85% a few years ago to 70%, in actual terms the number of bottles using cork closures has increased.
Amorim's marketing and communications director, Carlos de Jesus, says he believes the challenge could be beneficial to the cork industry. "There are over 600 companies making cork closures. Some are growing; some are not. The growth is quality linked, meaning that cork companies that deliver quality are doing well. When companies that haven't invested in quality produce bad cork stoppers we all get tarred with the same brush, so actually, those companies being pushed out of the market is the best thing that could happen to quality cork," he says.
Yet Amorim has also recently launched its Acquamark closure, which it believes provides a natural cork stopper at a competitive price. The device takes its name from the water-based coating that fills in the shank lenticels for maximum sealing capacity. "It allows us to compete aggressively with producers of alternative closures, particularly in the 'basic' and 'popular premium' sectors of the wine market," he says.
A bitter twist in the tale
Over in the beer industry, alternative closure options are also appearing on the market, namely in the form of the PET screw cap. Historically, the oxygen sensitive nature of beer has posed an insurmountable obstacle to using plastic screw caps on PET beer bottles.
"New closure innovations have placed pressure on the cork market."
Packaging beer in PET requires the bottles to have sufficient barrier properties to avoid oxygen ingress and the closure to have oxygen scavenging properties to absorb oxygen in the headspace.
Bericap has overcome these challenges with a crown cork design that looks very similar to the traditional beer crown cork, but is equipped with an oxygen scavenger. The DoubleSeal SuperShorty Crown O2S was first introduced to the German market and is now also currently in use by Martens Beer in China.
Lightweighting remains a focus for Bericap and other designers of PET caps. The company says that raw material savings, CO2 emission reduction and cost saving measures are currently major drivers in the industry. Yet plenty of room for innovation remains as shown by Bericap's latest lightweight sports caps, which can be opened with one hand.
A version of this article originally appeared on our sister website Packaging Today (www.packagingtoday.co.uk).