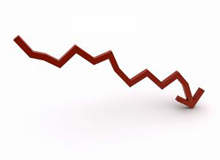 There was a marked decline in M&A activity in the packaging and converting industry in 2009, even though some analysts had originally anticipated that struggling companies would quickly come into play and be snapped up by rivals.
"It is not surprising that the packaging industry has not been immune to the economic challenges we have seen in 2009," says John Chrysikopoulos, a managing director in corporate investment banking at Mesirow Financial in New York. "Several of the industry's titans saw their stock prices and valuations tumble in the first half of the year."
Chrysikopoulos agrees that at a time of financial stress, there ought to have been an increase rather than a decrease in global M&A in the industry, yet the number of transactions has been markedly low. He believes this is because the financial performance of most companies has deteriorated.
"Several of the industry's titans saw their stock prices and valuations tumble in the first half of the year."
There has been a number of high-profile deals. Amcor paid $2.1bn to acquire part of Alcan, including its pharmaceutical packaging business, after protracted negotiations, which only ended this February.
Alcan's flexible packaging business was meanwhile acquired for $1.2bn by Bemis. Mesirow advised Specialized Packaging Group on its merger with PaperWorks Industries to create North America's third-largest integrated coated-recycled board company.
In general though, says Chrysikopoulos, acquirers have been keeping their chequebooks closed: "If the purchase multiples do not change but the volume of the business has deteriorated, then the value of the business has gone down. A lot of the potential sellers, unless they were under a great deal of pressure from their banks or because they had other liquidity issues, were not inclined to dispose because they would get a lower value."
Hit by decline
Furthering this analysis is the fact that the private market – in recent years a main driver of M&A in packaging – has been hit by the decline in public market prices.
"In short," says Chrysikopoulos, "there are two big variables that have affected M&A activity. The profitability and the multiples have both declined while the potential sellers have taken the view that now was the worst time to sell a business."
The weight of both these factors was further increased by the cost of available funds, says Chrysikopoulos: "If people were being asked to pay 15% to finance an acquisition, that was not attractive at the best of times, and certainly not during 2009."
The financial casualties of 2009, says Chrysikopoulos, tell a clear story. The majority were involved in paper, where the market had shrunk but the costs had remained stubbornly the same, or indeed increased marginally.
Material impact
The effect of the recession in packaging has been felt to different degrees according to the product area, says Chrysikopoulos: "It depends on the packaging end market and the substrate.
If you look at corrugated containers, in 2009 volumes declined by approximately 10%. A lot of the manufacturing costs tend to be fixed. So you are seeing a very material impact on the profitability in the face of such a sharp decline in volumes. But corrugated is more linked to industrial production than to food applications".
Chrysikopoulos cites cosmetics, where there has been an even more dramatic change. Politely side-stepping the longstanding assertion that the packaging of some high-premium perfumes may cost more than the contents, he points out that sales have seen a significant decline of between 20 and 30%.
Consumers have reviewed this discretionary spend and have moved their purchasing choices to less expensive "private label" products, where from a packaging point of view the margins are typically not as high as for the branded products.
However, it is necessary to look at other packaging sectors that have not been knocked back: "In the flexibles side, which is more food, meat and cheese and the like, packaging companies probably actually had better margins in 2009 than in 2008. This was primarily because volumes were about the same but their material costs came down a bit, especially if you look at resin prices. Equally, the metal cans for food and beverage all had a good year in 2009 versus paper." He notes R&D spend
in PET, plastics and metal continues to be high.
The victims of the downturn have clearly been paper-based producers. Smurfit-Stone, Pliant, AbitibiBowater, Caraustar and Fraser Papers in 2009 all sought Chapter 11 protection. Pliant was later taken over by Berry Plastics and Caraustar was bought by private investors.
"Most of the non-paper packaging companies tend to be leveraged 2.5 to three times and they can support this because their cash flows tend to be more stable," says Chrysikopoulos. "The paper companies by contrast cannot support a lot of leverage because their cash flows tend to be extremely volatile. And that is where their troubles have come from."
In the view of a London-based analyst: "The problem with these folks is that they did not see the downturn coming. They were carrying high levels of debt. But they had a product portfolio which, despite the hype, was in all honesty stuck in old costs and old functionality. It is a cruel question to ask but in a high-velocity, fast-moving sector like packaging, does the paper-based end of the business really have all that many 'game changing' initiatives to offer?"
"I think we are going to see strategic buyers continuing to be more aggressive and more capable of paying high multiples for the assets they really want."
Chrysikopoulos takes the view that while paper still has strong product value, troubled companies in the sector have not attracted takeovers because of high debt levels. "Also, if you look at Fraser Paper, it has mixed asset quality – some good, some bad – no one found the assets strategic enough to pay a fair price."
Smurfit-Stone, he adds, is a large company in need of restructuring. Besides container board and corrugated containers, it also has automated packaging solutions, packaging design products and a consultancy.
Chrysikopoulos believes 2010 will see economic recovery and a boost to M&A activity. "The share price performance continues to be decent, which is a strong indicator, though for sure there will be bumps. The margins have continued to improve and the valuations are getting better. The dialogue and level of activity we have seen so far around M&A is quite encouraging.
"I think we are going to see strategic buyers continuing to be more aggressive and more capable of paying high multiples for the assets they really want. The flip side of this is that we will see more of the packaging companies that are owned by financial sponsors coming to market.
"The packaging companies are not as cyclical or volatile as some other sectors, so valuations are coming to a level where it makes sense for financial buyers to take some money off the table".
A disparate industry
Packaging and converting remains a disparate industry, says Chrysikopoulos. However, more companies are looking to size and scale to match consolidation. "Consolidation at customer level has led to increased purchasing power and reduced leverage packaging companies have had.
"We are already seeing strategic investors trying to rebalance their portfolios. If, for instance, they are in three different business lines and two of the three are stronger, they are beginning to say to themselves that they should exit that third business and take the capital and either pay down debt and strengthen the balance sheet or take that money and redeploy it into the businesses where they are already stronger."