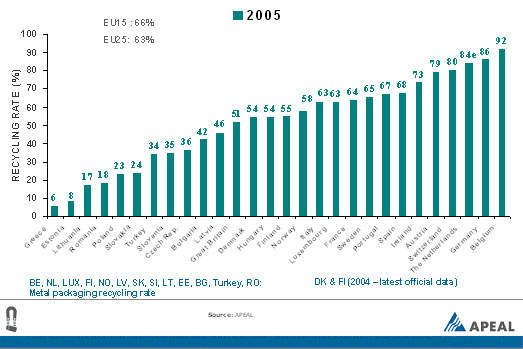 For the first time, recycling data gathered by APEAL covers 30 countries, namely the EU-25 as well as Romania, Bulgaria, Norway, Switzerland and Turkey and provides a full picture of the recycling performance of steel packaging. Growing recycling rates are being achieved throughout Europe with recycling rates reaching up to 92% in Belgium.
REMARKABLE RECYCLING RATES
"EU laws should remain unequivocal about the environmental benefits of recycling."
Remarkable progress in recycling was made in the Baltic States, Poland and Slovakia (from +37% in Slovakia to +120% in Lithuania). Other countries which improved their recycled tonnage include the UK and Denmark (between 10% and 15% increase), Spain, Finland and Italy (between 5% and 10% increase) as well as Austria, Ireland, Germany, Portugal, Switzerland and Hungary which increased their recycling performance by up to 5%.
As far as Turkey is concerned, a recycling rate of 34% was achieved in 2005 for metal packaging, exceeding the 30% recycling target imposed by law.
IMPROVED WASTE MANAGEMENT
A key factor contributing to these high recycling rates is the adaptability of steel to a variety of collection systems ranging from mixed household waste to multi-material, door-to-door collection.
Such systems, which are generally integrated into the waste management system for a locality, are now commonplace in Europe and are rapidly being implemented in Eastern and Central Europe.
"The Waste Framework Directive must continue to support recycling throughout Europe."
Importantly, they have the advantage that they collect all types of household steel packaging (food cans, drinks cans, aerosols), whereas some systems, notably deposit systems, are restricted to beverage containers.
Further improvements in recycling can be expected in Central and Eastern Europe driven by the on-going development of the collection and recycling infrastructure as well as the phased EU recycling targets until 2015.
A RECYCLING SOCIETY
Philippe Wolper, managing director of APEAL, comments: "In order to achieve a recycling society, EU laws should remain unequivocal about the environmental benefits of recycling and continue to support the efforts made by our industry to achieve high recycling performance."
"Ambiguous messages about the value of recycling could pave the way for Member States to promote economic instruments which totally disregard the contribution of highly recycled packaging materials towards the sustainable use of resources."
"In terms of environmental policy, it is of paramount importance that the Waste Framework Directive, which is currently being revised, continues to support recycling as an environmentally efficient recovery option with at least the same priority as reuse."