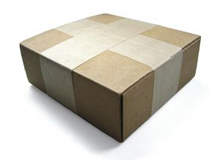 While it is difficult to ever make the case for a sector or service being "recession proof", one would be right in saying that the folding carton industry is more robust than many of its contemporaries when belts are tightened. With a high proportion of its customer base coming from the food and beverage and pharmaceutical industries – life's essentials, so to speak – demand should never drop too dramatically. This is not to say that folding carton is impervious to market whims, however, and providers have to take stock of operations and address changing conditions and shifting pressures in a number of ways.
"We've seen the recession take a harder toll on commercial printing but folding carton manufactures have certainly been hit," acknowledges Jay Willie of the Independent Carton Group (ICG). "If you're providing consumer essentials there's no doubt you're at an advantage, but that will rarely account for your entire business." The ICG, an association of independently owned folding carton companies, attempts to counteract this challenge through measures such as collective purchasing power and sponsoring technology and market seminars. While many analysts will claim that big is beautiful in a struggling market, Willie believes his members' diminutive operating platforms have also stood them in good stead.
"Environmental stewardship is important and a lot of companies in the industry are moving towards the 100% carbon neutral ideal."
"One of the things we've always found with the independents is that they're capable of being far more flexible in reacting to the prevailing climate," he explains. "They've taken it as a time to seek opportunities through differentiating themselves. Smaller companies can change more quickly and without cutting through so much red tape."
Developing press systems promise lower costs in the future. "The key innovations I've seen have been in pre-press and workflow areas," Willie says. "There are ongoing improvements to reduce change-over time while also increasing the run speed using modern colour control technologies. Apart from the substrate, the most expensive conversion process in the creating of folding cartons is printing."
Despite the advantages small companies are accruing, diversification is still important. Label printers have long made use of digital printing technologies but carton converters have been slower to take them up. As the systems have come to maturity, they offer a greater degree of flexibility, building on the innate advantages of smaller producers.
Digital dawn
Digital systems offer markedly reduced changeover times, which is valuable for short runs, and are increasingly being considered as a viable option for longer runs as well. There is a wide range of different platforms being offered by major companies like HP and Xerox, each with their own advantages and drawbacks.
Questions also remain as to the best way of integrating digital processes in to existing workflows. Cost is also a major issue with some estimates putting service contracts at as much as $6,000 per month.
Technology will not provide the industry with a clear route forward and targeting new markets and diversifying will be important. Cigarettes are often packaged in cartons but in North America and Europe smoking is in decline. Depriving carton board manufacturers of a key source of revenue. One option is to target emerging markets where the popularity of tobacco is holding up better.
While pharmaceuticals are an important market and one that promises long term growth as life expectancy increases, the regulatory requirements for the industry are only getting stricter, increasing the technical challenges for carton makers and potentially increasing costs.
The most exciting opportunity comes from major brand owners putting greater emphasis on reducing their environmental impact, potentially leading them away from plastic and towards more sustainable alternatives. Independent carton manufacturers are aware of the benefits and are striving to prove their own green credentials. While fibre-based products are recyclable and based on a renewable raw material, it is important to demonstrate a commitment to sustainable forestry and seeking alternatives to fossil fuel based energy in manufacturing processes.
Technology also has a role to play in approaches to sustainability. ICG sponsors biannual seminars to promote best practices and facilitate communication between producers.
"Environmental stewardship is important and a lot of companies in the industry are moving towards the 100% carbon neutral ideal," Willie says. "We're also seeing a strong surge towards meeting certifications such as the Forestry Stewardship Council. I don't see this trend going away: it is long-term."
Risk management
In a world of unstable oil prices, plastics manufacturers are an increasingly uncertain bet for brand owners and converters. Because many carton board producers have close links with forestry companies, they are better able to manage their costs.
"We've seen the recession take a harder toll on commercial printing but folding carton manufactures have certainly been hit."
Forestation should mean that in the supply of wood and pulp is stable in the long term. It is important, however, not to push comparisons with plastic too far and it would be wrong to assume there will be a rush towards cartons as brand owners go green. The potential for advanced conversion techniques makes board appealing to consumers and, as a result, to brand owners.
If brands were to drop plastic in their packaging altogether – and there have been a few notable examples – the strength of cartons and there ability to protect products will have to be demonstrated. Some paperboard producers are working on developing lightweight materials without sacrificing strength and such innovations will have an important role to play.
Smaller producers need to make use of their flexibility and demonstrate to potential customers how it allows them to perform better in the market. "With the buyer group and collective purchasing that we have," Willie adds, "they are at the competitive level of the bigger integrators."
Having held up well through the recession, carton manufacturers now need to seize opportunities as growth returns. The main challenges will be in implementing new technology and prising open new markets. Looking further ahead, promoting sustainability should pay off but at this stage it would be unwise to bank on such a strategy too greatly in the short term.