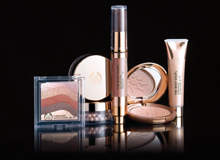 In the vast global market for cosmetics, a small move towards more sustainable packaging can make a big difference to the planet. As the environmental impact of products steadily becomes a more important influence on consumer purchasing behaviour, some companies are investing heavily in innovation and the development of sustainable materials. Others, however, believe that there are simpler, more obvious ways to bring about meaningful change.
"We do not consider our packaging to be innovative just because we focus on sustainability. All packaging has an environmental impact, so there is no such thing as environmentally friendly packaging," says Steve Barber, head of packaging development at The Body Shop International.
For The Body Shop, sustainability has always been a core value that underpins its approach to products and packaging, but not because it plays well with consumers. Consideration for the environment and for communities where raw materials are produced has always been seen simply as a fundamental principle of good business.
The Body Shop International has become the second largest cosmetics company in the world, with over 2,400 stores in 61 countries.
Founded in the UK in 1976, it has always operated with a clear stance against animal testing, a commitment to Fairtrade through its Community Trade programme, and a business model that emphasises the need to protect the environment.
"All packaging has an environmental impact, so there is no such thing as environmentally friendly packaging."
The company, which became part of the L'Oréal group in 2006, is clearly identified in customers' minds with ethical business and sustainability, but these values are not merely part of a branding strategy. They are fundamental to the way it operates. As a result, sustainability may have some influence on customers' decisions to enter its stores, but seeing as only The Body Shop products are available through these outlets, it is not a factor that differentiates products at the point of purchase. All of its products will be born from the same fundamental ethos.
The company's values are also expressed in its approach to packaging as well as products. This manifests itself in the fact that The Body Shop does not engage in extensive research into new packaging materials from renewable sources, or extravagant ways in which to rework the design of its product packs, despite being a brand that is very tightly bound to sustainability in the minds of customers.
"We used standard packs across many of our ranges, and we try to get as much post-consumer recycled material into the pack as possible," explains Barber. "We've done that more than most companies. In some packs made from PET we have reached 100% use of post-consumer recycled material, and in many of our glass bottles, including our perfume lines, we have reached 30%. We don't have a packaging innovation budget, but we are certainly strong on sustainability."
Whether packaging perfumes or cosmetics, The Body Shop employs a very simple methodology that greatly improves the sustainability of its products. By using recycled materials as much as it can, the company is greatly reducing demand for new raw materials, whether those materials are produced from renewable resources or not.
"We don't dream up new dispensers for our lotions, we use standard components. We avoid any secondary packaging wherever we can, so we don't use many cartons," says Barber.
"In the perfume category, where we have launched at least two more prestigious ranges in the last twelve months, we do use some decorated cartons to move the products upmarket, which our parent company L'Oréal is driving. So, we ensure that it is FSC certified board from FSC certified printers, so we are very much still focused on sustainability."
A simple philosophy
The insistence on any packaging board being certified by the Forest Stewardship Council (FSC) is an embodiment of a heartfelt belief running through the company that sustainability is not part of a marketing ploy to sell more products.
"Using recycled material may even cost us a little more, but we do it because it is the right thing to do."
The Body Shop does not exaggerate its claims about sustainability to greenwash its products, and in fact is often cautious about marketing its products on that basis. "Customers might expect there to be recyclable material in all our packaging. They might expect, for instance, that all our glass bottles contain post-consumer recyclable material, but they do not, and we would not claim that they do, because such a thing is not possible at the moment," says Barber.
"Sustainability in this company is driven by always having been our ethos. Using recycled material may even cost us a little more, but we do it because it is the right thing to do. New technologies and materials have developed over the 30 years that we have been in business, but The Body Shop is very philosophical in its approach to materials. We are not resourced to do extensive lifecycle analysis, hence the focus on postconsumer recycled material."
The company does not look in great depth at new bio-derived polymers for its cosmetics packaging, because there are complex issues to examine in regard to their production. They may be recyclable, but there are questions over the use of land to produce them, which could replace crop farming for food and, therefore, negatively impact local communities.
"Also, PLA, looks like PET, but what if the two are mixed in the recycling process? Does that mess up the whole process of recycling? Also, PLA might be biodegradable, but it must be remembered that it can't be composted in your garden, only in an industrial composter. It seems to us that it is better to use plastics that have been used before, even if they derive from petrochemicals. It keeps plastic out of landfill and certainly reduces the demand on available oil by reducing the demand for new plastic," Barber explains.
"Our approach is very simple. We haven't ignored bioplastics, but while they work well for things like bottled water, they do not work well with our cosmetic products." That said, there are technologies that would be of great value to a company like The Body Shop that prized sustainability so highly.
"We would be desperately interested in technology that could give us food grade post-consumer recycled polypropylene, which we could use for lids for the jars in which many of our cosmetics products are sold. You can't get good enough grade material in Europe. You can in the US, but it would not be sensible to ship it all that way," says Barber.
"We are talking to people who convert polymers into lids about our interest in this technology, but neither we nor L'Oréal have found it. It would make a massive difference to our packaging, but it must be food grade or FDA certified, or we can't put it into contact with our product."
What Body Shop has proven is that there is more than one way to approach the issue of sustainable packaging. It has also shown that innovation, particularly in regard to the development of new materials such as bio-derived polymers, must be considered in the broadest context – taking into account the impact of production on land use, local communities and agriculture.
While Barber might be reluctant to hail the company's packaging strategy as innovative, it nevertheless represents fresh thinking and shows that innovation does not have to come in the form of extensive and expensive research and development, but can be just as effective when it is merely a powerful yet simple idea.