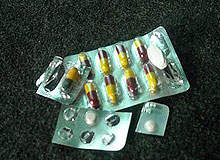 The US Food and Drug Administration (FDA) regulations for pharmaceutical packaging and labelling companies are constantly evolving to meet new challenges and demands. Packaging designers and manufacturers must work hard to stay abreast of the latest laws, meet ethics requirements and use effective anti-tamper mechanisms while also taking into account sustainable packaging targets.
Ahead of Arena's conference in June 2010, Pharmaceutical-technology.com takes a look at the technological breakthroughs designed to help health administrators and patients ensure the safe and secure use of both over-the-counter and prescription medicines.
Fresenius
Security is paramount to ensure that medications are not tampered with before they reach patients. The contamination of drugs has been a costly issue for pharmaceutical companies for many years, particularly in the case of over-the-counter medications.
A couple of years ago, a unit of Germany's Fresenius SE released plans to expand packaging and labelling instructions on "high-alert" products such as blood-thinning medication following high-profile product recalls by Baxter International, which bought a contaminated supply from China. The move also followed reports of medical errors and overdosing.
"Packaging designers and manufacturers must work hard to stay abreast of the latest laws."
Dayquil
In 2009, Procter & Gamble recalled its over-the-counter Dayquil cold and flu 24-count bonus pack of liquicaps due to a packaging and labelling error. The company finally had to recall 700,000 units of Canadian-made Vicks cold and cough medicine in the US because it is was not in child-resistant packaging that met legal requirements. The label on the medicine, which contains acetaminophen, did not say it should not be handled by children, as required by the US Poison Prevention Packaging Act.
Hologram technology
Packaging that helps patients control and improve security and safety of their medication is making a breakthrough and is likely to make a big impact across the industry. An example is labelling security print company RW Pierce's recent launch of hologram technology.
The technology aims to authenticate its products using human breath and optical sensor technology made from a polymer film, which can have chemical primers embedded inside to create a specific sensor. The hologram reacts to moisture by changing colour and displaying a different image and can be incorporated into a tamper-evident seal and a package as an authentication feature to guard against counterfeiting.
Labopharm
One of the biggest technological innovations to come onto the market this year has been from Labopharm. The company recently launched the Intellitab technology platform, which it describes as "proprietary abuse and misuse-deterrent technology". Intellitab, which can deliver one or more therapeutic drugs in combination over periods of up to 24 hours, has the potential to provide a patient with controlled-release medication while minimising the risk of intentional abuse or accidental misuse, according to the company.
"Contamination of drugs has been a costly issue for pharmaceutical companies for many years."
Labopharm president and CEO James R Howard-Tripp said, "the development of safer pharmaceutical formulations is a major new direction for the industry, like the advent of child-proof caps was to packaging several decades ago. It just makes sense that if we, as an industry, can offer patients less-abusable formulations of existing medications, we should."
It will, no doubt, take time to assess the effectiveness and success of the Intellitab platform, which takes the pharmaceutical packaging market a step further in its bid to maximise safety in the use of medications.
Together with holograms designed to improve security, the onset of technology that empowers the user and offers dosage control methods is set to change the direction of pharmaceutical labelling techniques to maximise safe and secure usage.
Delegates meeting at Arena International's Pharma Packaging and Labelling event will no doubt address these other important recent innovations, set to transform the packaging and labelling landscape. Such product and technology launches will be set against the backdrop of discussions on national and federal US laws and how pharmaceutical, packaging and labelling companies can plan for the year ahead in the face of continuously changing legal requirements.
Pharma Packaging and Labelling USA 2010 will take place on 18 and 19 May 2010 in Philadelphia, US.