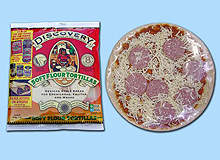 Market drivers keep machinery makers on their toes by finding ways to give customers the edge and ensure they themselves remain at the helm of technological innovation. And now more than ever it's all about smart thinking and nurturing strong partnerships in the competitive market segment of vertical and horizontal form / fill / seal.
Ultrasonics sealing technology needs no heat and little pressure to reward its users with improved food safety and product presentation. In fresh produce such as delicate leaf salad, it avoids unsightly blackening of leaves that become trapped during vertical filling. And the leaker rate is potentially slashed to one-tenth that of heatsealing, says Guy Levy, managing director of machinery manufacturer Ilapak.
In the grated cheese category, leaker rates have been addressed by the dairy sector, critical as they are to product quality. But even so, the gain from ultrasonics can be "significant", he says. Ilapak's ultrasonics technology is already available in France and Italy and is expected to hit the UK soon. The fresh produce market will continue to lead demand, due to consumer preference for ready-to-use convenience and wide choice in packaged healthy options. A colourful crop of target foods includes carrot batons, peppers and watercress.
"Ultrasonics sealing technology needs no heat and little pressure to reward its users with improved food safety and product presentation."
Hygiene and food presentation are priorities for Ilapak, and "whatever we do, we aim for the lowest price per pack", says its MD. "The expense of downtime can run to many thousands of pounds an hour, and the better we look after customers, the less downtime there is." Having spares readily available and remote-access diagnostics are time and money-saving services on offer.
"With the recession, customers are looking to improve speeds of production and better leaker rates. There's more focus on refurbishments, replacement of jaws and upgrades, and how to get the most out of their assets," says Levy.
There is some price pressure on new products, he admits, but a calculated payback is based on a machine's performance, the reduction of downtime and, ultimately, the lifetime value. "Payback can be between six to 12 months in a machine serving a company for ten years," according to Levy.
One of the world's biggest manufacturers of machines for vertical and horizontal flow wrapping, Ilapak has refined its approach to the market and helps the market break new ground.
The quattro, or stabilo, pack with a carton-like square presentation, such as the Amcor Flexcan or PushPop, fits the food trend for snacking and convenience and has opened doors for vertical form / fill / seal (VFFS) machinery.
"Innovation is driven by the customer," Levy says, and Ilapak partnered Amcor to develop the portable 'bag in a box' format called Flexidity. It is designed to be easy to pick or spoon from. With the possibility of moisture, gas and light barrier, it has a wide scope for use, including ready meals, fries, noodles, salads, baby food, yoghurt and desserts, sweet and savoury snacks, coffee, tea, pasta, rice and flour.
Ilapak was also behind the Delta VacMap, a horizontal form / fill / seal (HFFS) flow-wrapper that combines vacuum and modified atmosphere packaging (MAP) in a single machine, which is widely used for packaging fresh pizzas in France, Italy and Germany. An in-line vacuum system extracts trapped pockets of oxygen from inside the product itself, to keep it fresh for longer.
"It is important for a supplier to help customers manage consumption levels and control ownership costs."
Ilapak is also supporting shrinkwrap film formats for trayless chicken and tomatoes, and a concept stand-up pack for the big sandwich market is in the pipeline.
It is important for a supplier to help customers manage consumption levels and control ownership costs. Sustainable technologies can result in a saving of 60% energy for users. "All our own factories meet ISO 14001 standards and fit customer goals for lower cost and less harm to the environment," says Levy.
Recent major orders have come from global food conglomerates, which manufacture across continents, as indeed does Ilapak, which produces in Asia (China), the Americas (Brazil) and Europe. A new manufacturing and R&D centre in Lugano, Switzerland, is dedicated to rotary-jaw, HFFS machines, and complete automated systems. It stands next to Ilapak's existing factory, which is focused on HFFS machines for extended shelf life of fresh products.
Ulma cuts packaging by ditching fresh produce trays
To strip away costs and waste in the fresh produce sector Ulma Packaging has developed its state-of-the-art Atlanta E HFFS flow-wrapper to securely wrap fresh produce at high speed without the need for a tray. The trayless pack, Ulma says, is a result of heavy investment in electronic auto in-feed systems that protect soft fruit and vegetables, whatever the production speed.
Its customer, English Village Salads, is supplying tomatoes in tray-less packs using the Atlanta E, which can handle up to 120 packs a minute, and claims it has reduced packaging by 25%. Grower T Wilson & Sons installed the Atlanta to wrap unsupported mild onions and peppers at 50 packs a minute. Its operations manager Rob Wilson says: "the machine has already increased capacity by 100%."
With a host of features including touch-screen controls, which store parameters for up to 25 different products, the machine can work with BOPP, PVC, polyester, cellulose, complex laminates and cold seal materials.
Market drivers
The call for easy-to-use openings and effective closures plays to the strengths of the vertical and horizontal form, fill and seal sector.
"The call for easy-to-use openings and effective closures plays to the strengths of the vertical and horizontal form, fill and seal sector."
SwiftUp is one such example, which its developer Mondi Consumer Flexibles says offers "virtually unlimited applications".
This is thanks to a fin that opens an FFS pouch in a straight line along its length. It can be almost anywhere on a pack, any kind of film or laminate is possible, and there are no limits to pack size, format or shape, adds Mondi.
SwiftUp can be applied on a wide range of existing packaging lines, with small modifications.
Aiming for a clean top seal
Sole UK agent for Volpak, Integrapak recommends the company's Horizontal Way technology for packaging fine powders in pouches. It can run at 320 pouches a minute, and potential uses are foods such as chocolate powder, coffee mix, cereals and pharmaceuticals.
Pouch-forming away from the filling station guarantees their quality and seal integrity. Prior to top sealing, a dust vacuum system sucks the particles of powder away from the seal area, for a clean and neat top seal.
SynchroPack's new 7-Series flow-wrappers, also distributed by Integrapak, are for packaging sliced food products in trays with modified atmosphere.
The notable feature is the bag's three seals. The side location of the longitudinal seal is said to reduce wrinkles on the film. This guarantees a hermetic seal at high-speed rates.
Via Integrapak, Spanish company Inever offers FFS stickpack machines and equipment to produce shaped, four-side sealed sachets for foods, pharmaceuticals and cosmetics. Features include in-built laser scoring for easy open features, instant full access to seal jaws and cutting knives, and low-cost multihead thermal transfer printing.
Adopting an integrated bagger-weigher
An integrated multihead weigher and bagging machine for delicate bakery items, fruit and confectionery, will be just the job for the smaller or start-up company, says PFM Packaging Machinery. The new ZC1S operates at speeds of up to 80 bags a minute. It employs a bagging section in which the forming tube is inclined, so products can slide gently into the bag, rather than drop under gravity.
The PFM C1 multihead weigher is mounted on the bagger itself with no need for a supporting gantry, to reduce the machine's cost and footprint.
"It also offers a high degree of flexibility and accuracy and is simple to use," says PFM sales and operations director Chris Bolton.
A version of this article first appeared on our sister website Packaging Today.