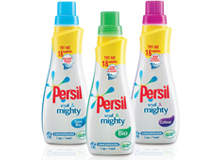 Jay Gouliard is in no doubt about Unilever's responsibilities when it comes to reducing the impact of the group's packaging on the environment.
"Every pack we design makes some mark on the planet, but we have a great capacity to make a change," he says.
He believes that innovation offers the greatest potential for concentration, such as less packaging and laundry powders that wash at lower temperatures.
"I view sustainability as the opening of a new space for innovation and the opportunity to demonstrate our collective innovation power in Unilever," he says.
Sustainable packaging principles
Unilever has five guiding principles with regard to packaging:
Remove. Eliminate unnecessary layers of packaging.
Reduce.Reduce material used.
Reuse.Reuse packaging from the materials we receive at our factories.
Renew. Maximise recycled and renewable packaging and investigate biodegradable and compostable materials.
Recycle. Increase the use of recyclable components in packaging.
"People feel good about recycling, but we have to further change consumer attitudes by communicating with them."
The company states: "Our role is to reduce the environmental impact of our packaging, while retaining its ability to protect our products effectively. Our approach to responsible packaging takes into account environmental, social and economic considerations, as well as the diverse waste collection and management infrastructures found around the world."
Gouliard warns, however, that sustainability is a highly complex issue.
"Sustainability looms large and we are overloaded with information," he says. "Consumers are often confused about what to do, and what to believe. People feel good about recycling, but we have to further change consumer attitudes by communicating with them.
"Our research from around the world has shown that a high proportion of consumers will always choose the ethical option if the price is the same as a 'non-ethical' product."
Extending environmental sustainability
In 2008, Unilever developed sustainable packaging guidelines and introduced training for its packaging teams to further embed sustainability into design. Three issues were identified: sustainable sourcing of paper, tackling the litter that resulted from sachets, and minimising PVC. Its efforts in these areas have placed the group at the top of its sector for 11 years on the Dow Jones Sustainability Indexes, and earned it a Supplier of the Year Award from Wal-Mart.
Gouliard reports that over the past decade Unilever's supply chain has managed to reduce its CO2 emissions by 39%, water usage by 63% and total waste by 68%. But despite this, the group is not complacent.
"Unilever's supply chain reduced its CO2 emissions by 39%."
"Now is the time to extend our environmental sustainability efforts beyond the walls of Unilever, including the entire lifecycle of our products, to truly understand the imprint and impact of our brands on the planet," Gouilard says. "We must shift our attention to a value chain approach."
As an example, the contribution by each phase of the lifecycle of packaging to greenhouse gas footprint was pointed out.
It emerges that 15-25% result from raw materials, 1-2% from manufacturing, 1-2% from distribution/retail and 60-80% from consumer use and 1-2% from disposal.
"This is not just a technology agenda; changing consumer attitudes and behaviours requires a fully engaged marketing and communications team," states Gouliard. "We have to act now. By 2020, there will be eight billion people on the planet."
Sustainability roadmap
While raw materials and consumers are the most important drivers of impact, Gouliard points out that primary packaging has the most impact. It is a fact that 18% of landfill is product waste, not packaging, in the UK.
How can companies approach the sustainability challenge effectively? Gouliard suggests a 'sustainability roadmap' as a model:
Set an ambitious, employee-engaging sustainability vision.
Establish your company's baseline and develop metrics appropriate for your business.
Innovate across your entire portfolio
Adopt a total lifecycle, value chain approach.
Partner with key customers who have common goals and targets.
Develop consumer communications.
Leverage NGOs / GOs and industry consortiums to fill capability and knowledge gaps.
"Think different, be different," Gouliard says. "Be bold in your actions. As industry leaders we must do everything that we can do at Unilever. But in the end, everyone on this planet must do everything they can if we are to make a substantial impact on sustainability."
To paraphrase Gandhi, if you want to change the world, you have to be the change.