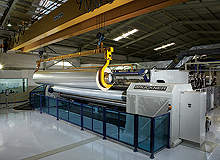 The global financial and economic crisis hit companies in the international plastics and rubber industry hard, resulting in an unprecedented slump in output and sales. But optimism reigns in K 2010, as order intake levels and turnover have taken a gratifying upturn in recent months.
Ulrich Reifenhäuser, chairman of the Exhibitors' Council of K 2010, says: "Although it will take quite some time before we reach 2008 levels again, current trends are very encouraging for raw materials producers, machine manufacturers and processors. Our customers are again working on new projects and are showing big interest in innovations and optimised processes and products. We are now benefiting from having built on our strengths in bad times, improving our competitiveness and developing new products."
Against this heartening background, preparations are in full swing for the world's largest trade fair for plastics and rubber. Here, we preview some of the innovations that will be on show at the exhibition this year.
Brückner Servtec (Hall 3, stand C73)
Brückner Servtec will present four new types of 'economical to run' lines able to run biaxially oriented films up to 10.4m wide at 525m / min, and a cast polypropylene line for widths up to 6.2m at 300m / min. The company will also present its new cast film temperature control. The cooling zone is variable, and controlled to reduce energy use.
Visitors to the show will learn how Brückner can adapt an existing BoPP line to serve the bioplastics polylactic acid (BOPLA) packaging market. It has already helped BoPP producer Taghleef Industries to modify one of its lines in Italy. This involved an extruder screw designed to ensure gentler plastification, and temperature control that allows for the fact that PLA must be stretched at considerably lower temperatures than other polymers.
Calemard and Roll Concept (Hall 3A, stand 96)
"Optimism reigns as order intake levels and turnover have taken a gratifying upturn in recent months."
Calemard has extended its slitter rewinder range with the Vega S, for plastics films, adhesive tapes, laminates or multilayer products. Up to three cutting systems can be fitted to the same machine, and for narrow tapes, a lay-on arm is said to ensure perfect rewinding quality. In addition, the Vega S has been designed to reduce unloading times and speed up production restarts.
Calemard spooling lines offer full computer control of winding profiles and individual setting of each position, to ensure flexibility, consistency, stability of the spool, especially for narrow width materials, and exact repeatability.
Sharing the stand, sister company Roll Concept is targeting plastics-based industries with Alveotube rollers and winding cores. Lightweight and resistant to rust, the aluminium profile combined with an alveolar structure will help save money and achieve productivity gains, it is claimed.
Colines (Hall 16, stand A39)
The latest cast film line from Colines, the Handrollex Triple, will be in operation. It extends the range of sizes offered by the Handrollex-1000 line as, in addition to stretch film rolls for manual and automatic use with in-line slitting, it also produces jumbo rolls up to 500mm diameter. The new line is designed "for economy and optimised production costs without influencing functionality and quality". 
Thanks to various options, the finished film produced by Handrollex-Triple is said to have great flexibility thanks to the possibility of multiple in-line cutting and the production of mini-rolls. Tests on the pre-stretch are currently being made and a coreless option is under development. A new stretch film line with a useful width of 2,000mm will be engineered with nanolayer technology claimed to bring "remarkable improvements" in the mechanical characteristics of the extruded film.
ColorMatrix Group (Hall 7A, stand D05)
The ColorMatrix Group will showcase its liquid colorant and additive technologies, fluoropolymer colour concentrates and compounds. Breakthrough technologies for thermoplastic applications will include Excelite, a liquid foaming agent for PVC foam sheet extrusion that reduces density and improves lightweighting "for a better print finish, greater clarity and increased definition", says the company. PET additives and a 'pioneering' fibre delustrant will be featured, said to enhance the quality of PET fibre and improve processing efficiencies.
DuPont Performance Polymers (Hall 6, stand 033)
Under its sustainability banner of 'Responsible Innovation Now', DuPont Performance Polymers will present advances in high performance polymers and elastomers for industries including the healthcare, food, and packaging sectors. A new Food Grade family of products will provide compliance with several regional food contact regulations including FDA, European Food Contact 2002 / 72 / EC and GMP (EC) 2023 / 2006. Easy-open packaging solutions will also be featured.
Extrusion Dies Industries (EDI) (Hall 2, stand G06)
Microlayer technology developed by EDI for thick film and sheet promises to extend the shelf life of retort, hot fill, and flexible food packaging, while increasing formability in thermoforming. EDI will feature the technology in a display of its 'layer multiplier' system. At its Technology Center in Chippewa Falls, US, EDI is carrying out a 'scientifically rigorous study' of the benefits and limitations of layer multiplication.
"K 2010 visitors can use the Innovation Compass on the show website to ensure that they make the most of their time at the event."
One result is the development of a technique for selective multiplication of the barrier resin layer of a multilayer film or sheet structure. By transforming a single layer of a resin such as EVOH into several microlayers, it is possible to reduce oxygen transmission rate (OTR) by 60-80% , the company claims. The resulting benefits for food packaging are said to include prolonged shelf life, enhanced quality and lower material consumption.
EDI's layer multiplier is a special tool that can be engineered to multiply layers within a coextrusion 'sandwich' provided by a feedblock. The resulting microlayer structure then passes into the manifold of an extrusion die, where it is transformed into film or sheet of target width and thickness profile.
No matter how many microlayers there are in the structure, the overall thickness is no greater than that of a conventional coextrusion, and the structure contains the same amount of raw material, states EDI.
Kody (Hall 3, stand G82)
Indian manufacturer Kody will demonstrate the Nuzen S-737 450 MPM slitter rewinder. The Nuzen is a duplex winding machine capable of handling a wide range of web materials, including laminated paper, BOPP, polyester, PVC, multilayer film, and foil, in thicknesses from 10-250 micron, and even more for customisation. Models are available with working widths from 1,100-1,650mm, unwind diameters from 1,100-1,500mm and rewinds 600-800mm. Top speeds are 300, 400 and 600m / min.
LyondellBasell (Hall 6, stand D24)
Used in pharmaceutical packaging, LyondellBasell's Purell PE 3420F resin is said to represent 'a new LDPE performance benchmark' with a density of 0.933g/cm³. The new grade processes easily and has a wide range of best-in-class mechanical properties, the company states. Compared to standard LDPE, it has very high sterilisation temperature resistance and provides significant wall thickness reduction potential, which offer cost-saving capabilities for customers using blow-fill-seal technology.
Meech International (Hall 11, stand B60)
Visitors to the Meech International stand will learn about 'pioneering developments' in electrostatic control, web cleaning and air technology. Recent launches include the 977CM pulsed DC controller and the 977HL pulsed DC controller for hazardous area ionisers. The 977CM continuously monitors output and automatically adjusts the input voltage to compensate for the adverse effects of contamination. It also features a fully automated closed-loop feedback system. 'Easily installed and connected' to existing Meech ionising bars, the 977HL provides accurate monitoring of their performance, alerting the operator immediately when they need to be cleaned. 
Meech already manufactures contact web cleaners and the new ShearClean adds a non-contact version suitable for coating, converting, laminating and speciality plastics applications where contact cleaning systems are not feasible. The ShearClean can be supplied for use with reel widths up to 1.8m and web speeds of up to 450m / min, and it can be tailored to suit customers' requirements.
Plasmawerk Hamburg (Hall 3, stand E29)
A first-timer at the show, Plasmawerk Hamburg will present its CAPS plasma technology system for modifying web surfaces in applications using polymer films. The company believes CAPS can avoid the use of more expensive surface coatings, make redundant those that may be harmful to the environment, and cut running costs and capital investment. Based on proven corona technology, CAPS is said to give 'extremely' good adhesion through chemical bonding due to increased surface tension. The custom built systems will handle material widths up to more than 4,000mm and line speeds up to more than 1,600m / min.
Windmöller & Hölscher (Hall 17, stand A59)
"Current trends are very encouraging for raw materials producers, machine manufacturers and processors."
Windmöller & Hölscher will exhibit a blown film line and flexo press, two examples of its extensive range of equipment for the production of flexible packaging. W& H subsidiary BSW (Bag Solutions Worldwide) will be located on the adjacent stand C60 and present its PP woven sack product range.
Also, during the show, W&H will welcome visitors to an in-house expo at its Lengerich headquarters for live demonstrations of film extrusion, package printing and converting.
A complimentary shuttle bus service will provide transport between the Messe Düsseldorf and the W&H Technikum in Lengerich.
The expo will include live demonstrations of two Varex blown film lines, a Filmex Cast extrusion line, and highlight the latest Aquarex, Optimex and MDO (Machine Direction Orientation) extrusion lines. Other machines featured will include flexo and gravure presses for package printing, a Polyrex shopping bag line, an AD Convertex valve bottomer and a Polytex tuber for woven PP sacks.
A new branch of the W&H blown film line family, the Aquarex blows film downwards and uses water instead of air to quench the bubble. The result is said to be soft film with high clarity and gloss, and exceptional puncture and tear resistance, that can be used for barrier films and medical applications.
Finding the highlights
K 2010 visitors can use the Innovation Compass on the show website to ensure that they make the most of their time at the event. Available by visiting www.k-online.de the Innovation Compass shows the direct route to all the highlights, covering products and processes that are expected to have a decisive impact on market trends in the plastics industry over the coming years.