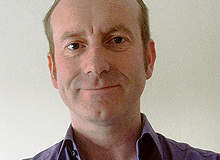 Ellie Broughton: Talk us through the development of the thermochromic Coors Light campaign.
Steve Mitchell: Coors Light, as it is today, was launched in September 2007. One of the first things we did was to really promote thermochromic on the bottle. We took it from being a Rocky Mountain badge on the reverse of the label, because people had hardly seen it, and put it on the front using a die-cut method. It was important to us that we promoted the thermochromic ink on the front; we wanted a bottle that really stood out in back-bar displays and on the high street.
In 2009, we introduced the big thermochromic icon to cans. We wanted to build value for our customers and create positive disruption in the beer aisle.
But innovation's a challenge when people see cans, at worst, as a poor relation to bottles.
EB: Was it hard to decide how to incorporate thermochromic inks into the campaign?
SM: No, not really. We knew exactly what the design needed to be, we knew what thermochromic had to do. The challenge was how we launched and delivered that.
The goal was always a unified articulation of 'Rocky Mountain cold refreshment'. Straplines come and go, as with any campaign, but that's something Coors Light will always stand for. The thermochromic icon plays really strongly into that – it's absolute proof that this is made cold, comes from a cold place and is to be served and enjoyed cold. 
EB: Did the campaign's practical aspects cause any concern?
"You don't know anything until your product is on someone's shelf."
SM: It was a big lay-down of ink to a scale we hadn't done before – there was huge investment in just working through the technical feasibility, never mind the cost. So you can get this stuff to work but what if, as the cans run down the line, the ink scrapes off? How robust is it? How long a life has it got? So we went into product trial before we launched with Botterills Convenience Stores, who are members of the SPAR symbol group in Scotland.
We trialled this in 20 to 30 shops and did proximity advertising to support it. For me this was an important step to show we're deadly serious about the technology, and that we had trialled it live with consumers and asked for feedback. That's the model that we want to adhere to more and more: get your learnings from where you'll be. You can do all the research you like but you don't know anything until your product is on someone's shelf or in their chiller.
EB: How does the UK operation position itself within the global Coors Light brand?
SM: Coors Light is a huge brand in North America. It was launched in 1978 and is the third largest brand in the US. The question for us has always been: "how do we communicate that point of difference?"
For us, it's all about cold refreshment. My role on Coors Light was working out how we create this unified brand experience that draws on the best of what people have in its top-performing markets, the US and Canada.
EB: How long has Molson Coors used thermochromic inks?
SM: From memory, I think our first product with thermochromic packaging was Coors Fine Light beer (as it was then called) in the UK, a 5% product launched in 2002. It had a small thermochromic Rocky Mountains icon on the can and the back of the bottle. The technology we developed in the UK got our guys in the US very excited about thermochromic as a platform. It went to the States and came back in a big way, but in the meantime we used thermochromic on Carling and Caffrey's packaging.
EB: Can you tell us more about the Carling and Caffrey's campaigns?
SM: 'Cold' was a big central platform for Carling. Bear in mind that Carling Extra Cold was doing very well for us in the on-trade as a dispense mechanism. We began to wonder how we could make that available in the off-trade. Having the cold indicators on cans was the big step forward for us.
"80% of shoppers want to buy cold beer and 80% of those will drink the beer on the day of purchase."
The campaign was called 'Cold You Can See' and the ink was activated at 4-6°C, as is the case with most thermochromic beer packaging. It was something genuinely new and useful for the consumer on the can, and was seen as a huge opportunity to celebrate and amplify 'cold' in the home as much as people were enjoying it in on-trade premises.
Caffrey's introduced a 'cold knot' icon around 2007, providing a point of difference that showed it still had a lot of modern appeal. There was a huge liking for the brand and the cans made a huge impression in the market when they were launched.
People were very positive about the extra-coldness. Mixed with the smooth delivery, it was another thing that stood out in the world of ales where the competition hadn't done a great deal of innovation since the days of the widget and creamflow.
EB: Why is temperature such a big deal to consumers?
SM: We've got a lot of data about impulse purchases – it's a big part of our business, particularly in the off-trade. We've got stats that show 80% of shoppers want to buy cold beer; 80% of those will drink the beer on the day of purchase, one in three will drink it within two hours of purchase. It's not going away, as if this was some kind of nineties fad. Whoever can meet that requirement in the most motivating and convenient way is going to win. Our brand always talks about 'Rocky Mountain cold refreshment', and now it shouts and celebrates it too. It's the brand that's most wedded to thermochromic technology.