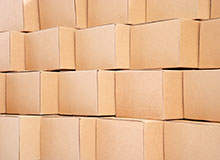 Bespoke boxes: on-demand packaging
Office-supply giant Staples has turned to cutting-edge technology to improve its packaging efficiency and reduce waste. It has installed 'on-demand packaging' equipment, from Packsize International, at some of its US fulfillment centers (FCs). The machines automatically create a custom-size box for every less-than-full-case order (also called 'break-pack orders') it ships.
The program has so far reduced the firm's average corrugated cardboard use by more than 15%; cut air-pillow use by about 60%; and reduced the volume of break-pack orders by nearly 20%, enabling Staples to accommodate more customer orders in each truck delivery. And because the boxes are made to order, Staples has reduced its inventory – improving its cash flow and reducing the storage space required for boxes by 50%.
While reducing cardboard volumes is one of the most commonly used ways to cut costs, one of the biggest expenses in the supply chain is transporting goods. A lot of fresh air is moved around in trucks at the moment, so think about reinforcing your products' packaging so they can be double-stacked. Increasing your packaging specifications might actually reduce your transport costs, because you can move more goods in the same space on a truck.
Re-thinking design: a more holistic approach
While Staples is focusing on packaging efficiency, US retailer Wal-Mart has turned its attention to using a higher proportion of sustainable materials in its products' packaging. In 2012 – one year ahead of schedule – the multinational retailer reached its goal, set in 2007, to reduce the packaging in its products by 5%.
The firm credits its success to a focus on "optimising packaging", resulting in a "more holistic approach that considers the environmental and economic impact of packaging throughout our supply chain." Wal-Mart's biggest achievements include making the packaging of sauce bottles 44% lighter; eliminating 26% of the corrugated cardboard used to transport processed meats by redesigning the shape and style of the boxes; and reducing the plastic resin in salad bags by an average of 40%, saving more than 1.2 million pounds of plastic film.
Innovative materials: sustainable and cheaper methods
Like Wal-Mart, computer manufacturer Dell has been exploring ways to make its packaging more sustainable and cheaper. As a company that ships one computer system a second, and delivers to 180 countries via 47 global shipping nodes, Dell couldn't afford to ignore the financial and environmental impact of its old packaging methods.
Dell turned to non-conventional materials to cut wasted resources and save money: for example, around 70% of Dell's laptops are now shipped inside bamboo packaging. Not only is bamboo one of the world's most sustainable materials – it can grow up to 2ft a day in perfect conditions – it can be sourced close to Dell's factories in China. The firm has also developed an organic, biodegradable material that combines common agricultural waste products such as rice or cotton hulls with mushroom spawn, which results in a strong material that Dell claims performs better in drop tests than traditional Styrofoam.
These innovations, alongside other initiatives such as packing multiple products for the same customer in one box to save shipping and labor costs, have helped Dell to substantially improve the efficiency of its products' packaging.
Collaborating for efficiency: reparing vehicles as quickly as possible
We're working closely with automotive manufacturers to get their parts from factories to garages quickly and efficiently so customers' vehicles can be repaired as fast as possible.
Central to these developments has been the creation of a network of reusable and returnable tote boxes. Not only are the totes better for the environment than single-use boxes, they also help to free up manufacturers' cash flows because they are ordered as and when required.
Reusable containers are a great option if you operate in a closed supply-chain. They save on secondary packaging, allow goods to be shipped in bulk, and save time and costs of disposing waste packaging. But you have to temper the benefits with the effect it has on factory output; asking the factory to produce items in different formats may reduce production-line efficiency.
These are just a few examples which show that overhauling your packaging solutions – by optimising transportation efficiency, choosing 'right-size' packaging and seeking out sustainable materials – bring with it a huge potential for cost reduction and compliance with corporate social responsibility goals. Isn't it time you thought about more than just the box?
You can read more information and insight from the likes of Paul Young here: www.dhlsupplychainmatters.dhl.com