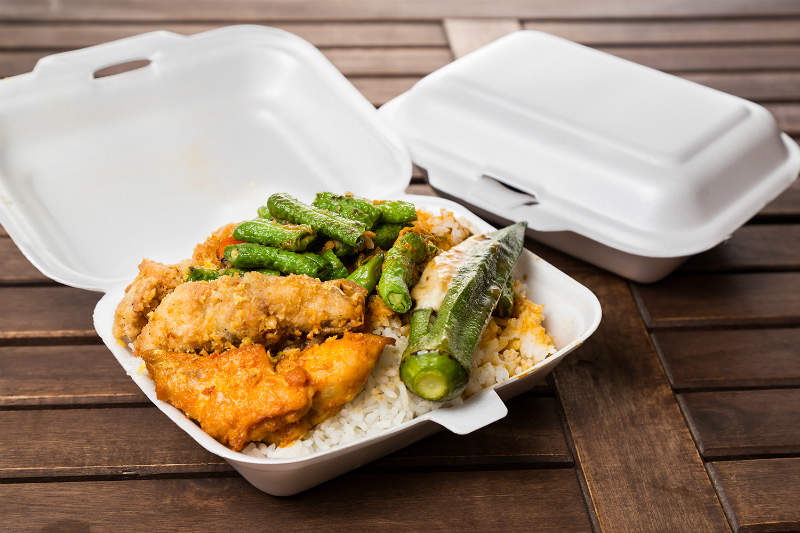 Out of home delivery services – such as Deliveroo and Just Eat – are expected to eclipse full-service restaurants by 2020. Eloise McLennan finds out how this is providing opportunities for innovation in the packaging space.
Delivery services have come a long way over the past few years. A far cry from the grease-stained newspaper-wrapped fish and chips traditionally found across the UK; today's takeaway offerings are sophisticated, malleable and available at the touch of a button. Thanks to the introduction of online ordering platforms such as Deliveroo, Just Eat and Uber Eats, consumers can hardly walk down the street without encountering some form of en-route restaurant delivery.
The explosion of such home delivery services is transforming the demands placed upon the food service industry. According to new research by Smithers Pira, commissioned by Asia Pulp & Paper Group (APP), the European out-of-home (OOH) packaging market is expected to grow by 6%, reaching €6bn by 2020. Fuelled by the popularity of online ordering platforms, a diverse range of independent, chain and high-end restaurants across Europe are beginning to capitalise on delivery opportunities.
As more restaurants enter the delivery race, increasing pressure is being placed on the packaging used to house and transport food. To hit the sweet spot between full service and speedy delivery, brands have to readdress traditional takeaway packaging solutions.
Exceeding expectations: complimenting the premium brand image
Motivated by the growing popularity of delivery through aggregators, more and more restaurants are moving to capitalise on the growing market for gourmet dining at home. But, while the food may be high-end, sub-standard or visually unappealing packaging can negatively impact the dining experience, particularly when consumers have to serve the food themselves. Fine dining restaurants have a reputation to uphold. In the absence of staff and a carefully crafted in-house dining atmosphere, packaging manufacturers are under pressure to provide solutions that can complement a premium brand image.
"Recent disruptions in the delivery sector such as Deliveroo have created new opportunities in European packaging. Restaurants and fast food brands are looking to replicate the feel of their restaurants through their packaging for diners at home and there is an opportunity for packaging providers to capitalise on this growth area by working closely with the food sector on this area of innovation," explains Dr Liz Wilks, director sustainability & stakeholder engagement Europe at Asia Pulp and Paper Group.
Although premiumisation of foodservice delivery packaging is still a relatively new trend, some brands have pre-emptively begun to upgrade their offerings to differentiate products in an increasingly competitive market. Wagamama is a core example. Back in 2015, when the restaurant delivery boom was beginning to capture the attention of British consumers, the Japanese-inspired restaurant chain challenged design company Pearlfisher to revamp its cardboard boxes and plastic trays with a new offering that could translate the Wagamama dining experience into the home.
The result was a range of black, stackable bowls that mimicked the kitchenware used in the restaurant. Designed to maximise the user experience, the new format allowed wet and dry products to be stored separately, giving diners the option to moderate how much sauce they used. Moreover, an outer cardboard band covering the bowls provided a vehicle for the brand to further connect the pack to its restaurant aesthetic, listing items from the restaurant's identifiable placemat menu and incorporating a slot for wooden chopsticks.
Versatile variations: addressing growing demands
While premium aesthetic designs can help gourmet restaurants to expand their brand image beyond the in-house experience, when it comes to online ordering platforms, visually appealing packaging can quickly become undone if the format cannot withstand the delivery journey. Regardless of how reputable or delicious the food may be, no consumer will recommend ordering from establishments if their meal arrives in a subpar state.
Depending on the establishment, delivery outlets may be required to transport a diverse range of food types to customers over a wide range of locations. This means that wet, dry, greasy, sticky, hot and cold food all has to be transported in a single outing. For packaging manufacturers, addressing the growing demands placed upon OOH food packaging is a challenging task. First and foremost, preserving the quality of food orders is paramount for both establishments and consumers. Storing and transporting cold and hot items in close proximity can compromise food temperature and may require consumers to re-heat orders that have cooled during delivery. For consumers looking for speed and efficiency in their online delivery, the additional effort required can put a dampener on their dining experience, especially if such items are packaged in materials that cannot safely be used in a microwave, as re-heating these food orders will require additional tableware and effort from consumers.
Putting consumers in control of their dining experience has become a key feature of emerging designs. Aiming to help gourmet restaurants ensure that the takeaway dining experience is as enjoyable as eating-in, innovative packaging manufacturers have unveiled functional solutions for delivering different styles of food in stylish formats, while simultaneously preserving the freshness and quality of dishes. In response to a request from a premium restaurant chain, UK-based company Tri-Star Packaging developed an innovative new multifunctional format for foodservice packaging aptly named Gourmet 24.7. Using four interchangeable components, one large and one small board base carton, a thermoformed container and a lid, chefs can pack multiple dishes, including wet, dry, hot and cold, into a single container without the different foods mixing. The push-fit lid can be attached to each of the microwaveable components, allowing restaurants to alter the combinations to suit the size and requirements of individual orders, while the tight seal prevents liquid from spilling during transportation.
"Packaging is becoming more complex to meet changing trends in catering and an increasingly discerning consumer," explained Kevin Curran, managing director at Tri-Star Packaging. "It is important that packaging companies offer this kind of consultative service to customers, which gives them the tools they need to drive business growth by developing new channels and ultimately improving their profit."
Foam free: overcoming sustainability challenges
While enhanced functionality and aesthetic appeal may be important features of gourmet delivery packaging, restaurant and takeaway outlets face increasing sustainability challenges. In the past, expanded polystyrene (EPS) foam clam shells were a popular go-to for takeaway food packaging. Notably used to house hot items such as kebabs and chips, the insulation properties of EPS made it a popular option for fast-food outlets across Europe. Without the need to customise or differentiate take-away containers from competitive outlets, the plain white packaging served its purpose well. But in today's environmentally conscious societies, the benefits of using EPS are increasing being outshined by the fact that its lightweight format makes it notoriously difficult to recycle.
Amidst controversial backlash and bans against EPS packaging appear across Europe, gourmet restaurants are turning their attention towards more environmentally friendly, customisable solutions. But even widely recycled materials can encounter environmental issues when used to house and transport food items. Take the most identifiable packaging format in food delivery – the pizza box – while the corrugated cardboard box is comprised of recyclable materials, it can become contaminated when it makes contact with the pizza. Once soiled, the paper cannot be recycled because the fibres will not be able to be separated from the oils during the pulping process.
To counter the negative perceptions of unsustainable packaging, restaurants and delivery outlets have been exploring innovative solutions to the problem of sustainability in OOH food packaging. While companies such as Deliveroo have focused on promoting the sustainable characteristics of their bio-degradable and compostable packaging options, one company in California is overhauling an industry staple by thinking outside the box. Hailed as "the biggest innovation in delivery packaging since the mini pizza table" food delivery startup, ZUmE has developed compostable 'pizza pods' made of a sustainably farmed agricultural by-product known as sugarcane bagasse. Unlike traditional cardboard boxes, the circular bagasse format is separated into two parts, a domed lid and a base piece which features raised ridges and grooves that guide any excess oil or grease into a small recess separate from the pizza.
Take away: innovation across the board
On a market-by-market basis, the UK OOH packaging market is currently the largest in Europe at €1.24bn in 2015, and is expected to maintain this position through 2020. With a rapidly developing fast-casual market and consumer preference for on-the-go consumption driving expansion in the sector, Britain is a prime location for innovation and growth in OOH packaging.
Moving away from simple traditional formats requires creative innovation to address the broad and complex range of requirements needed to transport different cuisines safely, and in one piece from a restaurant to the consumer's front door. Functionality and versatility are key in these revamped designs. Just as owners and chefs carefully design the layout, decor and atmosphere of restaurants to optimise the dining experience, close consideration should be paid to how packaging impacts the at-home experience.