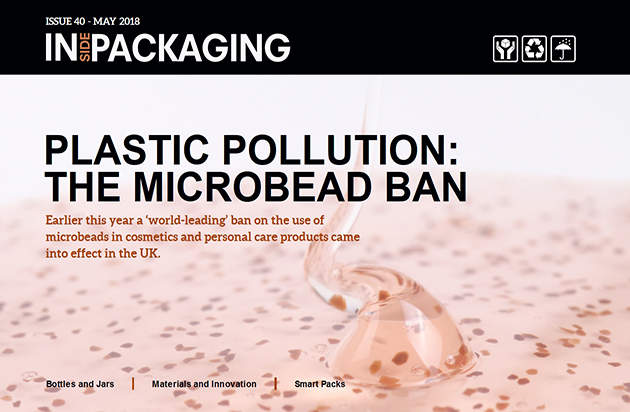 In this issue of Inside Packaging we look at smart and interactive pack solutions, as well as learning how product sourcing and ethical principles can boost the credibility of brands.
We also round up the best ideas from Packaging Innovations 2018, discover more about the bottles and jars pack format and find out how more companies are vowing to go plastic free in the future.
Finally, we analyse the microbead ban and how the tiny pieces of plastic can substantially impact marine life.
Read the issue for free on your digital device, or if you're on a desktop computer you can also read it in our web viewer.
In this issue
Intelligent Solutions: Smart Packs
Interactive beer glasses that react to specific moments of action at sporting events have been used to engage with NFL football fans. Maker of 'live sports celebration products' Buzz Connect created 80,000 interactive beer cups for the Super Bowl that lit up when a team scored a touchdown. Callum Tyndall finds out more about smart pack solutions.
Click here to read more.
Materials and Innovation: Utilising Resources
With steady growth year after year, beverage brand owners are faced with the task of improving their pack solutions and utilising the materials they have available to them. Sonia Sharma finds out more.
Click here to read more.
Plastic Free: The Race to Eliminate Non-Recyclable Packaging
Low-cost airline Ryanair is the latest company to join the pledge to go plastic free, with a promise to eliminate the use of non-recyclable plastics on aircraft by 2023. Katie Woodward takes a closer look at some of the latest strategies to reduce the use of plastic packaging.
Click here to read more.
Cosmetic Packs: Bottles and Jars
In the personal care market, there are two pack formats that have stood the test of the time and proved their popularity amongst both the industry and consumers. Sonia Sharma analyses different pack types whilst finding out what the standout trends have been.
Click here to read more.
Plastic Pollution: The Microbead Ban
Earlier this year, a ban on the manufacture of products containing microbeads came into force in the UK. The tiny pieces of plastic are commonly used in rinse-off products, such as face scrubs, toothpastes and shower gels but substantially impact marine life. Eloise McLennan finds out more about microbeads and the impact of the ban.
Click here to read more.
Event Round Up: Packaging Innovations 2018
Inside Packaging rounds up the best ideas from Packaging Innovations 2018 held in Birmingham, UK.
Click here to read more.
Next issue preview
In the next issue of Inside Packaging we ask whether aluminium cans could be a potential solution for the issue of plastic pollution and find out how and why consumers choose to spend their money on luxury and premium FMCG products.
We also look at how the spouted pouch has revolutionized the baby food category in recent years, explore the key opportunities for packaging innovation in the global make up sector and learn more about how California's passage of the Cleaning Product Right to Know Act in October 2017 will force makers of household products like detergents, air fresheners and disinfectants to list any ingredients linked to harmful health effects on product labels.
Finally, we explore the trends shaping the corrugated market, discover more about touch free meat packaging and analyse the frozen and chilled food aisle.