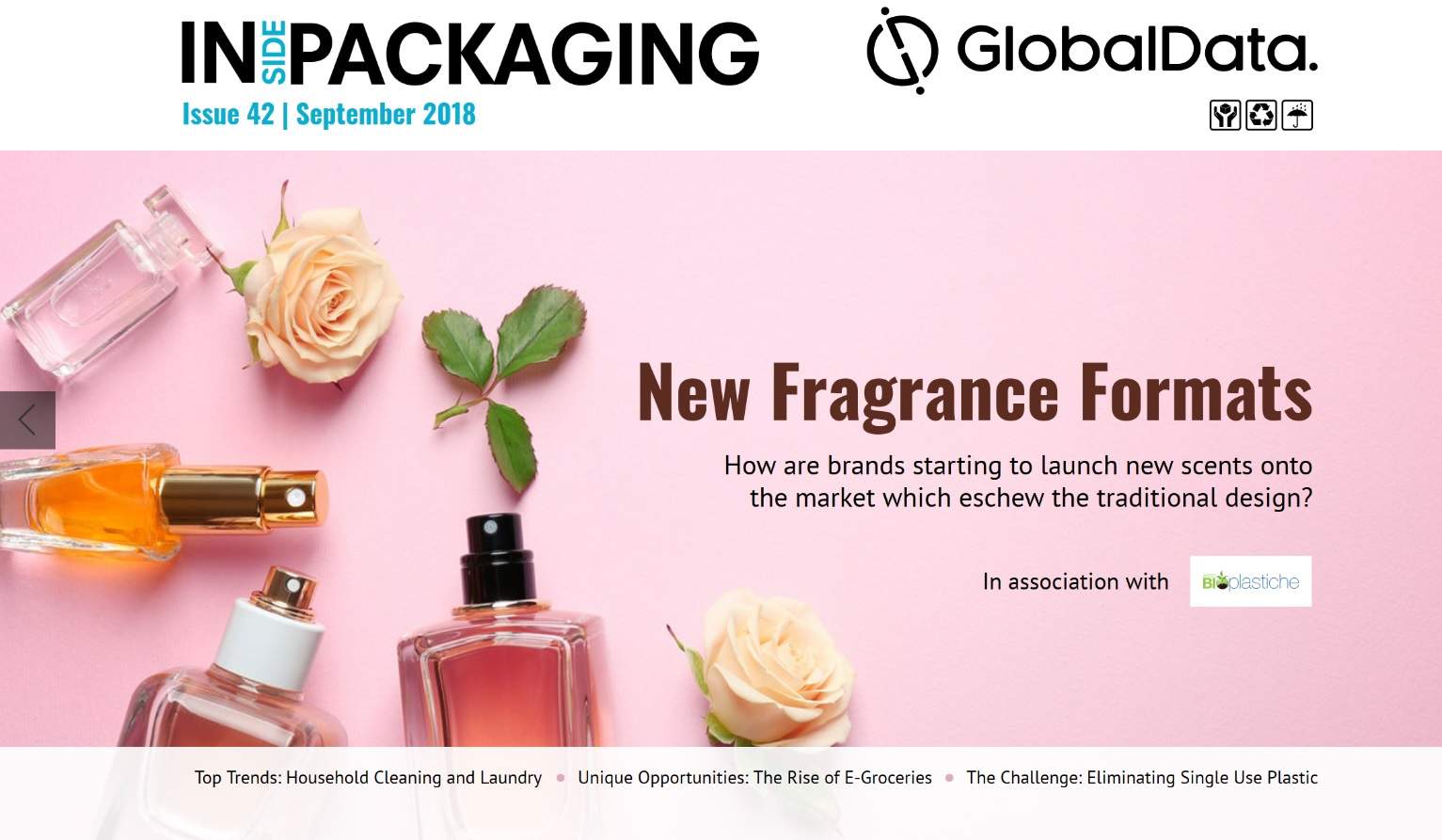 In this issue of Inside Packaging we find out more about upcycling premium tea products, investigate how and why consumers choose to spend their money on luxury and premium FMCG products and look at the role of smart technology.
We also examine the world's first "plastic free" trust mark, profile the trends set to drive innovation within the cleaning and laundry sector and discover how the industry can adapt to the plastics ban.
Finally, we look at new fragrance formats in the personal care category and learn more about the unique opportunities to meet the needs of the 'always on, on demand' consumer generation.
Read the issue for free on your digital device, or if you're on a desktop computer you can also read it in our web viewer.
In this issue
Over-Packaged or Perfect for Stylish Upcycling?
Premium tea products are often beautifully packaged but it is all too common for that upmarket packaging to serve no real purpose beyond containing the tea. GlobalData explores The Hillcart Tales range of teas from India, where one part of the pack converts to a set of coasters and another can be upcycled as a storage container or decorative item.
Click here to read more.
Paying a Premium: How Do Consumers Approach Spending on Luxury FMCG Products?
Consumers regularly face the option to select premium products over their regular counterparts. GlobalData investigates how and why consumers choose to spend their money on luxury and premium FMCG products.
Click here to read more.
Can Smart Technology Help Consumers Make Better Food Choices?
Consumers increasingly demand reassurance about the food and drink they consume. This is reassurance not only in terms of safety and freshness, but also where ingredients come from and the environmental impact of a particular product. GlobalData explores how smart technology could provide the answer.
Click here to read more.
World's First "Plastic Free" Trust Mark Could Be the Next Great FMCG Label Claim
In the span of about a year, concern over plastic packaging and plastic waste has hit a critical mass and has boiled over. GlobalData asks how we can really know if the products we choose and use are free of plastic packaging even if it looks like they may be.
Click here to read more.
Top Trends in Household Cleaning and Laundry 2018
The household care product industry faces many overriding challenges. Using research from GlobalData, Callum Tyndall takes a look at the influential trends set to drive innovation in the sector over the coming year.
Click here to read more.
The Challenge: Eliminating Single Use Plastic
As the global battle cry intensifies in the war against waste plastic, Will Lovatt explores the realities of doubling down on eradicating single use plastic from the supply chain.
Click here to read more.
Make-Up and Skincare Packaging Inspires New Fragrance Formats
Recent launches on the market are shaking things up and generally making perfume more creative than ever. Sonia Sharma finds out how brands are starting to launch new scents onto the market which eschew the traditional liquid format.
Click here to read more.
Unique Opportunities: The Rise of e-Groceries
At this year's Global Packaged Summit, Tetra Pak launched the 2018 Tetra Pak Index, an annual report that investigates consumer trends and growth opportunities in the Food and Drink industry. Sonia Sharma explores the rise of e-Groceries and the role packaging plays.
Click here to read more.
Next issue preview
In the next issue of Inside Packaging we look at anti-counterfeiting and security measures in the cosmetics and fragrance market, find out more about alternative materials in the plastics war and discover how the industry is tackling excessive packaging in the supply chain.
We also examine how China has initiated the biggest change in plastic recycling history, profile the biodegradable material lignin and shine the spotlight on flexible packs.
Finally, we look at whether shopping baskets and paper packaging will be making a comeback and find out how functionality and design are impacting the skincare sector.