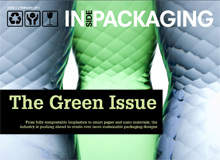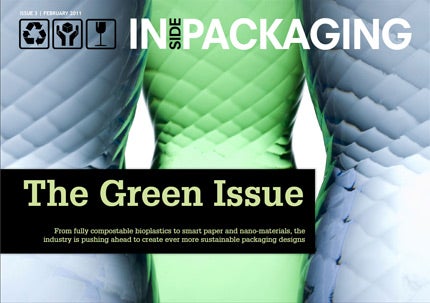 In a time of growing concern about environmental issues, the packaging industry has come under pressure to constantly improve the sustainability of its products and operations. In this special issue on sustainability we find out which how companies are greening up their packaging products to reduce their carbon footprint and respond to a growing eco-awareness among consumers.
We look at innovative materials such as fully compostable bioplastics, smart paper and nanotechnology-based packaging. We also explore the challenges of designing eco-friendly alternatives to traditional packaging, and ask leading companies such as Danone and Carlsberg how adopting sustainable materials can become a vital branding strategy in itself.
Click here to read your free copy.
In this issue
All Look and No Substance?
Recyclable products are fundamental to a sustainable business model, but companies must go further to become truly 'green'. We look behind the marketing slogans and ask how companies can create a truly sustainable product life cycle.
Read the full article.
Reinventing Paper
Paper is not only the largest global packaging sector but also an area that is seeing some of the most pioneering innovations today. We profile the technology leading the way towards a more sustainable packaging industry in years to come.
Read the full article.
The Nano-Revolution
Hardly any new development has caused as much controversial debate in the packaging industry as nanotechnology. We investigate how policy-makers and environmentalists have reacted to the progress in research.
Read the full article.
Rise of the Bioplastics
Danone's decision to adopt PLA packaging for its Activia yogurt brand is further evidence that major manufacturers are serious about investing in eco-friendly alternatives to traditional materials. We report on the bioplastics trend.
Read the full article.
Natural Selection
In a market saturated with petroleum packaging products, truly sustainable solutions are standing out from the crowd. Frito-Lay's Brad Rodgers tells us about the ups and downs of designing and developing a new, 100% compostable, biopolymer-based material.
Read the full article.
Packaging at a Premium
A product should consistently reflect the appropriate brand and target market, essentially understanding its values inside and out. We talk to Håkon Langen, packaging innovation manager at Danish brewer Carlsberg, about the role PET will play in extending the company's global reach, and where the material fits into a sustainable yet high-end strategy.
Read the full article.
Next Issue: April 2012
The packaging of food and beverages poses many challenges to the industry, but also offers huge opportunities for innovation. In the next issue we explore the latest techniques and materials that are being developed to protect food and drinks, increase their shelf-life and make them more attractive to consumers.
We explore the potential of moulded paper, phase change materials and new aseptic technologies, and ask experts how packaging design can strike the ideal balance between protecting goods and making the most out of packaging's marketing and branding potential.
Register here to get future issues of the magazine delivered to your inbox for free.
Digital Magazine FAQ
Inside Packaging is a digital magazine for the packaging industry. Published bi-monthly, this innovative publication offers in-depth coverage of the packaging industry in an exciting interactive format with animation and video content.
The digital magazine is viewable on any computer with Flash Player installed. It is also viewable on mobile devices, iPhones and iPads, although some features and videos may be disabled.
View the archive of past issues.