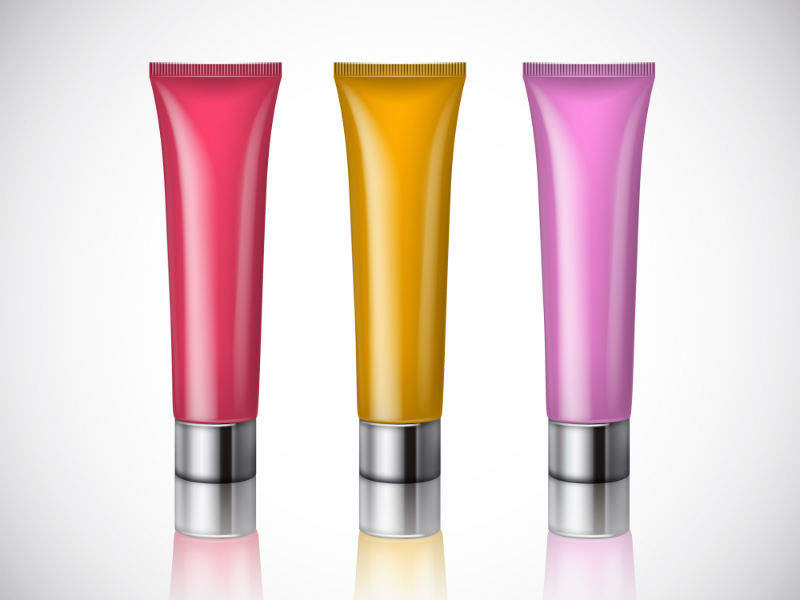 Numerous different package formats such as tubes, jars and bottles are used for cosmetic products. Marrying together eye-catching packaging with labels that adhere to regulatory guidelines means that manufacturers are adapting their previous techniques to produce more innovative solutions.
New materials and processes are being utilised in order to meet consumer preferences for labelling and decoration whilst still meeting the standard requirements such as declaring the ingredients, demonstrating a registered address  and providing an indication as to how long the product remains usable after opening or a 'best before' indication if the product is likely to deteriorate. Brands are now utilising all of the resources they have at hand to ensure their personal care packaging stands out amongst the competition.
Industry trends: colour schemes and printing capabilities
When discussing recent aesthetic label and decoration techniques to achieve the manufacturer's goal, a few key trends have been pushed to the forefront. Regarding colour schemes and printing techniques HCP Packaging UK product manager Stephanie Rowntree said: "[There has been an] increased demand for full colour and digital printing, so artwork is not compromised by restrictions on the number of colours within a design – for example, heat transfer printing which is seamless for both compact covers and cylindrical packs."
She continues: "There is a trend for larger compacts, labels or decoration techniques that can offer the whole cover which will really make them stand out. Metal labels or labels with a 'fashion textile' appeal are showing a cross over between aesthetics that are popular between the beauty industry and other sectors such as fashion, homeware and food and drink. Photographic and highly detailed designs that also incorporate foils and holographic effects are popular, especially with Indie brands. Abstract designs with minimalist typography also appear to be a key style."
Source Labels director Tim Lowe, echoes this sentiment saying: "Source Labels are seeing an increasing adaption of digital print, specifically inkjet for personalised print but with 'screen like' opacity and vibrancy, innovative materials and standout lacquers – all combined to deliver a 'standout' shelf presence."
Redundant elements: utilising technology on different designs
Combining technology on certain packaging formats, such as tubes, with labelling demands could potentially eradicate the need for a separate film. CTL Packaging – the tube manufacturing partner of Vetroplas – launched their ESTubes (Easy Supply Tube) line with this concept in mind. Vetroplas sales manager Simon Dix said: "CTL, has launched its innovative ESTubes, produced using the pioneering in-mould labelling (IML) process. IML is very new with the ESTubes and the process has been perfected in development at CTL for a few years. Essentially, this combines the advantages of a label such as lots of detail and photographic quality imaging but without the need for a visible lift off area at the top and bottom of the tube sleeve."
When thinking about the design of these labels, Dix sees a distinctive model emerging. "There is a trend towards the use of highly metallic backgrounds and effects on the labels, giving the tubes an appearance of aluminium. CTL prints its own labels in house and cuts them to a very accurate degree. These are then inserted into an injection cavity where polypropylene material is injected to form the inside wall, resulting in a single bonded layer. The resultant tube is, therefore, completely decorated from the crimp to beneath the shoulder."
Both cylindrical and elliptical tubes are available using this process with finishes including both holographic and metallic effects, a matt and gloss finish on the same tube, and photographic quality imaging. "We are seeing a high demand for decoration requiring a high use of metallic effects. If a customer's design is more than half covered by a metallic finish, CTL can produce the design directly onto a metallic label substrate. The end result can be a finish similar to that of an aluminium tube" Dix states. "Flexibility is being requested; in other words, the ability to include lots of detail, whilst having the benefits of complete tube sleeve coverage."
Last year, US-based plastic tubes suppliers Vista Packaging also launched a new plastic tube packaging using FlexTech technology, which claims to eliminate labelling by unifying the key elements together. The company says that the technology streamlines design packaging in a single process and improves the overall look of the product.
Vista Packaging CEO William Schwartz said: "We went from simple 8-colour silk screen printing to offering our customers a combination of design capabilities that can produce spectacular photo-like results."
Traditional methods: foiling and laminating systems
In order for products to be aesthetically pleasing on the shelf, suppliers have used a variety of different techniques and utilised the new technology at hand in order to push innovation further. However, as Royston Labels technical manager Phil Bradnam states, some traditional methods are still very much in the limelight because of their 'tried and tested' nature. "Foiling is still very popular, we have invested a lot of time into achieving the very best possible from cold foiling. A good example of this would be Ecosoapia which won its category in the Finat labels awards. Laminates are also popular and the anti-scratch works really well on dark backgrounds where fingerprints and scuff marks can be visible using other products."
Ultimately, the cosmetic packaging in its entirety needs to captivate the end-user whilst simultaneously providing them with crucial information according to the cosmetic regulations of the region; however the information has to be presented in a way that does not overwhelm the consumer. From a manufacturing perspective, demands regarding aesthetic labelling have largely remained the same over recent years. "[They want] standout presence, 'fit for purpose', zero defects and good value" Lowe claims. The one element that manufacturers strive to achieve and have continuously asked for is quality, as Bradnam states: "[They are asking for] quality, as they should. As I have said before, the label will sell the product, so this will need to be a work of art."