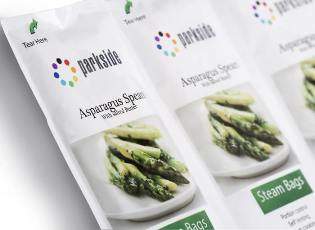 UK-based Parkside has developed a new self-venting steam bag for frozen vegetables.
The new Parkscribe Steam bag is said to provide a more flexible, microwavable solution than existing food packaging applications.
Parkside sales head Paula Birch said: "More consumers shop 'for tonight' or for the next couple of days, which has created a clear demand for portion-sized, fast and convenient home cooking solutions.
Swiss specialty chemicals major Clariant's Healthcare Packaging unit launched a new range of Aroma-Can canisters.
The new range was developed based on Clariant's desiccant canisters for pharmaceutical and nutraceutical packaging solutions, which employs aroma technology that adds three food-grade flavours vanilla, orange, and lemon directly into a plastic canister.
Clariant Healthcare Packaging's Americas sales head Robert Crossno said: "Smell can enhance or detract from the experience of using a product or the decision to make a repeat purchase.
"Products such as fish oil tablets and herbal supplements often emit odours that are unpleasant or unappealing to end users.
"A favourable scent within the packaging can mask unpleasant odours or help enhance odourless products, such as vitamins."
The new one-piece design of Aroma-Can canisters bears similar overall dimensions of standard desiccant canisters and helps to reduce further process and assembly. It also has a greater surface area, improving the canister's aroma profile.
Finland-based food and drink packaging company Huhtamaki acquired Delta Print and Packaging (Delta), a folding carton packaging manufacturer based in Northern Ireland, for around €103m.
The acquisition also included Delta's affiliated Polish unit, European Packaging Solutions Poland, which operated from its manufacturing unit in Gliwice, Poland.
With the acquisition, Huhtamaki expected to employ its growth strategy for food and drink packaging and has entered the folding carton packaging market in Europe.
US-based Tag Packaging unveiled a new biodegradable foam, 100BIO, for the food packaging sector.
Claimed to be the first 100% biodegradable foam, 100BIO features sturdy, cold-resistant, heat-insulating, and shock-absorbing qualities.
A collection of 16 items, such as cups, clamshells and sushi trays, were included in the new range.
Coca-Cola Canners in South Africa selected a customised hot fill system from KHS Group to pack its iced tea, juice and sports beverage products.
The system uses hot fill technology to heat contents to more than 100°C and then fill at a temperature of about 83°C to eliminate all microorganisms.
The new KHS line covers every stage of the production process, including stretch blow moulding, filling, labelling, packaging and palletising.
US-based packaging company Sealed Air entered a strategic partnership with Box On Demand and Panotec to strengthen its packaging portfolio.
Established in 1986 and based in Treviso, Italy, Panotec provides 3D equipment platforms for on-demand box creation.
Box On Demand, which also produces equipment platforms, is the exclusive North American partner of Panotec.
Greiner Packaging created a fish-shaped packaging design for Estonia-based food manufacturing company Põltsamaa Felix.
The new packaging was used for a new lactose-free yogurt sauce available in tartar and tomato flavours.
Greiner Packaging manufactured the new 280g bottles at its site in Tabasalu, Estonia.
Researchers from Norway-based SINTEF developed four packaging prototypes made of polyactic acid (PLA) and bio-polyethylene terephthalate (PET), as part of an EU project.
The NanoBarrier project aimed to develop plant-based bio-plastic packaging that extends the shelf-life of food and indicates when it is no longer fit to eat.
Besides SINTEF, 15 research partners from ten countries have worked on the project.
US-based Pro Mach acquired NJM Packaging, a provider of packaging machinery, for an undisclosed sum.
Pro Mach aimed to expand its presence in the pharmaceutical and contract packaging markets, as well as strengthen its abilities as an integrated solutions provider.
Established in 1915, NJM provides automated packaging and labelling solutions for various industries, including the pharmaceutical, biopharmaceutical, vitamin and food supplement sectors.
US-based QuadPackaging launched a brand management service, GlobalPassport, that helps protect brand identities.
The solution ensures quality and consistency across cartons, tags, labels and other packaging products worldwide.
The new platform provided innovative packaging designs, while increasing speed to market at a lower cost.