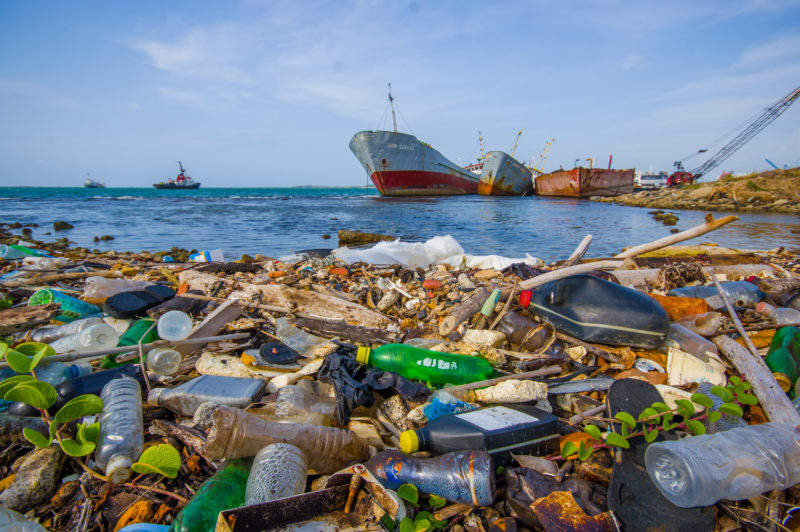 Launched in October 2017 by Procter & Gamble (P&G), the Fairy Ocean plastic bottle marks the first of its kind, being the largest production run of recyclable dish soap bottles in the world made completely from post-consumer recycled (PCR) plastic and ocean plastic. The launch of the bottle aims to raise awareness of the issue of ocean plastic and what can be done to prevent plastic waste from reaching the ocean.
The bottle has been created in partnership with recycling expert TerraCycle, and will be available to buy in Tesco stores from mid-2018. The UK launch will include 320,000 bottles, made from 10% ocean plastic, collected from the ocean and beaches around the world, and 90% PCR plastic. We find out more about the project, which aims to drive awareness of the issue of ocean plastic pollution, inspire consumers to participate in beach clean-ups, and recycle household waste, from Virginie Helias, vice-president of global sustainability at P&G, and Tom Szaky, CEO of TerraCycle.
Katie Woodward: Can you tell us a bit more about the thinking behind the initiative?
Virginie Helias: According to the Ellen MacArthur Foundation, there could be more plastic than fish in the ocean (by weight) by 2050. Plastic pollution impacts the health of the whole of the planet, from the environment to human health. We urgently need to stem the flow of plastic into the world's aquatic environments. The issue needs to be addressed by all of us around the world. With the launch of the first ever 100% recycled and fully recyclable Fairy Ocean plastic bottle, P&G Dish Care aims to raise awareness about the issue of ocean plastic pollution and help to make the use of plastic packaging circular and divert waste from beaches.
P&G Dish Care, with its iconic brands Dawn and Fairy, has a long history of using recycled plastic in its packaging. We use 8,000 metric tonnes of PCR plastic every year in our transparent bottles. 481 million of our transparent dish care bottles contain PCR, with an average of 40% of each bottle being made from PCR.
KW: How far does this initiative go towards reducing the volume of plastic waste ending up in the ocean?
VH: 320,000 bottles will be made available with this initiative, making it the world's largest production run of locally recyclable dish soap bottles made with ocean plastic, which is a major next step in developing a unique supply chain that involves hundreds of NGOs collecting plastic found on beaches and in the ocean. However, this initiative does not aim to 'clean' the ocean – we aim to raise awareness about the ocean plastic issue and the role of recycling through the power of Fairy. We will do it via on-pack communications, point of sale marketing materials, and digital marketing.
P&G supports Ocean Conservancy's aim to reduce plastic pollution in the ocean by 50% by 2030 and to continue to raise awareness about the issue among consumers to prevent ocean deterioration. The challenge is big and affects the whole industry.
KW: What is TerraCycle's role in the initiative?
Tom Szaky: TerraCycle is responsible for managing the entire supply chain up to point of the delivery of recycled plastic pellets to P&G's bottle moulders. This includes everything from the collection of ocean plastic material around the globe, through to the processing required to sort and transform the ocean plastic into a clean, usable resin. TerraCycle does this with the help of hundreds of NGOs around the world and strategic third-party processing partners.
KW: Who collects the plastic from the oceans and beaches? And where is the PCR plastic sourced from?
TS: We are able to collect the plastic thanks to the help of tens of thousands of volunteers and hundreds of NGOs worldwide who collect plastic found on beaches and in the ocean. [The recycling process is explained below:]
Rigid ocean plastics are being collected all over the world.
Manual sortation occurs at various local TerraCycle warehouses in the collection countries to separate the types of plastics, including PET bottles and HDPE from the rest of the collections, which could include things like fishing nets and other contaminants.
Whole PET bottles are sent to a Suez plant in France that focuses on PET processing.
PET bottles collected from the ocean, beaches, rivers and lakes are shredded, washed and dried and added to recycled post-consumer PET. This makes up the beach PET proportion of the 50/50 pellet blend.
These two sources are sent to another facility in Western Europe where the two fractions are then compounded into pellets.
KW: Is there a longer-term plan to replace all Fairy bottles with 100% recycled plastic bottles?
 VH: P&G's long-term goal is to have zero consumer and manufacturing waste go to landfill. We are working to maximise the levels of PCR in our bottles across more locations, taking into consideration technical performance, material availability, supply chains and impact on the overall recycling industry. Due to our size and scale we are highly dependent on the availability of PCR material, which varies depending on the infrastructure available in different regions of the globe.
KW: Finally, as a top UK brand, how important is it for P&G to lead the way in plastic recycling?
VH: As the world's largest consumer product company, we believe our role is three-fold.
Firstly, leveraging our innovation capabilities, we can contribute by reducing the amount of plastic we use, making our packaging 100% recyclable and using recycled plastic. P&G has been using PCR plastic in our packaging for almost 30 years. Our latest innovation in recycled material is a technology that returns recycled polypropylene to a virgin-like state by removing all odours, colours and contaminants – a technological breakthrough.
Secondly, by partnering with other organisations we can help to develop municipal waste management infrastructures, especially in countries struggling the most with pollution from land-sourced marine debris.
And thirdly, we partner with our consumers to give them better choices. Our research shows that people are concerned about the environment but do not know how to contribute and individually make a difference. We can help them to do this by raising awareness and inspiring change, through leveraging the power of our brands.