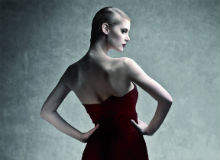 I'm sure you've never been told that the shade of your lipstick perfectly matches the contents of your shopping basket. Likewise, I'm certain the men reading this article have never used such a statement as a compliment to the opposite sex. However, the tone of lipstick women choose to buy can provide a fascinating insight into the health of the economy, and future consumer spending and purchasing trends – particularly in the personal care market.
The vagaries of the recent global economic landscape have altered many perceptions, resulted in a raft of new regulations and controls, and have even sounded the death knell for countless organisations, many of them household names. But one sector that is proving immune to a tough economy is personal care, as Webb deVlam's managing partner Tim Perry explains.
"Typically, personal care items aren't as affected by a recession as other categories because they are seen as necessities, or small affordable luxuries," he says. "In addition, people are always getting sick or looking for a way to feel better about themselves, no matter what the economic climate. This gives these brands a bit of a cushion whereas other luxury items, such as electronics, are hit harder."
This is the same for all players within the personal care marketplace, and manufacturers must rely on good old-fashioned tactics to garner buyer interest. A product's packaging can contribute hugely to a brand's success, but the challenge is getting it right. "Brands are important to all retail categories; but for personal healthcare it is vital," confirms Perry.
When developing, maintaining or updating a brand, the role its packaging plays is essential, aside from the practical issues it has to address. In this arena, regulation is of paramount importance, and compliance is something that underlies the design process from the outset. Among the issues of concern is the need to incorporate labelling and ensure a product hasn't been tampered with. This is made more difficult because of the inconsistency of individual regulatory frameworks from region to region.
"Regulation is always evolving," says Perry. "The designer's world is one where they are faced with restrictions and constraints. They [regulations] vary from category to category and over time, but that is just the reality of innovation – the package needs to operate within a framework and certain constraints. Therein lies the challenge."
But in addition to regulatory compliance, Perry says, the aim is to achieve a balance between category codes and the norms that consumers expect to see as they walk the aisles.
"They don't want to see something that looks completely alien to that part of the store," he explains, "but we do want to achieve something that stands out. That is the challenge for the designer, to try to find the balance of all of those factors and successfully bring them together."
The personal care boom
In recent years, the personal care sector has expanded at a rapid rate in many developed and developing markets. This has, in part, been driven by a growing social consciousness regarding image and personal grooming, even among men.
Globally, men's grooming was worth a staggering £16.7 billion in 2010 and is projected to grow by a further £2.4 billion over the next two years, according to the '2011 Future Lab Report – Beauty'. This growth has resulted in a dramatic shift in focus by established personal care manufacturers and developers.
This, in turn, has led existing beauty brands to create specific men's lines of skincare and other grooming products, as well as the creation and expansion of new brands aimed at the male market. Other drivers include a growing consumer conscience and appreciation of the environment. Natural ingredients have moved up the list of priorities for the consumer, as has the issue of sustainability and sustainable packaging.
But in spite of this, and perhaps contrary to popular belief in an age of information, people want their purchasing decisions to be as easy and as quick as possible as they rush through the store. These factors invariably make the role of today's packaging designer incredibly complex. Bringing together all of these elements and meeting regulatory requirements, while ticking all the boxes for the products and the brand, requires a lot of skill and even more research. Ultimately, however, catching the attention of a prospective client is the number one priority.
"In 2010, men's grooming was worth £16.7 billion and is projected to grow by a further £2.4 billion over the next two years."
"Consumers are becoming savvier when it comes to their purchasing decisions. They want to make sure that they are making the right choice for their needs, while also getting both quality and value," says Perry. "We try to get consumer involvement as early as we can. That's not to say we're asking the consumer what they want and letting them lead us, but we are very informed by what they say; that might be overtly, verbally or by observation. When I talk about observation, it's spending time with consumers and putting ourselves in their shoes."
But, as Perry points out, the consumer is just part of the design mix.
"Researchers are very good at observing in a very objective way and asking open questions, whereas designers are good at being more projective and asking 'what if'? That combination of objective and projective is a very powerful tool for us."
Mind the gender gap
In a market that is dominated by aesthetics, ensuring that packaging conveys the right message in the right way is essential, but doing so in such a diverse sector is not easy. Aside from the male/female divide there are make-ups, skincare products, hair care, and aftershave and perfume ranges to name but a few, in addition to shared brands such as soaps and toothpastes.
Firstly, says Ashley Brooks, a design strategist at Webb deVlam, there is a difference between male and female products that designers must account for.
"Women's personal care has to be a lot more aspirational, whereas men's should be more factual," she says. "Products that appeal to men don't have the glitzy imagery, it's basic – 'that's what you need and that's what you're looking for'. Whereas women will go for things that have a whole lifestyle scenario attached to them."
This distinction has a big impact on the final design, as Perry explains.
"For the Boss men's skincare range it was critical for the packaging to be very rational and avoid superfluous detail in order for it to be appropriate for men. We learned that men hate caps because they can come off in gym bags and just seem too fiddly, so the majority of packs we designed in that range have integrated locking features so they wouldn't activate unintentionally. They could be locked closed but don't have a separate cap that could be lost."
However, many products in this sector are intended for shared use, which requires an entirely different approach.
"You need to be inclusive of all users; it really turns off one of the user groups if you fail," Perry explains. "But if you are going to try and target one or the other, then you might do so to the 'gatekeeper', the person that makes the purchase."
That, he says, is usually the female of the household. According to Brooks, women are thought to make 80-90% of purchasing decisions, but now their aspirational mindset has shifted.
"They may be the person that is doing the shopping, but they may also be the more discerning and more interested in which toothpaste or shampoo is used, what's in the product and how it's used," says Perry.
Bringing these components together is a major challenge for designers, regardless of which subsector they are tasked with. But, essentially, the single biggest objective is the get noticed.
"Shopper marketing is quite an interesting area that has grown as digital advertising channels have declined," says Perry. "Obviously, at point-of-sale a brand has a wonderful opportunity to convert because that's the point at which a consumer is making their decision. It's very close to the purchase point, unlike an advert seen the previous night on TV, where a lot of time has passed.
"The challenge a designer faces is to break through all the clutter while clearly communicating the primary benefits of that brand to reassure consumers that they're making the right choice for them."
Less is more: the Help experiment
While being bold can work, it sometimes also pays to be quieter. One example that Perry gives is Help. To fit with the US-based manufacturer's motto of 'take less', the company has packaged the bare necessities into an easy-to-understand format. Packs are colour-coded and simply state the symptom from the consumer perspective, such as 'Help. I have an aching body'. The only other text on the package front is the type of medicine, the quantity, and what it does (e.g. pain reliever/fever reducer).
Help's strategy goes in the complete opposite direction of most healthcare brands, where it's the norm to promote more benefits, more varieties and more symptoms. Instead, the company has stripped the pack down to the bare minimum in order to ensure the most effective communication. Help has also taken sustainability into account by only using bio-plastics and paper pulp to create its packaging, so everything is completely biodegradable.
There are a number of other weapons designers use to get a product noticed.
"Printing and packaging techniques and technologies are a good way of cutting through the clutter," says Perry. "We do quite a lot of work towards understanding the new technologies and materials that are available.
"Women's personal care has to be aspirational, whereas men's should be more factual."
"One of the examples we can cite is in the duty-free retail environment. There is a printing effect that we developed with the printing supplier, a lens technology for Bombay Sapphire gift packaging. It created a 3D holographic effect, which pulled consumers to reach out and touch the pack because it looked three dimensional, but it is actually flat. If you can get the consumer engaging with the brand in the right way then you've won half the battle."
Designs on the future
Today's personal care market is vast and growing year-on-year, and attractive yet practical packaging design is essential. The packaging design process requires collaboration in order to understand the arena in which a product will be sold. Another factor is the need for longevity. As Perry points out, the packaging of a product may be intended to last far longer than most other components.
"For the whole communications mix – packaging, communication, marketing, and advertising – to work, it helps if there is some synergy," he says. "But you also have to be very careful because the lifespan of each of those channels of communication are very different. An advertising campaign might burn very brightly but for a very short period of time, and then the next may be considerably different.
"But the investment that is made in tooling and development means the physical packaging design has to last for many years. Typically, even the labelling on the packaging might be refreshed several times while the physical packaging remains the same," he adds.
This, coupled with shifting consumer demand, means a major part of the design process has to be forward-looking. Not only do designers have to take into account the multiple demands of today – the product, the end-user, market, regulation – they need to consider tomorrow too. As Perry asserts, his teams and others like them are always designing for the future.