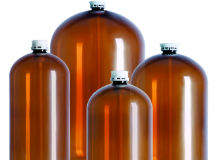 Polyethylene terephthalate (PET) is the choice of industry heavyweights for bottling the world's favourite brands of water and soft drinks. A top-notch performer on the production line, it also does a great job on the shelf and in the hand. Another decisive factor is PET's behaviour in recycling systems that allows for its easy conversion into a versatile material for use in textiles, carpets and new bottles.
Players in the sector's value chain argue that this gives PET extended environmental benefits that competing plastics cannot offer. Brand manufacturers including the Coca-Cola Company are putting their weight behind sustainable technologies that are commercially feasible, socially acceptable and ecologically sound.
To conserve natural resources, the sector is working to boost the global supply of recycled PET, or rPET, by, for example, finding suitable PET barrier solutions and ways to recover thermoformable PET, which is used in food trays. A parallel workstream is focused on PET alternatives that promise to end the dependence on fossil oil altogether by taking the bio-based route.
According to a recent report by As You Sow, a US-based organisation that promotes corporate environmental responsibility, the US's rPET producers "urgently need more materials so major brands can meet commitments made to use high levels of recycled package content". 'Unfinished Business: The Case for Extended Producer Responsibility for Post-Consumer Packaging' also cites research from Nestlé Waters North America, which estimates that 55% of the company's carbon footprint comes from its bottle production, while recycling a bottle reduces greenhouse gas impact by 25%.
PET and rPET: the end-to-end advantages
Malleable and clear, PET meets the demands of the supply chain from factory floor to shop floor, says Dennis Sabourin, executive director of the US's National Association for PET Container Resources (NAPCOR), which represents suppliers, converters and reclaimers.
"A sustainable industry has grown up around PET because it is easier to recycle and also cost-effective," he says. "Consequently, it has an extensive infrastructure for collection and dealing with material, and ready markets."
Sabourin believes that achieving critical mass is key to creating a business from the recycling system. Among the challenges is keeping recycling systems working optimally without interference. There is an issue surrounding PLA (polylactic acid), for example. "It has a similar viscosity and behaves the same as PET in the recycling stream, and is therefore disruptive to the processing of rPET," he explains.
Similar concerns remain over thermoformable PET trays. The sector as a whole may be enjoying strong growth, but, according to NAPCOR, lookalike, contamination-aggressive adhesives are the main obstacles to a mixed-PET waste stream.
In Canada, however, the future for PET thermoform recycling looks bright and the country's major retailers are moving to convert to thermoformed PET, something Sabourin believes will have "dramatic" consequences.
"If I were to look for challenges in the coming years, it would be its use for carbonated soft drinks with a barrier to allow the same shelf life as it has today in a much lighter bottle," says Sabourin. "By improving the ability to act as a barrier in carbonated soft drink (CSD) that is compatible with existing recycling streams, it will continue to be a positive influence. Growth in the water segment has been dependant on clarity of the final product, and the ability to lightweight.
A 500ml water bottle weighing 21g five years ago now weighs 9.5g, and is getting lighter. The ambition is for bottles in CSD to follow suit.
The British artisan brewery Brewster's recently followed Aspall Cider in the UK and Lipetsk brewery in Russia by switching to 30L PET kegs supplied by Swedish company Petainer. The system is comparatively cheaper to run than traditional kegs and the oxygen barrier maintains quality standards as well as being suitable for recycling. Sabourin believes that manufacturers and the wider community must work together if the benefits of a new generation of recyclable innovations are to be realised.
"Coca-Cola soft drinks bottles from sports venues at the London 2012 Olympics were recycled as new bottles within just six weeks and channelled into internal UK sales."
"Consumers are the first and last link in the chain and they must be convinced what they are doing is for the greater good," he says. "The US is slow in coming to that reality. The European rate for recycling is more than 50% while the US has yet to reach 30%, the poorest of any developed country. The European success is due to public policy."
PlantBottle technology
Unable to wait for top-down change enforced by laws, industry heavyweights are pulling together to get things moving. Coca-Cola's PlantBottle concept works in existing recycling systems because it is miscible in chemical processes and fully compatible with petro-chemical-derived polymer.
In 2011, Heinz licensed PlantBottle's 'breakthrough' green PET bottle technology from Coca-Cola for ketchup bottles in North America. Then, in 2012, the two companies joined Procter & Gamble, NIKE and Ford to form the Plant PET Technology Collaborative (PTC), aimed at speeding up the development and use of 100% plant-based PET materials and fibre in their products.
"A dilemma for Coke is the supply impediment in the US PET industry," says Sabourin. "Does it make economic sense to source bio-based resin from Braskem in Brazil? No. But the company regards it as a worthwhile cost on investment (COI), as part of a long-term effort to gain marketing caché. The consumer is willing to pay more for the product and choose the PlantBottle rather than a competitor on the shelf."
Dr Klaus Peter Stadler is responsible for Coca-Cola's environmental and ecological impacts in 38 European countries. PlantBottle technology is one focal point of his work to achieve better packaging resource efficiency and sustainable supplies of feedstock for 100% renewable PET and rPET.
"Legislation can sometimes be challenging, but Italy and Spain recently changed their national legislation to use rPET for food contact applications," says Stadler. "With the change, substantial investment has been made into rPET infrastructure, creating access to local rPET feedstock. All in all, rPET benefits from a successful collection and sorting infrastructure driven by local industry recovery organisations."
London 2012: the green legacy
The 2012 Olympics and Paralympics represented a timely opportunity for Coca-Cola Enterprises (CCE) to set up branded collection points for all soft drinks bottles around the sports venues. CCE put £5 million into a reprocessing plant in the east of England to more than double the country's production of food-grade rPET. The soft drinks bottles were recycled within just six weeks and channelled into internal UK sales.
A developed infrastructure for rPET has cost implications similar to those associated with crude oil, but rPET has long-term advantages, argues Stadler. The benefit of creating a secondary raw material source is the "element of control" it would give the supply chain.
"The beverage industry has taken a lead in taking plastics back and rPET has a relatively high value," he says. "[With the PlantBottle] we are on a different journey. Our aim is to replace fossil sources with first-generation ethanol from sustainability-certified biomass.
PlantBottle packaging is currently made through a process that converts sugarcane into monoethylene glycol (MEG). This bioethanol represents 30% of the total composition of PET plastic by weight. The company is working with partners to "crack the code on plant-based purified terephthalic acid (PTA)", which accounts for the 70% of PET derived from crude oil, to obtain the whole 100% from renewable sources.
"We have introduced PlantBottle from certified bioethanol sources in 24 countries," says Stadler. "From a global perspective, there will be commercial scale bio-refineries for bioethanol and bioethylene production."
Stadler forecasts that naturally derived ingredients for PlantBottle will become "commodity" substances. "The premium cost will come down in the coming years because a scaling up of supply will happen," he confirms.
The creation of greener technologies and systems for feather-light packaging promises to be the easy part of the equation for global brands. Their tougher challenge will be to convince consumers that sustainable concepts cannot succeed without their help.