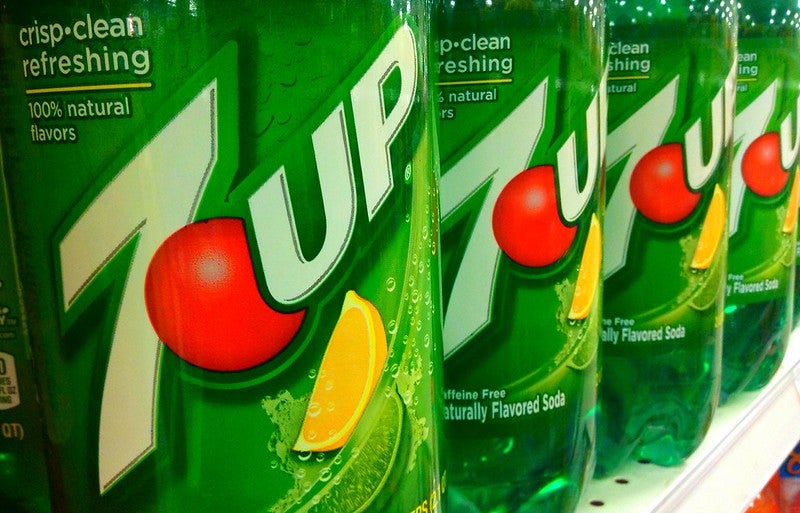 Britvic and PepsiCo are expanding their green initiatives by selling their lemon-lime-flavoured soft drink 7UP in a clear polyethylene terephthalate (PET) bottle.
The move is part of the companies' commitment to using fully recycled PET (rPET) bottles by October.
The new bottles will be available across the entire 7UP product range, including the Regular, Free and Free Cherry flavours. The 375ml, 500ml and 600ml bottles will move to clear PET bottles over the coming months.
Labels on the bottle will also be updated to feature 50% larger lemon and lime imagery on the front side and "Clearly 100% Recyclable. Clearly 7UP" on the reverse side.
It will also include a 'double arrow' logo for the fully recyclable bottle message.
Britvic GB commercial sustainability director Tom Fiennes said: "As the UK's number one lemon and lime drink [according to Nielsen's IQ Retail Measurement Service], we wanted to take a step towards ensuring further transparency with our consumers, both in our actual bottle designs and by clearly highlighting the recyclability messaging.
"We know that consumers want more information on recycling, showing how important it is to offer strong and simple communication on pack.
"As our greenest 7UP bottle yet, the move should increase the likelihood of people recycling the bottle effectively. The updated design also brings the sustainability messaging front and centre so consumers are confident in their recycling decisions."
Britvic is listed on The FTSE4Good Index, which identifies companies demonstrating strong environmental, social and governance (ESG) practices.
The company has also been awarded an A-rating for its sustainable business programme by investor analysts MSCI.
Last February, Britvic secured a credit facility of up to £400m for its sustainability goals.
The company produces and sells brands such as Pepsi, 7UP and Lipton Ice Tea in the UK and Ireland under exclusive agreements with PepsiCo.