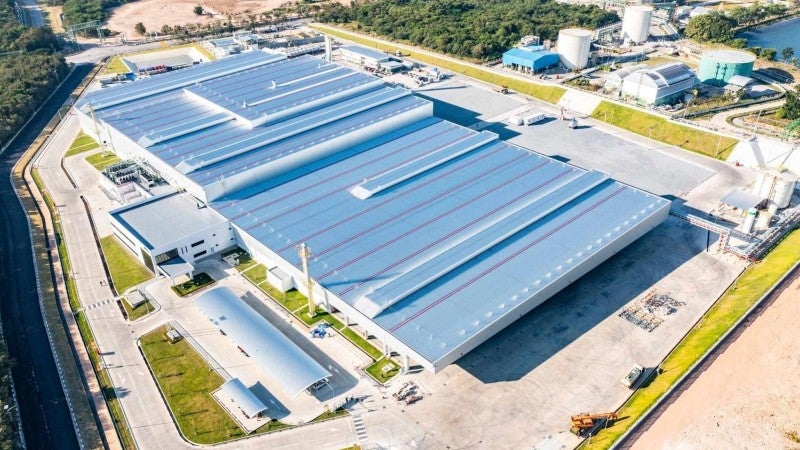 Austrian packaging and recycling company Alpla Group and Thailand-based chemical firm PTT Global Chemical (PTTGC) have opened their Envicco advanced recycling plant in Thailand.
Located at the Asia Industrial Estate in Map Ta Phut, Rayong, the plant was built and outfitted over a period of 18 months.
It is equipped with advanced recycling technology and production lines to manufacture high-quality plastic recyclates approved by the US Food and Drug Administration (FDA).
The Envicco plant will have an annual production capacity of 30,000t of recycled polyethylene terephthalate (rPET) resin and 15,000t of recycled high-density polyethylene (rHDPE) resin.
It is claimed to be one of the largest recycling plants for these types of plastic in Asia.
PTTGC said that the plant will reduce plastic waste by 60,000t while avoiding 75,000t of carbon dioxide emissions a year.
ALPLA Asia circular economy and recycling corporate director Bernd Wachter said: "Demand for recycled, sustainable packaging materials is rising sharply in Southeast Asia, and high-quality plastics have a key role to play here.
"With this new plant, we are now applying our many years of expertise in the treatment and processing of packaging made from post-consumer recycled resins in Thailand."
The 30,000m² recycling plant was opened in the presence of PTTGC CEO Dr Kongkrapan Intrajang and ALPLA recycling managing director Dietmar Marint, among other officials.
The Bangkok Post reported that it will be operated by Envicco, a joint venture of PTTGC and ALPLA's subsidiary ALPLA Co.
PTTGC owns 70% of Envicco, with ALPLA Co holding the remaining 30% stake.
The plant will have around 180 employees when it begins production.
Dr Intarajang said: "The ENVICCO production plant is part of our long-term circular economy strategy to fully realise PTTGC's value chain.
"It also has the added benefit of creating jobs within the community while simultaneously aligning with the Thai government's Bio-Circular-Green Economy Model."