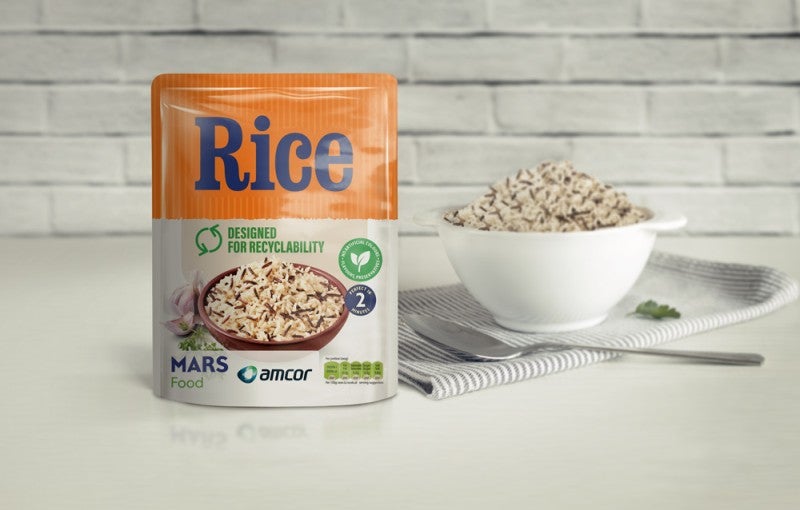 Australia-based packaging company Amcor and multinational food company Mars Food have designed an easier-to-recycle microwaveable rice pouch to be launched in the UK.
From next month, Mars Food will roll out the design for its Uncle Ben's Ready to Heat wholegrain rice product across Tesco stores.
The pouch uses Amcor's AmLite HeatFlex technology to maintain the shape, long shelf-life, functionality and high safety standards of Mars Food's products.
The technology has been certified as recyclable by the Institute cyclos-HTP, a Germany-based independent testing lab.
It can be recycled in the plastic collection streams of several European countries, including Germany, Austria, parts of Italy, Norway and the Netherlands.
In December, Amcor and Mars Food jointly committed to developing easier-to-recycle packaging for microwaveable food pouches in the first quarter of this year.
Amcor EMEA flexibles president Michael Zacka said: "The new Mars Food pouch breaks new ground and represents significant progress towards our companies' commitment to more sustainable products.
"Amcor's approach to innovation is to work in partnership with brands like Mars to deliver packaging that meets the needs of their consumers, including on sustainability, and which can act as a catalyst for new waste management and recycling infrastructure.
"We are committed to remaining the packaging partner of choice for forward-thinking brands looking for innovative solutions that will reduce waste in the environment and drive up recycling."
Mars Food innovation director Matt Cutts said: "This is a huge step forward for Mars and our journey to fully recyclable packaging.
"The work is not finished, and we hope this innovation will mean greater discussion surrounding the collection and recycling infrastructure that is needed alongside packaging development."
This month, Amcor partnered with several other companies to create Australia's first soft plastic food wrapper to be made with recycled content.
The product was made by gathering and processing soft plastic waste that was then turned back into oil using advanced recycling technology.